Gilly Mcarthur
Wild Swimming Coach, Rock Climber & Illustrator
Hi there - I'm Gilly - illustrator, rock climber and wild swimmer. I generally prefer to communicate through my drawings, but as you're here to learn a little more about me, I best pull my finger out and write some words!
My passions lie in the outdoors and encouraging others to find their place in it. Originally from the North of Scotland, I take a lot of my inspiration from my surroundings. I now live in the Lake District (where a lot of friends joke I live in the lake), and am very partial to barefoot wanderings, beautiful trees and meditation.
Having worked in the outdoor industry for over 20 years, the outdoors is as much my profession as it is my pastime. I am the co-founder of Blue Mind Swim and a director of the Women's Trad Festival.
The Women's Trad Festival is a rock climbing community and festival formed on the values of mental wellbeing, accessibility and sustainability. It's in it's 5th year and in 2020 we launched a project called "Climbers Like Me" - aimed to celebrate and champion the diverse faces and voices within the climbing community.
I'm part of the team at Wonderful Wild Women in Cumbria, we aim to inspire others to get outside and the community welcomes anyone of any ability to give things a go be that running, biking, swimming or hiking.
Blue Mind Swim was inspired by my love of swimming over winter in high up tarns and hunting for ice with a few hardy friends (not the most common of 'hobbies'!). This takes the form of a bi-monthly session, coaching and mentoring those keen to discover cold water skin (no wetsuit) swimming and the benefits it has on mental wellbeing.
When it comes to drawing, illustrating people, the outdoors environment and made-up creatures are my forte… Though I have been known to draw brains for meditation publications, safety posters for businesses, and bicycles. I love the variety of my work - just don't ask me to draw a horse... I'm still hopeless!
Hopefully, that gives you a flavour of me. On this website, you'll find plenty more - from BBC radio recordings to popular podcasts; climbing and swimming films; the latest from the Women's Trad Festival; articles I've written in a host of magazines and my illustrations.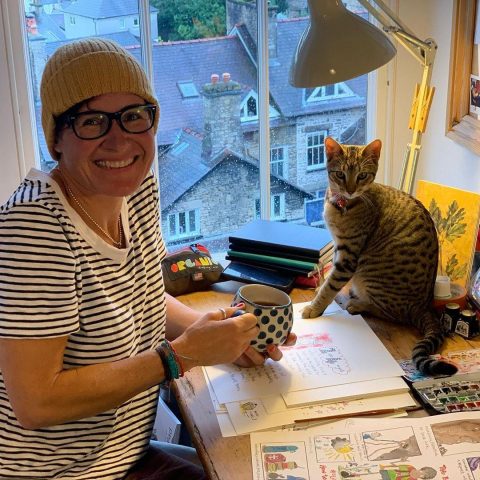 Testimonials For ISM
Thanks for a great week, in some pretty challenging and extreme conditions. Thanks for keeping us safe, teaching us loads, and being all round fantastic fun. I'd look forward to coming on another trip with you guiding.
Steve
Ski Grand St Bernard
Terry was a wonderful guide and made everything fun, laid-back and an overall good experience. I would be happy to ski or climb with him again. All the logistics in Leysin and in Italy went smoothly. A really nice time.
KL (2017)
Advanced Ski Touring Skills (Instructional Course)