Mont Blanc Ascent
Level 1 : Guided Climbing
A worthy goal for mountaineers of all levels. Climbing Mt Blanc is the highlight for many people who wish to achieve the tallest summit in the Alps - 4810m.
The grandeur that is the 'classic' north side of Mt Blanc sits high above the Chamonix Valley, centre piece to the beautiful Mt Blanc Massif. The summit is fortified by huge glaciers and the route to get there only requires a basic level of mountaineering ability. It does, however, require a very good level of fitness for the long summit day and you must be acclimatised to the higher altitude.

Dates & Booking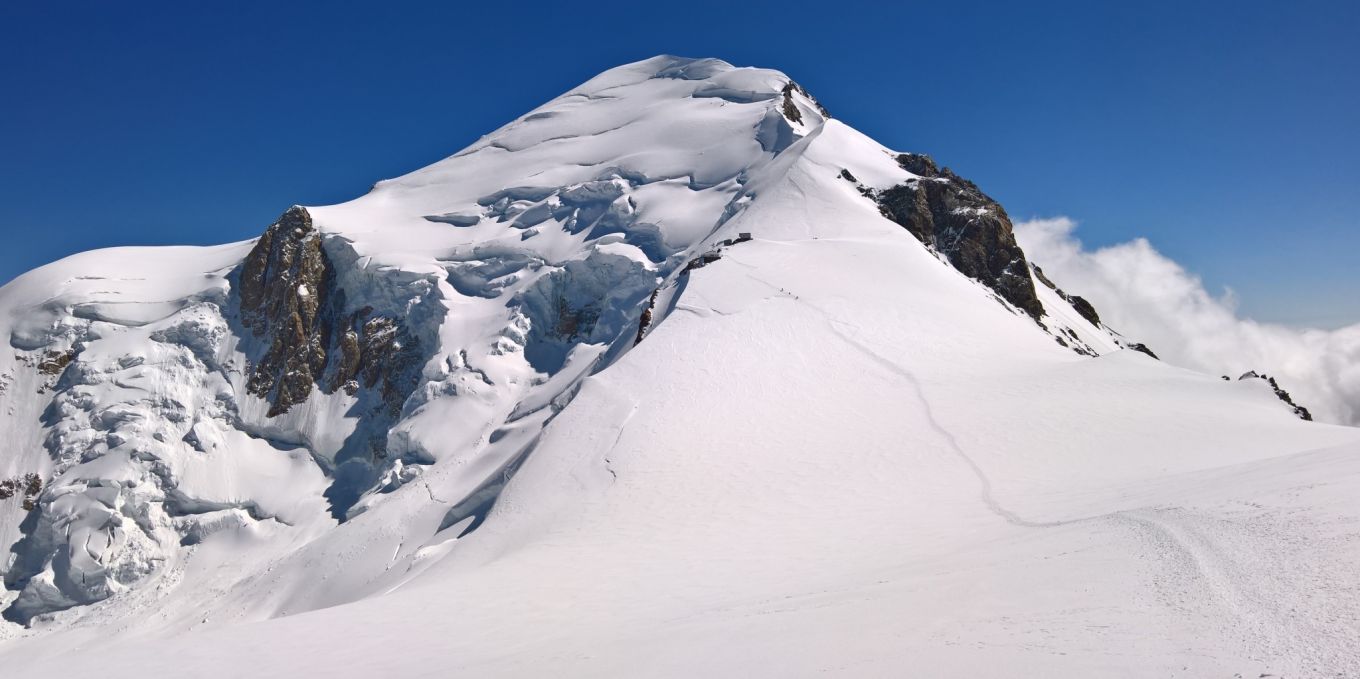 Mt Blanc Extension 4
Course Highlights
You'll learn the basic mountaineering skills
Acclimatise and climb another 4000m peak
Attempt to climb the highest peak in the Alps
Expert guiding and instruction from very experienced ISM Guides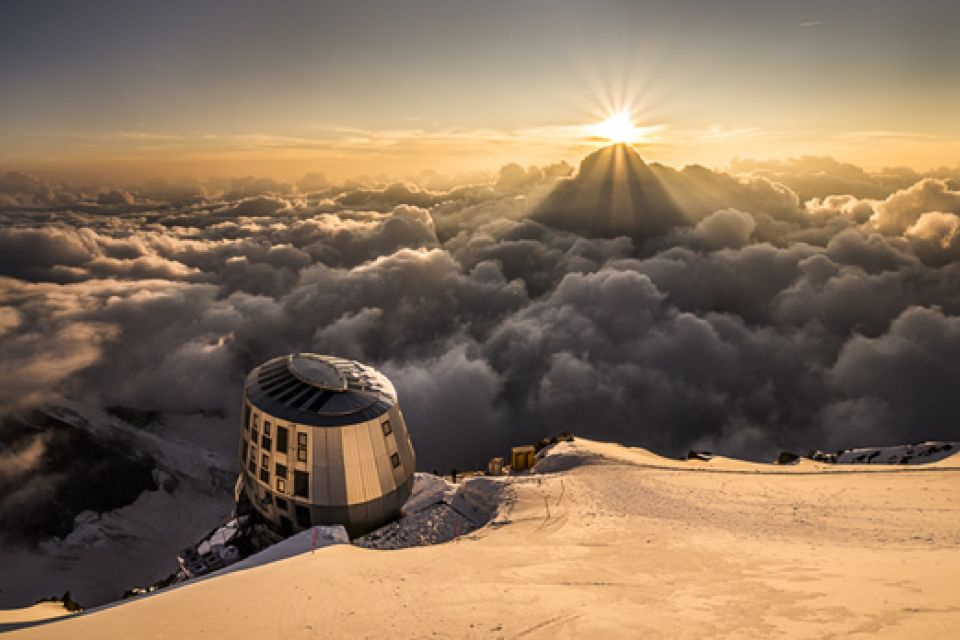 Mt Blanc Ascent 3
Is The Course For Me?
The 'normal' route to the summit of Mt Blanc requires only a basic level of mountaineering skill, so you do not need to have had previous mountaineering experience to book this course. Having said that, if you have completed another course which gives you an introduction to alpine mountaineering, such as our Summits and Skills 4000m course, you will get considerably more from your Mt Blanc Ascent and be able to play more of a part in each day. You will also feel much more prepared for it. If you are thinking of completing our Summits and Skills 4000m course, you could also consider our Mt Blanc 3 day Extension as an alternative, which you can take immediately after the course.

Dates & Booking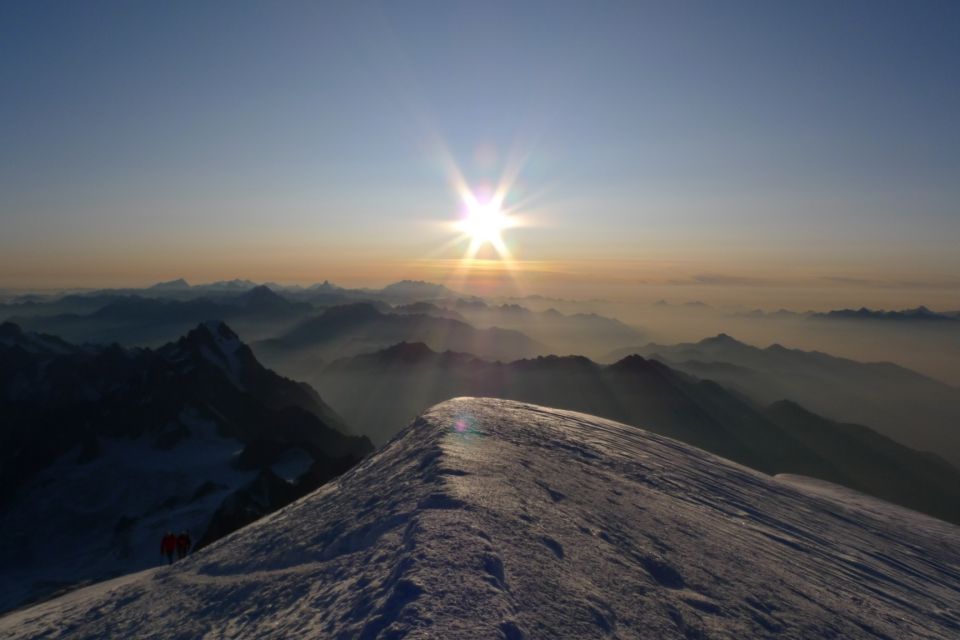 Mt Blanc Ascent 4
Climbing Mt Blanc 4810m
Please do not underestimate how arduous an ascent of Mt Blanc can be. A very good level of fitness is required.
From Chamonix a lift and tram gives you access to a high mountain trail,. From here a long walk and a rock scramble take you up to the Gouter Hut (3815m). Summit day isn't technically demanding, but involves a steep glacial walk and climb above 4000m wearing mountain boots, crampons and carrying a reasonably heavy backpack for most of the day. Good weather is needed for this highest summit of the Alps. Even on a sunny and clear day the wind can stop teams reaching the summit dome.

Dates & Booking
Course Content
This course meets and finishes in Leysin. We have a good kit store and you can borrow any equipment you need free of charge (crampons, axes, helmet and harness).
The course is run on 1:1 (private guiding) ratio.
This is a guided climbing week and the first part of the week will be spent acclimatising in readiness for your ascent of Mt Blanc.
Sample Programme
This is very much a sample program as several different acclimatisation peaks and climbs are possible. We will adapt the program to make use of the best weather for our ascent of Mt Blanc. In this example we climb Mt Blanc via the Goûter Ridge.
Saturday
The course starts with a briefing at 6.45pm at the hotel in Leysin. This is a chance for you to meet your Guide and go through the details of the course. There will also be time for you to sort out any equipment you need and for you to ask questions. Dinner will follow the briefing.

Sunday
We travel to Italy and into the Valsavarenche valley. From here a very scenic 3-hour walk on a good track (which includes a 1000m height gain) takes you to the Refugio Chabod. At the hut you will have a training session on the use of the technical climbing equipment (crampons, harness, etc) and look at basic climbing knots and rope work.
Monday
An alpine start gains you access to the glacier Laveciau, which spills down from the North Face of the Gran Paradiso. The normal way to the summit of the Gran Paradiso first ascends this glacier before linking up the higher Gran Paradiso glacier as you near the summit. A short section of exposed rock scrambling links the glacier to the summit. We descend via the same route back to the Refugio Chabod or alternatively, the Refugio Vittorio Emmanuelle where we stay the night. This second night spent up high helps with the acclimatisation process.

Tuesday
After breakfast we make our way down to the Valsavarenche valley and drive back to Chamonix. Here you can rest and the ISM Guides will help you with any final preparations for your Mt Blanc Ascent. If you get down in good time, it may be possible to enjoy some easy rock climbing at the local climbing crag in the afternoon. You will stay the night at the Hotel Des Lacs.

Wednesday
An early breakfast allows us to take an early lift from the Telecabine de Bellvue in Les Houches. This will link to one of the first trains that will take us up the first section of Mt Blanc. From the final train stop at Station Nid d'Aigle, we will start our hike up to either the Tete Rousse or Gouter Hut.
Thursday
After another very early start from the Tete Rousse hut (1am!) or the Gouter hut (2am!) we make our way, wearing crampons, up the glacier and over the Dôme de Goûter (4304m). From the top of the Dôme we descend slightly and then quickly reach the emergency shelter of the Vallot hut (4362m). Above this, we ascend steeper ground, climbing Les Bosses (4547m) and then to the gradually narrowing summit ridge. Normally we reach the summit of Mt Blanc (4810m) soon after daybreak. We retrace our steps on the descent and hope to be back down in Chamonix that evening. If time doesn't allow us to catch the last train back, we will spend another night at either the Gouter or the Tete Rousse hut.

Friday
This is a contingency day in case of poor weather earlier in the week, or in case we are still getting down from the hut. However, if we have made it down to Chamonix the previous evening we will organise a rock climbing session at one of the local crags. Return to Leysin for dinner.
Saturday
Depart after breakfast.

Course Dates & Booking
Please call +44 (0) 1539 721561 for availability
Vital Information
Please check the vital information below to help when booking a course
All Vital Information
Testimonials For ISM
"I loved the course and Terry was great. I learned a lot and had a lot of fun and feel confident and secure in my technique".
Just a quick word of thanks for the course last week. Our guide Tom was excellent and covered a lot of miles to ensure we got the best conditions and great routes in and was always ready with a word or two of advice when needed - please pass my thanks on to him,
James (2017)
Classic Alpine Rock
The course content was brilliant. No knocking whatsoever. We had Jacky for the duration, and his experience shines through and his leadership. He taught me a lot of things, not just the black and white of things but actually quick methods to overcome tricky situations!
Andy Challenor
Summits & Skills 4000m (Instructional Course)