Technical Alpine Rock
Level 3 : Guided Climbing
A week focused on climbing some of the best alpine rock routes in the Swiss Valais and also further east in the Bernese Oberland.
Many amazing alpine rock routes are often overshadowed by the higher snowy 4000m peaks, but drop in altitude a little, and you'll find some perfect limestone faces, technical rock ridges and granite spires to whet your alpine rock appetite!

Dates & Booking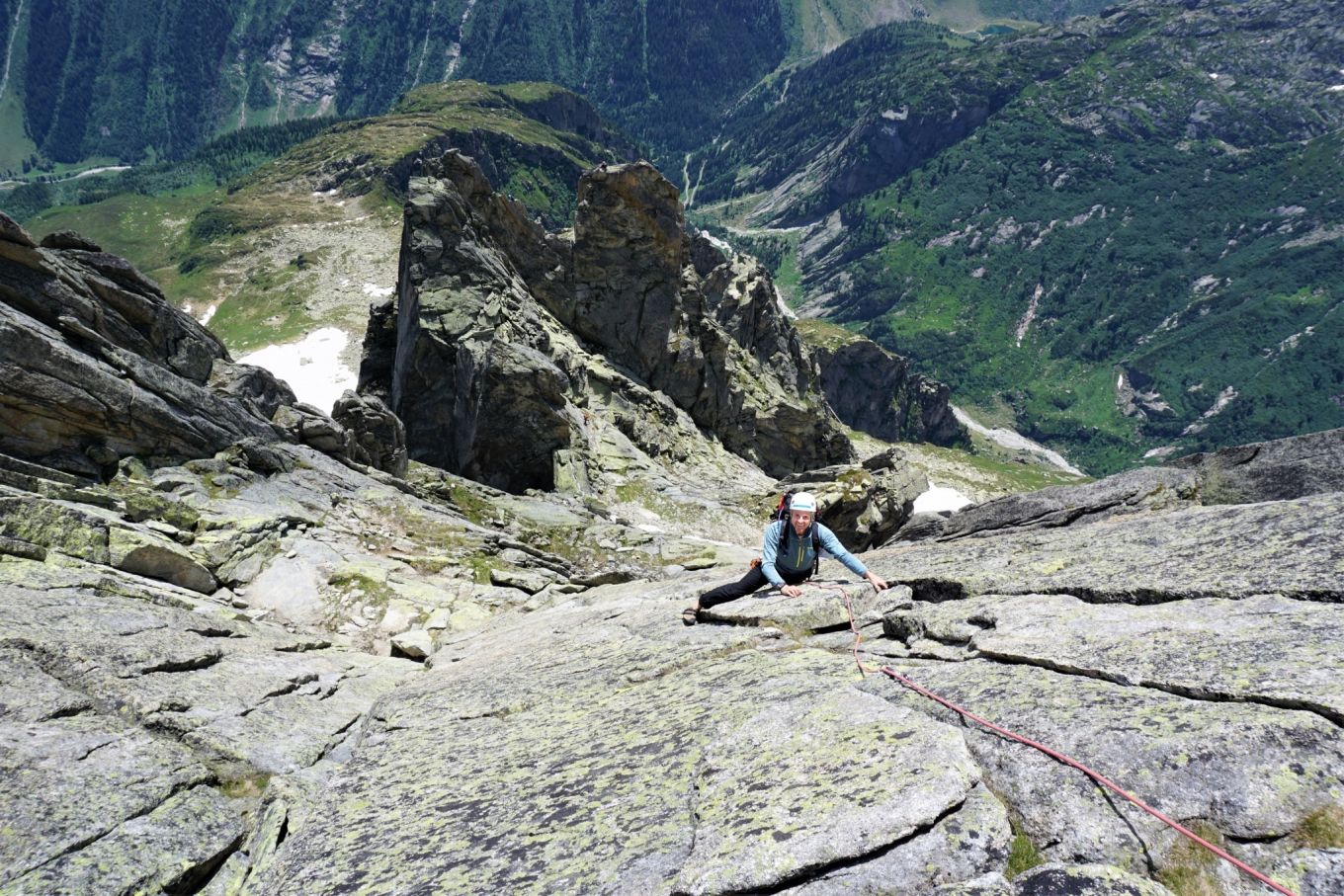 Technical Alpine Rock 2
Course Highlights
A fun but challenging week focused on multi-pitch rock climbing
Enjoy some of the best alpine rock routes and summits in central Switzerland
Price includes all food, vehicle transport and accommodation
Expert guiding and instruction from experienced ISM Guides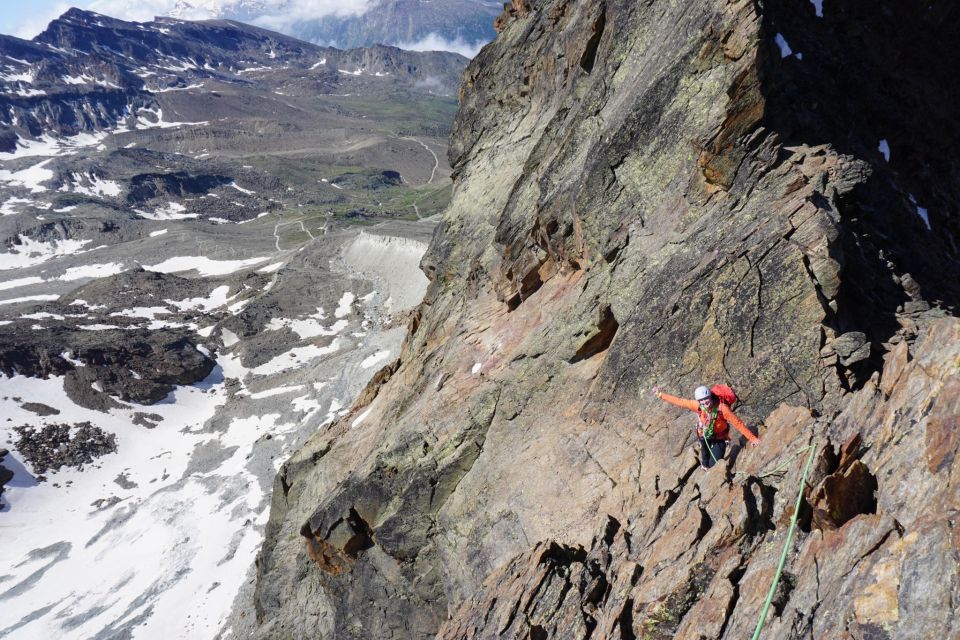 Technical Alpine Rock 3
Is The Course For Me?
This is a perfect week for climbers who are interested in a completely rock orientated week, and wish to experience multi-pitch rock climbing in the high Alps, based up in high mountain huts. It's essential that you've been climbing more regularly, either indoors or outside, leading into this week, so that you get the most from each day of this fantastic course. There might still be an element of alpine mountaineering during this week, as you may need to cross old snow packs or sections of glacier, where you will need to use crampons and an ice axe, but you're not expected to have much alpine mountaineering knowledge for this predominatly alpine rock week.

Dates & Booking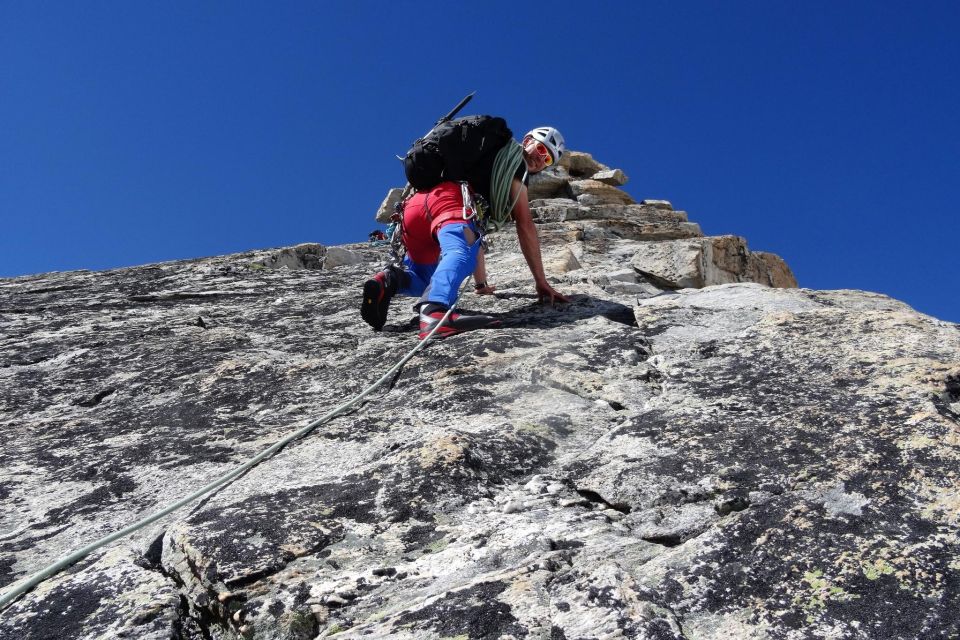 Technical Alpine Rock 4
Rock Climbing In The High Alps
With a moderate level of rock climbing experience and if you're happy to follow UK Grade Hard Severe, you can access some of the best alpine rock routes in the Swiss Valais. We climb on a low 2:1 guiding ratio, which gives us flexibility to match levels of experience, climbing grade and fitness within the group, and to climb some challenging routes. It's essential that you bring comfortable rock shoes which are suitable for long, multi-pitch routes. You will also need lightweight approach shoes as well as mountain boots. UK based climbers who need to refresh their personal rock climbing skills can climb with us in the UK first (see our UK Rock Climbing Courses page).
Dates & Booking
Peaks and routes climbed this week
Salbitschijen (2981m), South Ridge (V/V+). One of the best routes of its grade in the Alps: perfect granite, highly photogenic and having some unforgettable pitches.
Galenstock (3583m). South-to-North traverse, grade III (AD), a great mountaineering day.
Gletschhorn (3305m), South Ridge (III). This classic mountain rock route route gives a good shorter day from the Albert Heim hut.
Gross Bielenhorn (3206m), SE Ridge (grade IV+). An excellent varied alpine rock route.
Klein Bielenhorn (2940m), South Face. Very accessible and offering a choice of routes at grade V+ and VI (British HVS & E1, American 5.8 & 5.9) climbed in rock shoes.
Klein Bielenhorn (2940m) West Ridge (IV). The classic route of the peak, an excellent rock ridge of wonderful granite.
Dammastock (3630m), East Rib (grade III, AD). The east side of the highest peak in Central Switzerland offers impressive rock and ice climbing of a serious mountaineering nature. The best route takes the E Rib which leads to the N Summit.
Graue Wand (3172m), classic South Face route (grade VI). Fantastic sustained climbing up a magnificent wall, which is one of the showpieces of Central Switzerland.
Winterstock (3203m). Triple-summited peak close to the Albert Heim hut. Routes of all lengths and grades including the very challenging, 1100m-long South Ridge.
*Please note that this course normally runs without taking mechanical uplift and is priced accordingly. If uplift is taken (with agreement of course participants) it is charged as an extra.
Sample Programme
(In this example we stay in the Furka area, however it is equally feasible to transfer to the Salbit hut on the Tuesday and climb the South Ridge of Salbitschijen on the Wednesday or Thursday plus other routes in this area.)

Saturday evening
The course starts with a briefing at 6.45pm at the Tour D'Ai htel in Leysin. This is a chance for you to meet your team mates and Guide and go through the details of the course. There will also be time for you to sort out any equipment you need and for you to ask questions. Dinner will follow the briefing.
Sunday
We drive along the Rhone valley to the Rhone Glacier and the Furka pass. The Sidelen hut is a perfect place to start the week and is reached in 1.5 hrs walking. We climb a 'warm-up' route near the hut in the afternoon and check/refresh the alpine skills and ropework required for the course.
Monday
The South-East ridge of the Gross Bielenhorn (3206m) is an excellent first objective, being long and varied with several pitches of IV+. There are short-roping sections and the descent is quite complex with several short abseils, making this a great route for practising the full range of alpine rock skills. We return to the Sidelen hut.
Tuesday
For a more technical challenge today we can choose one of several routes on the south face of the Klein Bielenhorn. This is reached in 25 mins from the Sidelen hut. Routes on the face itself are all V+ or VI and around 8 pitches. A less technical option is to traverse the peak via the West Ridge (IV) which gives an excellent mountaineering day. We descend in the afternoon and walk up to the Albert Heim hut (1.5 hours).
Wednesday
There is a choice of superb objectives today. Strong rock climbers will probably want to attempt the Graue Wand (VI), the most famous route in the area which takes a series of fissures up an absolutely stunning 400m granite face. If you prefer a first-class mountaineering day, then the traverse of the Galenstock from south to north (grade III rock, overall grade AD) fits the bill exactly. Either objective requires good weather, so if the forecast is better for the Thursday then plans for these two days may be swapped around.
Thursday
The South Ridge of the Gletschhorn (3305m), grade III+, is very enjoyable indeed and gives you an opportunity to do some lead-climbing (with instruction from your guide and at the guide's discretion) or simply to enjoy a less pressured day. It can be climbed entirely in mountain boots or carrying rock boots for the hardest pitches.
Friday
The Winterstock (3203m) is the closest major peak to the Albert Heim hut, rising in a series of huge towers. We will attempt a route on the First Tower, either taking the first section of the massive South Ridge (V/VI) or one of the more recent routes on the SW face. We return later in the day to the hotel in Leysin for dinner.
Saturday
Breakfast at the hotel is included before departure.
Course Dates & Booking
Please call +44 (0) 1539 721561 for availability
Vital Information
Please check the vital information below to help when booking a course
All Vital Information
Testimonials For ISM
Please pass on my very, very sincere thanks to Thomas, Daniel & Christian. They are truly quality people! Patient, understanding, professional, and wonderful ambassadors for your company. I have experienced many guides over my 50 years in climbing and they rank right up there with the very best.
David Hughes
Mont Blanc Ascent
Thanks for organising an excellent week. The course format, accommodation and set up was perfect. The guide was outstanding and gave us a full week of constructive tuition. I was able to put his training into practice the following week when I met up with a friend and did the Cosmiques Arrete.
R W (2017)
Classic AlpinISM (Instructional Course)
"I loved the course and Terry was great. I learned a lot and had a lot of fun and feel confident and secure in my technique".