Monte Rosa 4000ers
Level 2 : Guided Climbing
This hut to hut high mountain traverse, climbing many of the 4000m peaks that make up the Monte Rosa chain above Zermatt, is one of THE great expeditions in the Alps.
Our Monte Rosa 4000ers week links together the ultimate traverse of both 4000m summits and high mountain huts offering an amazing week based entirely in the highest mountains of the Alps culmitanting in a stay at the highest hut - the Margherita Hut at 4559m.
Dates & Booking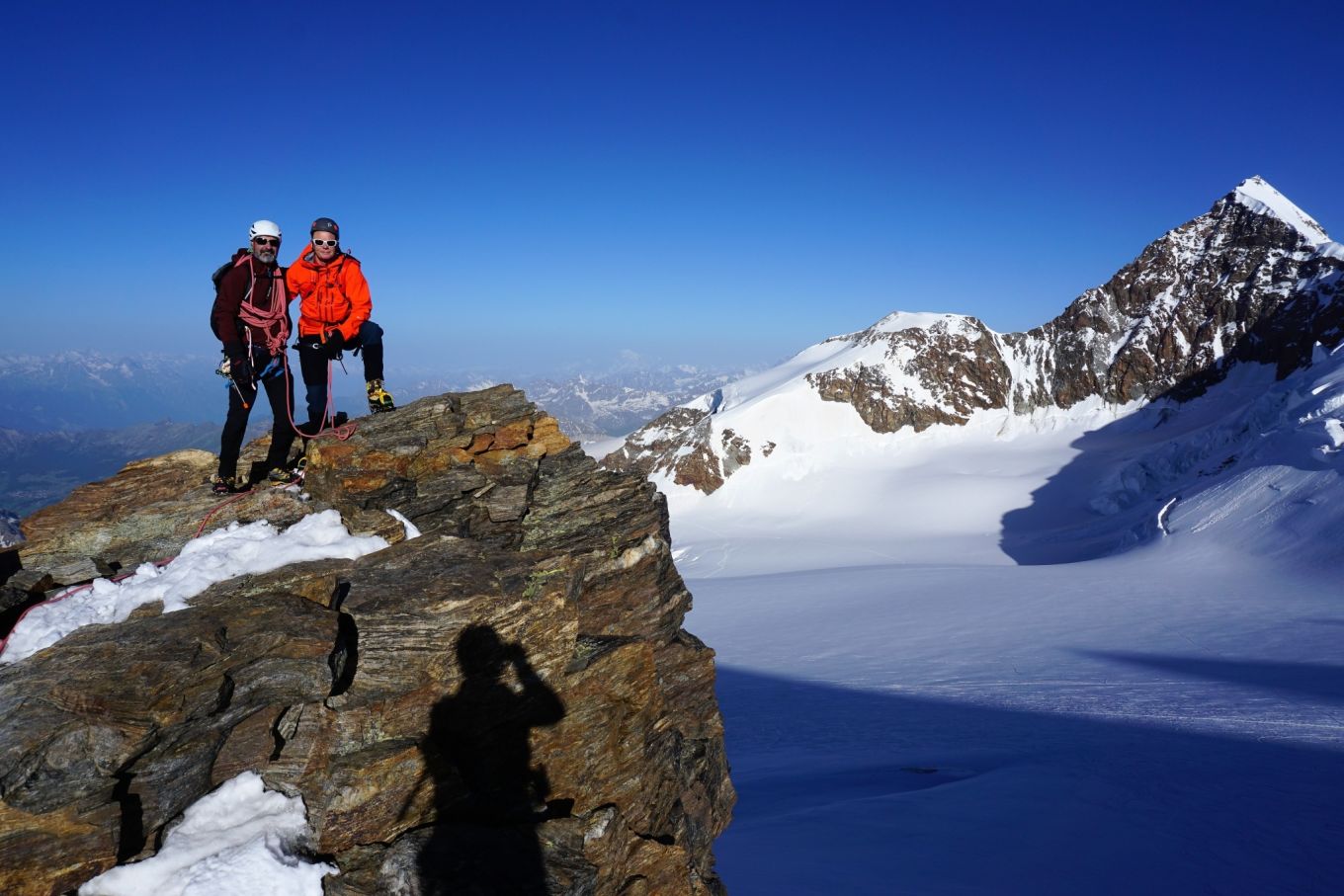 Monte Rosa Traverse 3
Course Highlights
Hut to Hut high mountain traverse
Summiting many of the 4000m peaks in the Monte Rosa massif
Expert instruction and guiding from experienced ISM Guides
All-inclusive price includes all uplift, food, transport and accommodation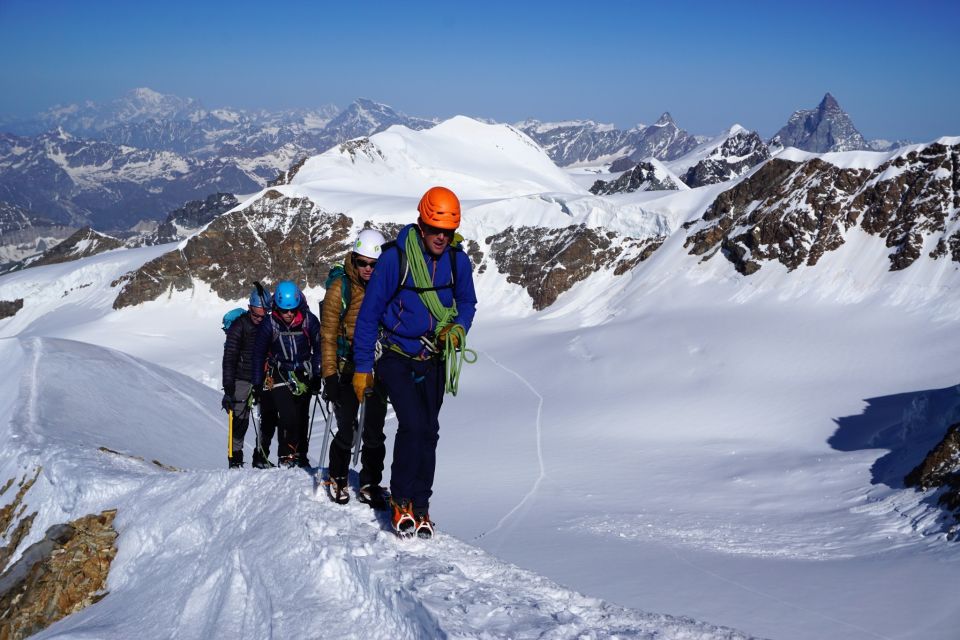 Monte Rosa Traverse 4
Who Is This Course For?
This high mountain journey is a fantastic 'next step' for those who have completed out Summits and Skills 4000m course or similar, having learned the basic skills of summer alpine mountaineering and wishing to develop and practise these skills, or those who are experienced and who wish to enjoy a week of great mountaineering, whilst staying in high mountain huts, and climbing 4000m peaks.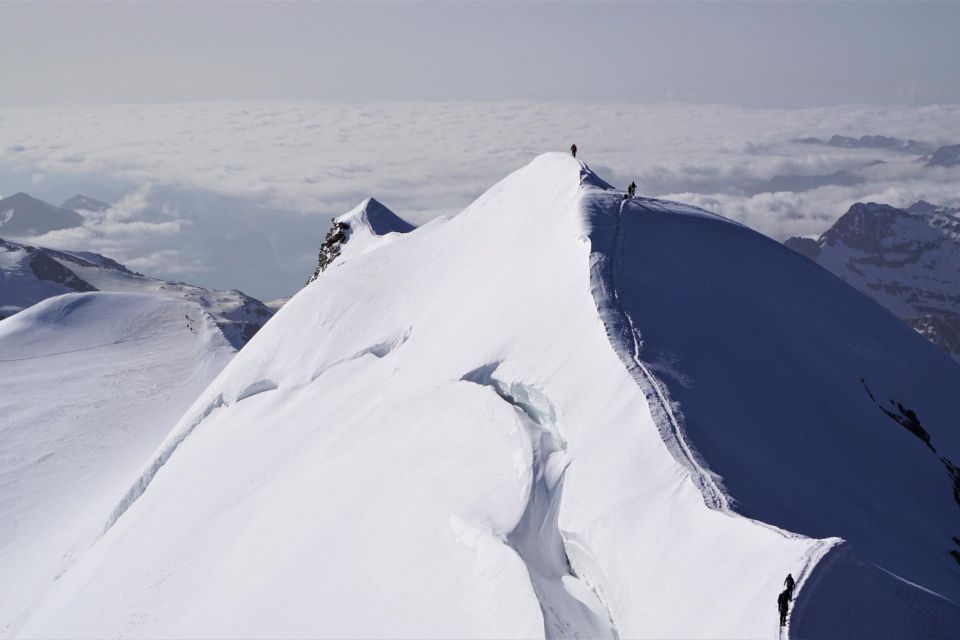 Monte Rosa Traverse 5
A high mountain hut to hut Traverse
There are few high mountain traverses like this one in the Alps. Centred in the Monte Rosa Massif, staying each night in a high mountain hut and then climbing one or more of the snowy 4000m peaks that make up this chain of high summits. The massif sits high above Zermatt with incredible views across to the Matterhorn, the Dent Blanche and Mischabel range in stark contrast to the flat plains of Italy to the south.
Course Content
The week is aimed at at climbing many of the 4000ers in the Monte Rosa chain of high summits
Castor (4228m)
Balmenhorn (4194m)
Schwarzhorn (4321m)
Pyramide Vincent (4215m)
Ludwigshöhe (4321m)
Parrot Spitz (4432m)
Signalkuppe (4554m)
Zumsteinspitz (4563m)
Naso del Liskam (4274m
Please note that we do not attempt the Dufourspitze on this traverse.
Sample Programme
Sunday
The course starts with a briefing at 6.45pm at the hotel in Leysin. This is a chance for you to meet your team mates and Guide and go through the details of the course. There will also be time for you to sort out any equipment you need and for you to ask questions. Dinner will follow the briefing.
Monday - Leysin to Refugio Quintino Sella
After breakfast we drive into Italy and head to the Gressoney area in the Aosta Region on the south side of Monte Rosa. From Gressoney, and then the small hamlet of Staffal, we take the chair lift up to the Colle Bettaforca and walk into the Refugio Quintino Sella (3585m).

Tuesday - Castor (4220m)
After an early start we head up the glacier to climb the Castor. This is a full day of alpine mountaineering, taking in this beautiful summit via glacier, snow slopes and snow ridges. The summit offers stunning views down to Zermatt and 360 degree views of all the surrounding 4000m summits including the Matterhorn, Dom and Dufourspitze. The route on this high mountain summit is very much weather and conditions dependant and feels very adventurous even on good weather days. With our experience and local knowledge we will do our best to climb what we can and also deliver skills as appropriate if time permits.

Wednesday - Refugio Quintino Sella to Gnifetti Hut
Another early start sees us cramponing back up onto the 'Ghiacciaio del Lis' and making a fairly long traverse underneath Lyskamm (4272m) to a steep and exposed section of the traverse, known as the 'Passo del Naso'. Once across this, we can take in the summit of Naso. The going then becomes easier until we ascend again on straightforward snow slopes to climb the Balmenhorn (4194m). Now we make the short but steep snow/ice ascent to the summit of the Schwarzhorn (4321m) and also bag the Pyramide Vincent (4215m) before descending the glacier to the Gnifetti hut.
Thursday - Gnifetti Hut to Margherita Hut
After breakfast, we go back up onto the main ridge keeping below the Pyramide Vincent and traverse over the snow summit of Ludwigshöhe (4341m). A short descent leads to a col and a pronounced snowy ridge that continues to the Parrot Spitz (4432m). We traverse over this and make a short descent to another col. A steeper snow/ice ridge leads up to the Signalkuppe (4554m) and the Margherita Hut. The Margherita Hut, located on the summit of Punta Gnifetti is the highest guarded hut in the Alps. It is a stunning place to be, in terms of altitude, views and the feeling of remoteness right up there!
Friday - Margherita Hut to Leysin
Our last day sees us take in our final 4000m peak before we descend back into the Aosta valley. The Zumsteinspitz (4563m) is close to the Margherita Hut and makes a fantastic finish to this great high mountain adventure. From the summit we descend the glaciers and hiking trails back to a lift at Punta Irdren, which will take us back down to our vehicle at Staffal. Here we have a late lunch and then travel back to the hotel in Leysin where, after a much-needed shower, you will have a well-deserved dinner and perhaps a drink!
Saturday morning
Breakfast at the hotel is included before departure.
Vital Information
Please check the vital information below to help when booking a course
All Vital Information
Testimonials For ISM
Learned loads and acclimatised well during the course. Its obviously been very carefully planned. Guiding and Instruction was excellent. Anders was fantastic throughout and made the whole course really good fun. A very professional instructor with a great sense of humour. Highly recommended.
Leigh Ritchie
Summits & Skills 4000m (Instructional Course)
Thank for an amazing couple of weeks! Matt and Stu were fantastic. I learned so much but also had a lot of fun. I have come home feeling like a proper mountaineer, having made some great new friends and with some unforgettable memories. I plan to come back next year!
Tim
Thank you very much for an enjoyable and inspiring week in the Alps, and for your patience and good humour throughout. You have a completely satisfied customer and I hope to join another ISM course sometime in the future.
Michael Firth
Classic AlpinISM (Instructional Course)