Ice Climbing Skills
Level 1 : Instructional Course
Our 5 day Ice Climbing Skills Course is designed to give you the best possible introduction to climbing the frozen waterfalls that form in the Italian and Swiss Alpine Valleys in winter.
You'll learn all the important skills and techniques needed and enjoy a week of climbing the frozen waterfalls whilst operating safely in a winter environment. An important aspect of the course is that you will have every opportunity to practise techniques with close supervision and coaching from your ISM Guide.
A Level 1 certificate will be awarded at the end of the course confirming the level you have achieved.
Dates & Booking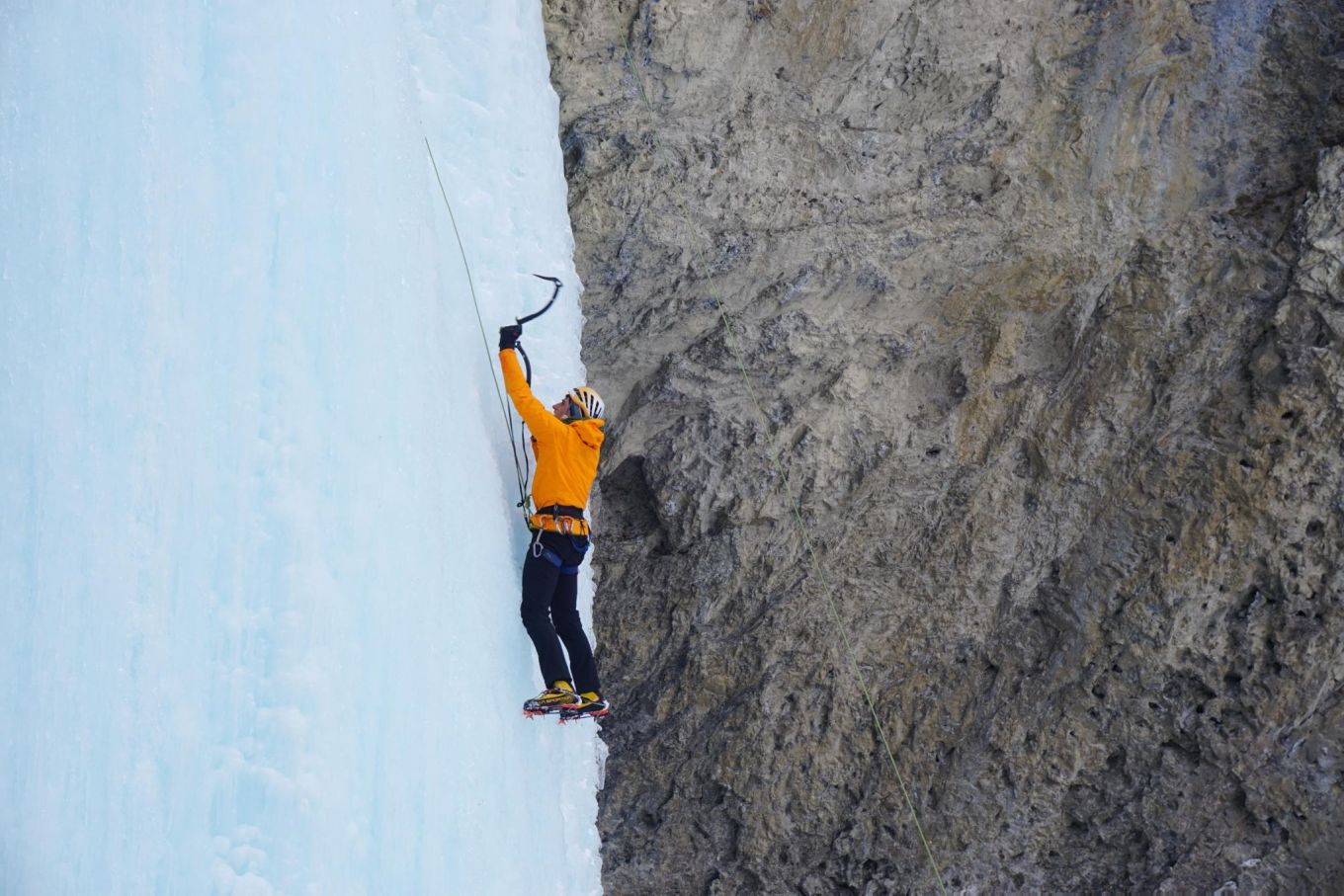 Ice Climbing Skills 2
Course Highlights
An instructional course giving you a great introdution to icefall climbing
Learn the basic skills and techniques in a fun and safe environment
All-inclusive price includes all uplift, food, transport and accommodation
Expert instruction and coaching from experienced ISM Guides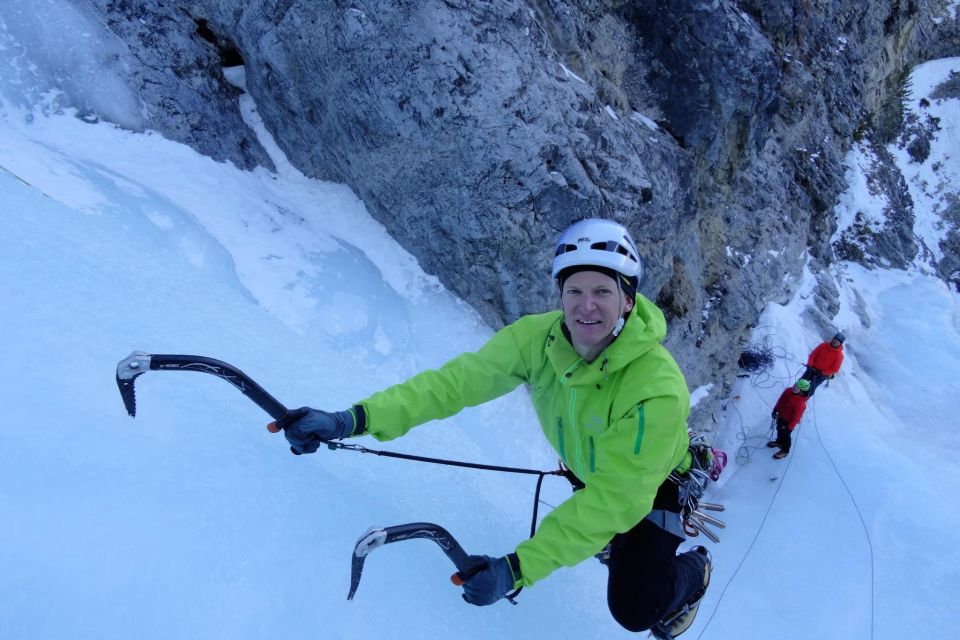 Ice Climbing Skills 3
Is This Course For Me?
The course is suitable for beginners to ice climbing and for people with experience of using ice axe and crampons in the Alps in summer (or Scottish gullies in winter). The course will also suit you if you have some experience of climbing steep ice with two ice tools but would like a more solid foundation in all the skills and techniques demanded by ice climbing. These include personal climbing skills, the use of various technical axes, ice climbing rope work and all the important safety aspects of the sport. We also give a solid foundation in avalanche avoidance - a vital consideration when you are ice climbing, whether in the Alps or elsewhere.
Experience and Fitness - Some rock climbing experience (both indoor and outdoor) is useful for the course, and the better your knowledge of climbing rope work the more you will be able to focus on specific ice climbing skills. Good general fitness is required for any mountain activity and for ice climbing upper body fitness is also important.

Dates & Booking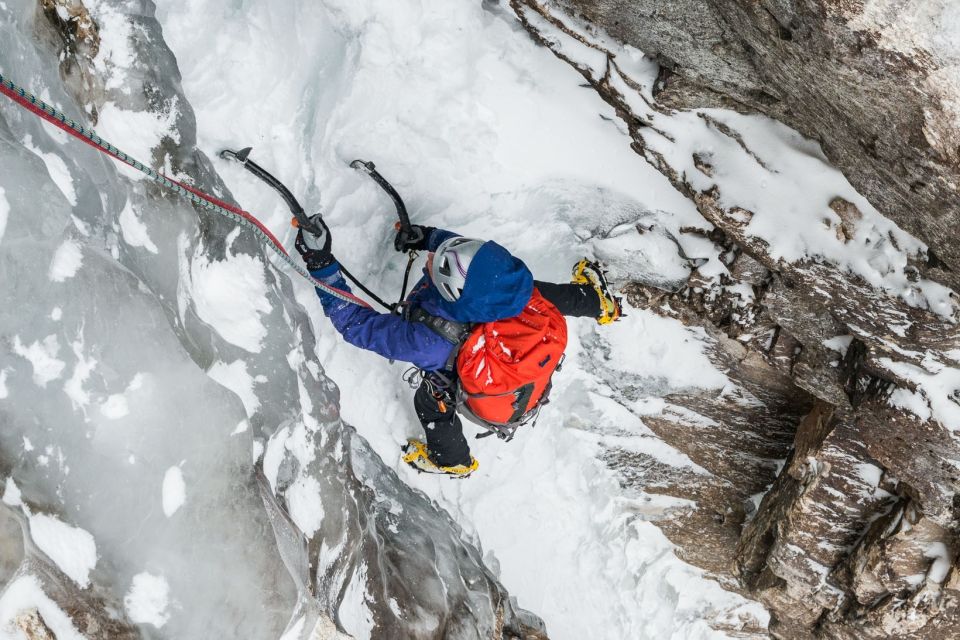 Ice Climbing Skills 4
An Introduction to Icefall Climbing
The course is structured to teach you all the basic skills and techniques around ice climbing at an easy pace. It offers you the chance to enjoy and practise the skills delivered. We will then put all your newly aquired skills into practise by climbing your first ice routes. These routes will also give you a chance to develop your experience and understanding around ice climbing in a fun and relaxed environment.
How ice forms is totally dependant on temperature and this can fluctuate from week to week, day to day and even within a few hours during any winter season. In order for us too deliver the best ice climbing skills course for you, we look at the weather and conditions and then make a decision as to the best venue to visit, before heading there from Leysin

In warmer weather, reliable venues tend to be higher in altitude such as Cogne in the Gran Paradiso, Northern Italy or in the Val d'Arolla in the Swiss Valais, both of which offer some great, easily accessable icefalls in a range of grades which are perfect for this course as you learn learn the basic icefall climbing skills.
In colder weather we have a whole range of lower altitude venues that we use closer to Leysin, that are perfect for this introductory course, either around Diablerets and Gstaad or venues close to Verbier in the Swiss Valais.
Skills Taught
Using technical ice axes and crampons
Developing your personal climbing technique
Understanding how ice forms and the effects of temperature

Snow pack and risk assessment
Using ice screws and other specific equipment

Ice belays and anchors
Ropework for belaying and lead climbing
V-Thread anchors and abseilling

Grades and understanding icefall guidebooks
Sample Programme
Sunday

The course starts with a briefing at 6.45pm at the hotel in Leysin. This is a chance for you to meet your team mates and Guide and go through the details of the course. There will also be time for you to sort out any equipment you need and for you to ask questions. Dinner will follow the briefing.
Monday
With a range of easy-angled ice walls up to 70m in height, the La Gouille icefall in the Arolla valley is the perfect venue to start an ice climbing week. The icefalls enjoy the afternoon sun and are just a 15 minute walk from the hotel. The main aim of the first day is to teach personal ice climbing techniques to ensure that you are efficient and comfortable on the ice. Placing ice screw protection and rope work for ice climbing is also covered, to give a firm foundation for a safe week's climbing. It is also important to be able to cope with the cold winter environment so we spend time on how to stay comfortable whilst on the climb.
We overnight at Pension Lac Bleu, a perfect base adjacent to the ice climbing venue.
Tuesday
We stay at La Gouille icefalls, but today choose a slightly steeper cascade to build on the skills you have learned on the first day. We progress to more technical points that will help you to climb efficiently on steeper ice. As well as coaching your movement on the ice we practise placing and removing ice protection with the safety of a top rope. This particular cascade is a very friendly 30m ice wall, with many lines to climb and with a variety of features - such as ice slabs, steep walls and icicles - demanding a range of climbing techniques.
Wednesday
Multi-pitch ice climbing in Val d'Arolla. The first multi-pitch ice climb of the week will be carefully chosen so that we can focus on the rope work, stance management and safety considerations on the climb. We will choose a route which is at the right level of difficulty for you, giving you a very enjoyable and instructive day.
Thursday
Icefall climbing above Evolene in the Val d'Herens. Today we tackle a slightly steeper and involved climb, probably involving an abseil descent. By now most of the technical/safety aspects of ice climbing will be thoroughly learned so you can enjoy focussing on the more technically difficult climbing demanded by the icefalls at this venue. In the evening we will return to the hotel in Leysin.
Friday
The Alpes Vaudoise region has many classic ice cascades within easy reach of Leysin. Depending on prevailing conditions we will choose our venue, probably travelling to Gstaad to climb one of the classic icefalls in the impressive Lauenen valley. The rock architecture here is breath-taking and there are many fine ice lines. Another option is the classic ice runnel at Gsteig which gives a very atmospheric outing.
Saturday
Breakfast is included before departure.
Accommodation throughout the course is in mountain hotels with excellent, plentiful food, helping us to relax, refresh and rest well each night to be ready for another full day on the ice.
Vital Information
Please check the vital information below to help when booking a course
All Vital Information
Testimonials For ISM
What a brilliant week we had! I really enjoyed the fact that the course was very hands on and we were given freedom and responsibility to look after ourselves. I really like the fact that the price was all-inclusive, the the course was excellent value for money!
Rachel (2017)
Summits & Skills 4000m (Instructional Course)
​Hi Eira! It is Maite from Spain again! Just a message to tell you that I spent a wonderful week and that both guides (Paolo and Christian) were superb.
Maite Iriarte
Swiss 4000ers