Matterhorn Ascent
Level 3 : Guided Climbing
Perhaps the most famous peak in the world after Everest, the Matterhorn is a superb summit demanding fitness, determination and a level of competence rock scrambling and easy climbing.
The Matterhorn is probably the most photographed peak in the world. Anyone who has been to Zermatt and seen it up close, will appreciate it's beauty and grandeur and will be attracted by the idea of making an attempt to climb to the summit of this famous mountain, first climbed by Edward Whymper, Michael Croz and Co. in 1865 during the Golden Age of Alpinism.

Dates & Booking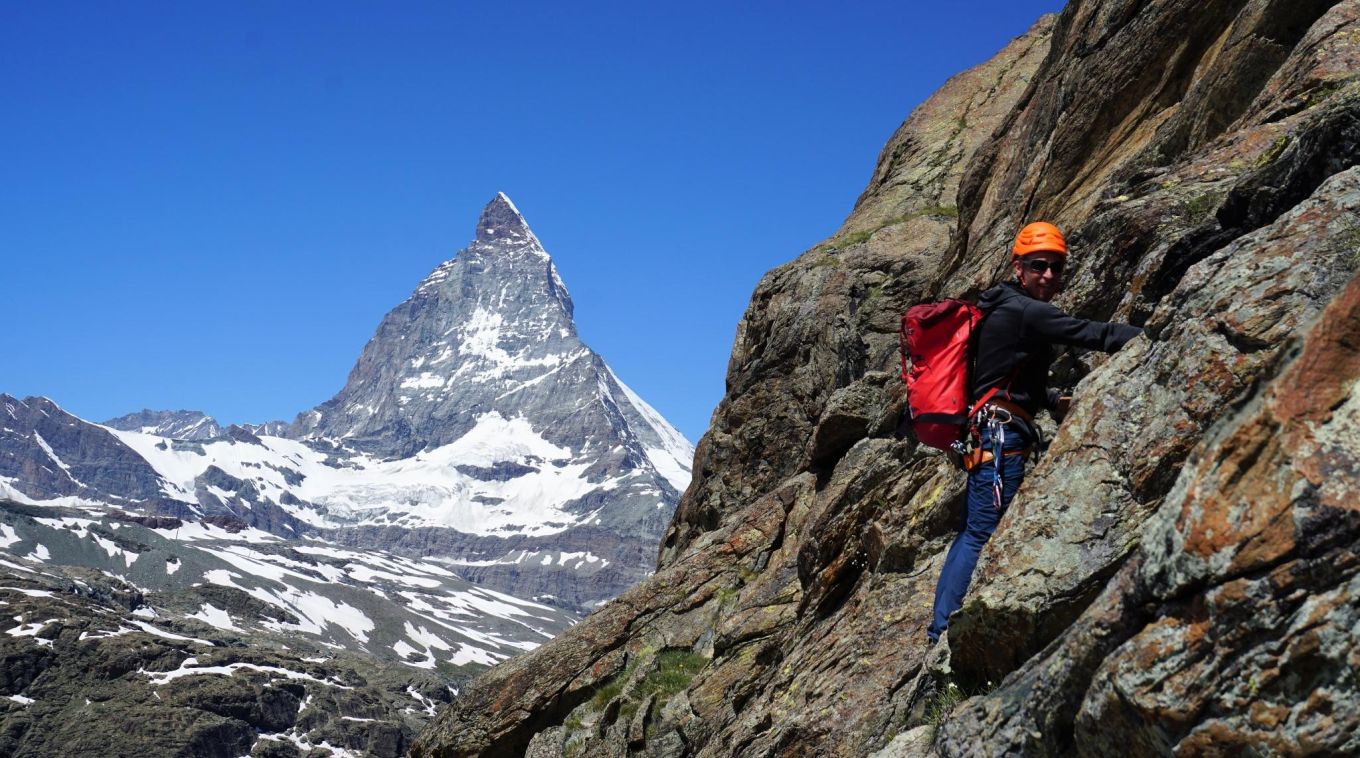 Matterhorn Ascent 3
Course Highlights
Maximising a weather window in your week to attempt to climb this famous and iconic summit
Help with initial preparation and training in the UK focusing on the Matterhorn
Pre-acclimatisation and training before attempting the Matterhorn
Expert guiding and instruction from experienced ISM Guides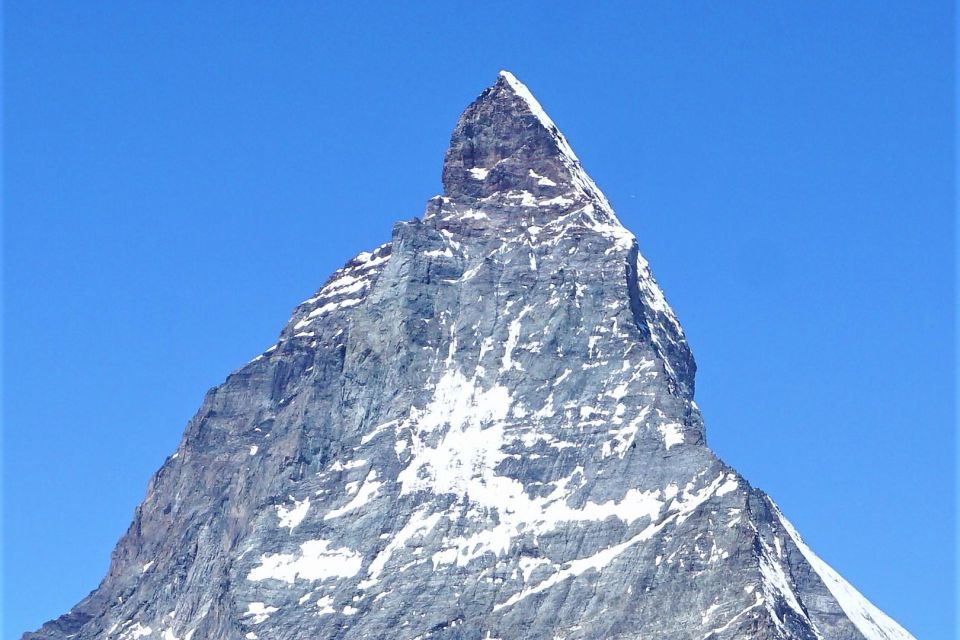 Matterhorn Ascent 4
Is this Course For Me?
The Matterhorn is one of the exceptions to the general rule of summer alpine mountaineering, in the fact that there is no glacial approach and very little snow and ice to climb. A competence in rock scrambling and climbing is required, along with a good level of fitness over this type of terrain. We start the week with some acclimatisation on a nearby peak which has similar terrain. This is a chance to refresh skills, put crampons on, ready for any possible snow above the shoulder and use fixed ropes walking to the summit of the Matterhorn.

Along with a good level of fitness over rocky terrain and a competence in rock scrambling and easy climbing whilst wearing boots, an attempt of this famous peak is possible. You can get this type of training in the UK, climbing in the mountains of the Lake District or North Wales. Have a look at our Alpine Preparation days and weekends. These are a great option if the Matterhorn is a peak you're inspired to climb.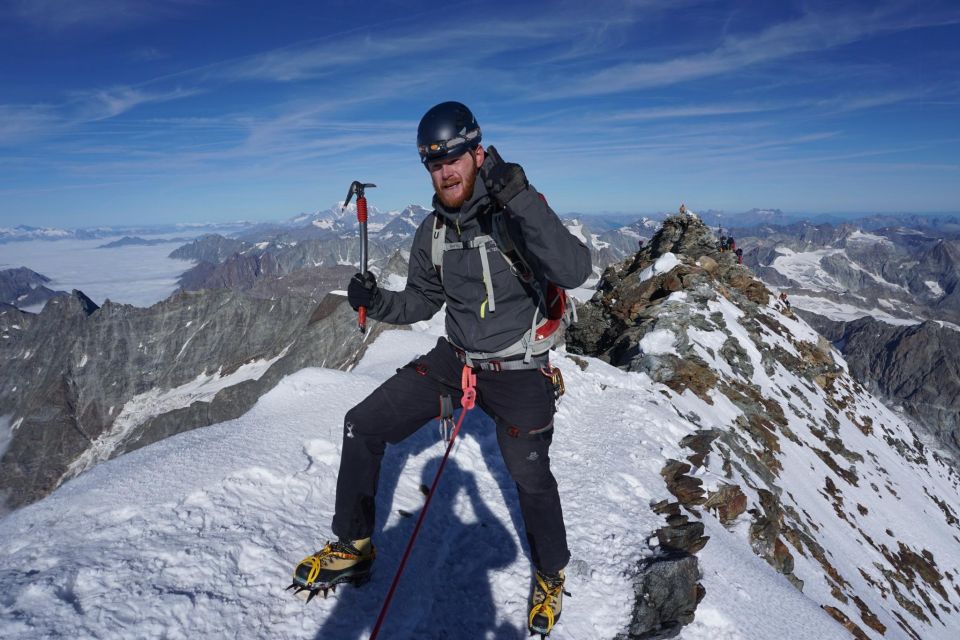 Matterhorn Ascent 5
Climbing The Matterhorn
The traditional 'high season' for the Matterhorn is mid-July until the end of August. Recent hot summers have extended this and at the same time made weather patterns generally less predictable. We accept bookings for the Matterhorn from early July into September, and if conditions prevent an attempt the guide will offer an alternative programme after discussion with you. As always we will give you the best mountaineering week we possibly can.
This week is based entirely on a 1:1 guiding ratio. Taking into account your previous experience, acclimatisation and the expected weather pattern, your Guide will plan any preparation required and decide the best day for a summit attempt (which would normally be by the Hornli Ridge but alternatives can be discussed with your Guide).
We offer this either over either 5 days of 1:1 guiding (Monday to Friday or Sunday to Thursday) or 6 days of 1:1 guiding, the latter providing an even higher probability of success as it gives more time for acclimatisation/training as well as more options for the summit day.
Note on costs. We charge for this course on a personal guiding basis. You cover expenses as they are incurred. For summer 2021 please contact the ISM office for our guiding rates and for more information.

Dates & Booking
Climbing the Matterhorn
Good fitness and stamina are very important, as is 'sure-footedness' (the ability to move swiftly and efficiently on a variety of mountain terrain). Some scrambling or lower grade rock climbing experience is essential, with the ability to climb at grade III (British Very Difficult, USA 5.4) in mountain boots as a minimum. Cramponning skills are an advantage but this can be covered within the course. It is most helpful to have done some acclimatisation before the course as this extends the time when the Matterhorn can be attempted.
Training for the Matterhorn
The right preparation in the UK can greatly increase your chances of success on the Matterhorn. The Lake District and North Wales both offer excellent terrain for Matterhorn training and we are happy to provide this from October to June inclusive (see Lake District Rock Climbing). We find that two or three brief sessions properly spaced out are most effective, with time to work on specific fitness training in between.
Sample Programme
This is a sample programme based on a 5-day block of 1:1 guiding. The first part of the week will vary considerably depending on your needs and level of acclimatisation. We adapt the programme to make use of the best weather for our summit day. The programme given below would be suitable for someone with alpine experience but who had not been able to acclimatise before the course
Sunday evening
The week starts with a meeting with your guide at 6.45pm at the Tour D'Ai hotel in Leysin. This is a chance for the guide to find out as much as possible about your climbing experience, brief you thoroughly on the plan for the course, sort out any particular equipment requirements and for you to ask any questions that you may have!
Monday
After breakfast we start by checking and issuing any personal climbing equipment you may need. We then drive up the Rhone Valley and into the Mattertal, finally branching east into the Saas Valley to reach the village of Saas Grund. We take the chairlift to Hohsaas then walk on to the Trift glacier to practise ice axe and cramponning skills, after which we descend to the Weissmies hut.
Tuesday
Overlooking the hut is an excellent training and acclimatising peak - the Lagginhorn (4010m). We make a pre-dawn start to reach the west ridge, a massive a rocky spur giving good scrambling and short sections of climbing to the summit. After enjoying this magnificent viewpoint we descend by the same route and continue down to the valley by cablecar for a comfortable hotel night.
Wednesday
We drive around to Tasch in the Mattertal and take the train to Zermatt. We'll have time to look around the town, have a coffee and buy some snack food before taking the cable car up to Shwartzsee. This a nice spot for lunch with stunning views of the Matterhorn. Two hours walking takes us to the Hornli hut and a chance to rest while your Guide does a reconnaissance of the first part of the Hornli Ridge, which must be climbed using head torches.
Thursday
The day starts with a quick breakfast at 3.30am before we go onto the ridge. After passing a steep rock bluff with help from a fixed rope, some ledge-walking gets us to the first couloir. Above this the scrambling is continuous, with nothing harder than grade II if the right route is followed, then the route begins a long rising traverse to the left and up a steep pitch up to the Solvay hut (an emergency bivouac). More steep climbing (grade III-) above this gains The Shoulder, where it is sometimes necessary to put on crampons.
We climb strenuously up the fixed ropes to the summit ice field. Careful cramponning now to the summit - a narrow crest with immense drops on every side. Normally it's too chilly to stop for long, so after photographs and perhaps a quick snack we begin our steady and careful descent, stopping for some proper food by the Solvay hut. The descent from the Solvay seems long and tiring as we have to concentrate all the time, but eventually it ends and we can relax with a drink at the Hornli hut where you can see the ant-sized climbers still on the mountain. Our preference then is to continue on down to the Schwartzsee hotel.
Friday
By the time we have had buffet breakfast (not at 3.30am!), the Matterhorn should be fully sunlit and perfect to photograph. Now we can either stroll down to Zermatt or take the cable car to give us more time in town (perhaps visiting the Alpine Museum). If you are returning to Leysin, the train takes us back to our vehicle in Tasch, and from here its on down to the pleasures of the Rhone Valley, which can include a swim and ice cream en route to Leysin. Alternatively, your week can finish in Zermatt and you can spend Friday night there.
Course Dates & Booking
Please call +44 (0) 1539 721561 for availability
Vital Information
Please check the vital information below to help when booking a course
All Vital Information
Testimonials For ISM
Thank for an amazing couple of weeks! Matt and Stu were fantastic. I learned so much but also had a lot of fun. I have come home feeling like a proper mountaineer, having made some great new friends and with some unforgettable memories. I plan to come back next year!
Tim
Thank you very much for an enjoyable and inspiring week in the Alps, and for your patience and good humour throughout. You have a completely satisfied customer and I hope to join another ISM course sometime in the future.
Michael Firth
Classic AlpinISM (Instructional Course)
Perfectly paced and tailored, great variety of skills learned. Guiding and Instruction? Thomas was fab! Everything was pitched at the right level (no pun intended), safety was always paramount and everyone had so much fun learning everything.