UK Rock Climbing
Rather than running courses on set dates, we arrange activities for individuals and groups at mutually convenient times.
We find this fits in much better with people's work schedules, and there is no doubt that two or three short training/climbing sessions, properly spaced, can be much better preparation for an alpine holiday than a single course, as it allows time in between for specific training and working on weaker areas.

We have a 'fast track' approach: by tailoring the course to individual needs we can cover as much in 2 or 3 days as many centre-based courses cover in a week.
All courses are run by IFMGA mountain guides who are expert in all aspects of climbing and mountaineering.
North Wales and the Lake District offer every type of climbing from roadside crags to long mountain routes (which give perfect training for alpine peaks like the Matterhorn). Each area has its sheltered venues suitable for rock climbing through the winter months (the North Wales coastline being particularly good) and a hard winter gives opportunities for snow and ice climbing (with far shorter walk-ins than those typical in Scotland).
Costs
We generally work with groups of one or two people but can also cater for larger groups. The rates charged (for instruction and use of all technical equipment) are as follows (please ring for larger groups):
WEEKDAYS - 1 person - £220 per day; team of two - £130 each per day.
WEEKENDS/BANK HOLIDAYS - 1 person - £240 per day; team of two - £140 each per day.
We are happy to suggest accommodation in local areas.
Testimonials For ISM
Our three guides were all excellent: Thomas, Phil and Paulo. I can't speak highly enough of them. They were all good company and superb climbers, and patient with us all.
Donald Connolly
Matterhorn Ascent
The course content was brilliant. No knocking whatsoever. We had Jacky for the duration, and his experience shines through and his leadership. He taught me a lot of things, not just the black and white of things but actually quick methods to overcome tricky situations!
Andy Challenor
Summits & Skills 4000m (Instructional Course)
Team Spotlight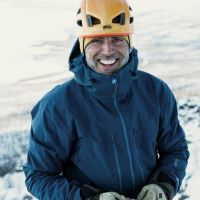 IFMGA Swedish Mountain Guide
Christian likes exploring the mountains in any mountain range and particularly loves the solitude and wilderness of northern Scandinavia.
Read More