Technical Alpine Ascents
Level 3 : Guided Climbing
This week of technical mountaineering is not tied to any particular area or peaks. The course has a simple aim - to give participants a great week of challenging alpine climbing on the finest routes of at least two different alpine valleys of the Swiss Valais, Bernese Oberland or Mt Blanc Massif.
Designed for people with previous alpine experience, the specific climbs and peaks that we attempt are decided upon after considering the alpine routes you have already done. This way we ensure that you will be in new and inspiring areas on routes which provide the right level of challenge.
Dates & Booking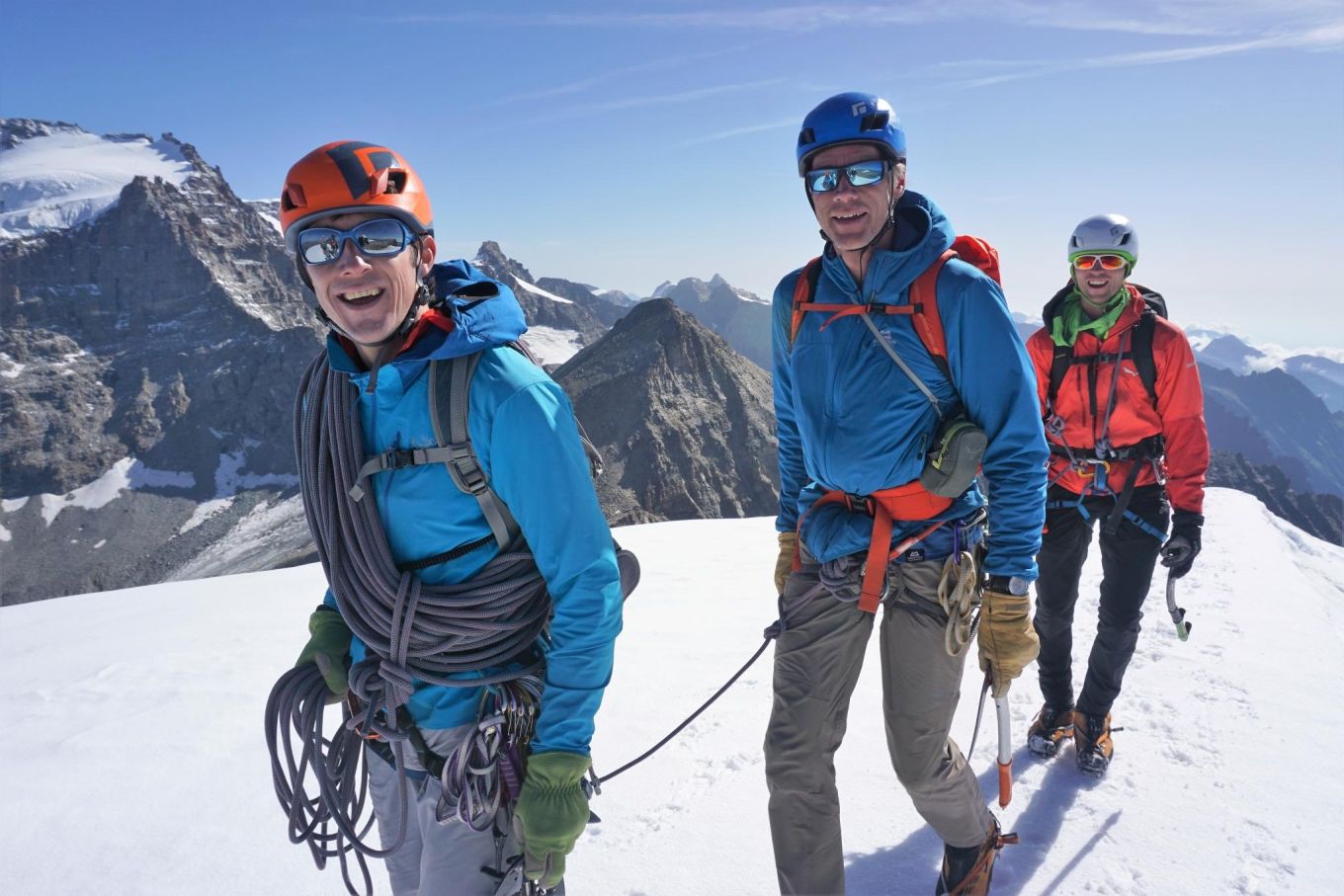 Technical Alpine Ascents 2
Course Highlights
A guided climbing week of challenging technical alpine peaks and routes
Complete flexibility to climb where the weather and conditions are best
Price includes all food, vehicle transport and accommodation (excludes mechanical uplift*)
Expert guiding and instruction from experienced ISM Guides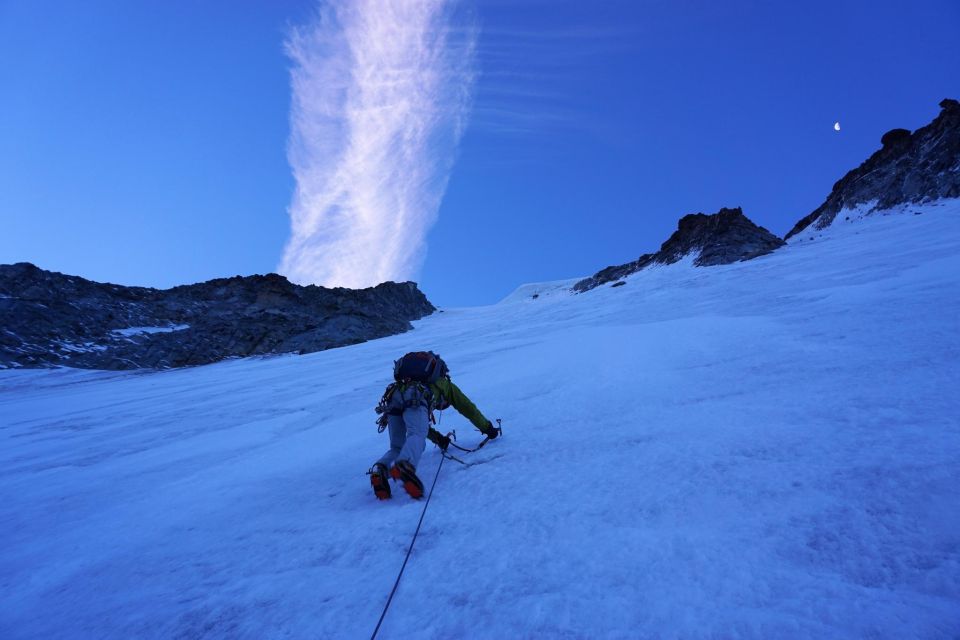 Technical Alpine Ascents 3
Is This Course For Me?
This is a very open week of climbing and mountaineering focusing on the abilities of the group and where the weather and conditions are best in the Alps during thet wee. We try to deliver a mix of climbing both multi-pitch alpine rock routes and technical alpine mountaineering routes and summits.
Previous alpine climbing experience is necessary to at least ISM level 2, having had experience on more moderate 'classic' terrain, and want the challenge of climbing steeper routes and enjoying longer more adventurous mountain days out. Participants should ideally be climbing to grade V (British Very Severe, American 5.7) and have experience of climbing with boots and rucksack (although we may carry rock boots for some climbs). Experience climbing with two ice tools on moderate routes (Scottish grade II and III) is also necessary. Good fitness and stamina is essential.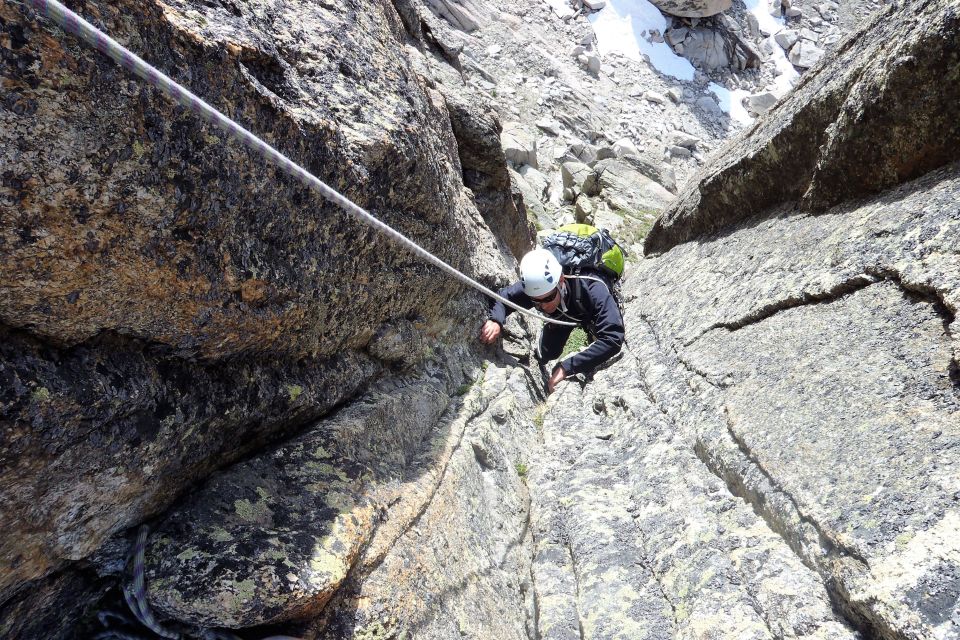 Technical Alpine Ascents 4
Technical Alpine Ascents
We may climb a 4000m peak on this course; however the emphasis will be on climbing the finest routes in our chosen area at the right level of difficulty for course participants.
We climb on a low 2:1 guiding ratio, which gives us flexibility to match levels of experience and fitness within the group - and to tackle some challenging climbs. Routes attempted on this course can range from alpine grades PD+ to D and can include climbs that vary from short and technical, to those that are long and committing undertakings at altitude. We will explain the options at the course briefing and give you the chance to input into the final plan.
Please be very sure to detail on the booking form your previous experience and especially all alpine peaks climbed, so that we can plan the most suitable itinerary.
Course Content
We would typically choose to run this course outside of the areas where we tend to run our other Technical Ascents courses (i.e. Zermatt, Central Switzerland and central Oberland). We are happy to change climbing areas to achieve the best possible week's climbing.
The list of routes we could choose from is almost endless. Here are a few possibilities:
Valais Alps
Grand Cornier (3961m), S. ridge (AD+). Brilliant remote ridge.
Dent de Tsalion (3589m), A long and exposed granite ridge with excellent climbing (V).
Les Bouquetins (3779m), North face (AD+). Technical ice and rock climbing.
Mont Blanc de Cheilon (3870m), traverse (AD). Mixed ridge climbing at its best.
L'Evêque (3716m), SW Ridge (AD/IV+). Superb alpine rockroute.
Mont Collon(3637m),WestRidge (AD).Technical ridge to a remarkable summit plateau.
Grand Combin (4314m), Meitin (W) ridge (AD+). Mostly rock and mixed climbing to a final summit snow slope.
Dent d'Hérens (4171m), East ridge (AD). A long glacial ascent and a fine mixed summit ridge.
Bernese Oberland
Blüemlisalphorn (3663m), either by the classic NW ridge (AD), or by the N face (D) - a beautiful ice route in good conditions.
Traverse of the Blüemlisalp chain Magnificent snow crest (AD) linking the summits of the Morgenhorn (3627m), the Wyssi Frau (3650m) and the Blüemlisalphorn (3663m).
Fründenhorn (3368m), South West ridge (D). An excellent ridge climb with pitches up to IV+.
Doldenhorn (3643m), arête Gallet (AD). A long, classic route on snow, rock and ice.
Gspaltenhorn (3436m), NW ridge (AD-). Mixed climbing with an exciting rock crest leads to a great summit overlooking the highest north wall in the Oberland.
Kingspitz (2621m), North face (V+). The classic route up an impressive peak - if your rock climbing is up to it!
Chamonix / Mont Blanc Massif
Dent du Géant (4013m). A variant on the normal route (one pitch of V) avoids the crowds on this fantastic rock spire.
Tour Ronde (3792m), North face (AD+). This classic route is an excellent introduction to north face ice routes.
Mt Blanc du Tacul (4248m), Chèré couloir. A short but steep couloir with ice up to 80°.
Mont Maudit (4463m), frontier (Kuffner) ridge (D). This ridge is an all time classic – a long mixed climb at high altitude.
Aiguille du Moine (3412m), South ridge (D-). An excellent rock ridge with pitches to V.
Aiguille du Chardonnet (3824m), Forbes arête (AD). Another classic mixed climb along a pinnacled ridge.
Mont Dolent (3820m), Gallet ridge and traverse (AD). A more remote adventure away from the crowds. Mixed climbing to a great summit.
Aiguilles Dorées (3519m), traverse (D). A long traverse on rock, ice and mixed ground.
*Please note that this course normally runs without taking mechanical uplift and is priced accordingly. If uplift is taken (with agreement of course participants) it is charged as an extra.
Sample Programme
This is very much a sample programme of this course as any number of different combinations of peaks and climbs are possible.

Saturday evening
The course starts with participants and guides meeting at 6.45pm at the Tour D'AI hotel in Leysin. This is the chance for the guides to give you a thorough briefing and discuss the detailed plan for the week with you.
Sunday
The plan for the week might start in the Arolla region with the 'Arête de Tsalion' as our first climb. This is an excellent route up a long and steep ridge on the Dent de Tsalion, next to the spectacular tower of the Aiguille de la Tsa (which we can climb as well if we are in good time). We sort gear and then drive around to Arolla and walk up to the privately owned Tsa hut.
Monday
This is a big day so we make a good 'alpine start' in the morning. Starting over awkward moraine, we soon reach the bottom of the arête, which is followed all the way to the summit - mostly pitched climbing with some strenuous sections up to grade V. From the top, a short traverse across a snow slope takes us to the bottom of the prominent tower of the Aiguille de la Tsa, which can be climbed in another four pitches or so, if there is time (and energy!). We descend to the glacier and traverse around to the Bertol hut.
Tuesday
There are several options for today depending on the conditions. The Dents de Bertol (3547m) is the closest and is a snow ascent to a mixed ridge. If there are good ice conditions the Tête de Chavannes (3671m) gives a great steep ice route. We descend via the Col de Bertol and back to Arolla. Overnight hotel.
Wednesday
A superb expedition for the second part of the week is traverse of the Grand Cornier (3733m). The South Ridge of this peak is a fantastic route in a wild and remote setting, climbed from the Dent Blanch bivouac hut. This is situated in an incredible position on the col underneath the north ridge of the Dent Blanche. We sort the bivvy food and gear, drive around to Ferpècle, and make the 5-6 hour ascent to the bivvy hut.
Thursday
The climb starts straight from the hut and is mostly rock, so we don't need to make a pre-dawn start! The difficulties are mostly on rock (pitches to IV) and the ridge itself is a very exposed and narrow crest. From the summit we descend the tricky rock crest of the North West Ridge, then over mixed ground onto the upper Moiry glacier, which gives a long but easy descent to the Moiry hut.
Friday
Our return to Ferpècle involves crossing the Moiry glacier again below the hut and then climbing easily up to the Col de la Couronne. From the col we can take in an ascent of the south ridge of the Couronne de Bréona (3159m). This excellent rock peak is seen prominently from the hut and gives a fine little route to round off he week. We descend to Ferpècle and return to Leysin and the Tour D'Ai hotel in the afternoon.
Saturday morning
Breakfast is included before departure (or this is a rest day if you are continuing to another course).
Course Dates & Booking
Please call +44 (0) 1539 721561 for availability
Vital Information
Please check the vital information below to help when booking a course
All Vital Information
Testimonials For ISM
"What an incredible week learning the basics of Mountaineering. The course is perfectly balanced between summiting high alpine peaks and learning rope, climbing and glacier skills.
William 2021
​Hi Eira! It is Maite from Spain again! Just a message to tell you that I spent a wonderful week and that both guides (Paolo and Christian) were superb.
Maite Iriarte
Swiss 4000ers
Thanks for organising an excellent week. The course format, accommodation and set up was perfect. The guide was outstanding and gave us a full week of constructive tuition. I was able to put his training into practice the following week when I met up with a friend and did the Cosmiques Arrete.
R W (2017)
Classic AlpinISM (Instructional Course)