Classic AlpinISM
Level 2: Instructional Course
Our Classic AlpinISM course is for those who wish to develop their existing summer alpine mountaineering skills and to grow as an independent mountaineer.
Classic AlpinISM is a perfect progression leading on from either one of our Level 2 - Guided Climbing courses or maybe from our Summits & Skills 4000m introductory course if you already have some rock climbing experience beforehand. You'll develop the key alpine skills and techniques to become more independent in the summer alpine environment.

An ISM Level 2 certificate will be awarded at the end of this course.
Dates & Booking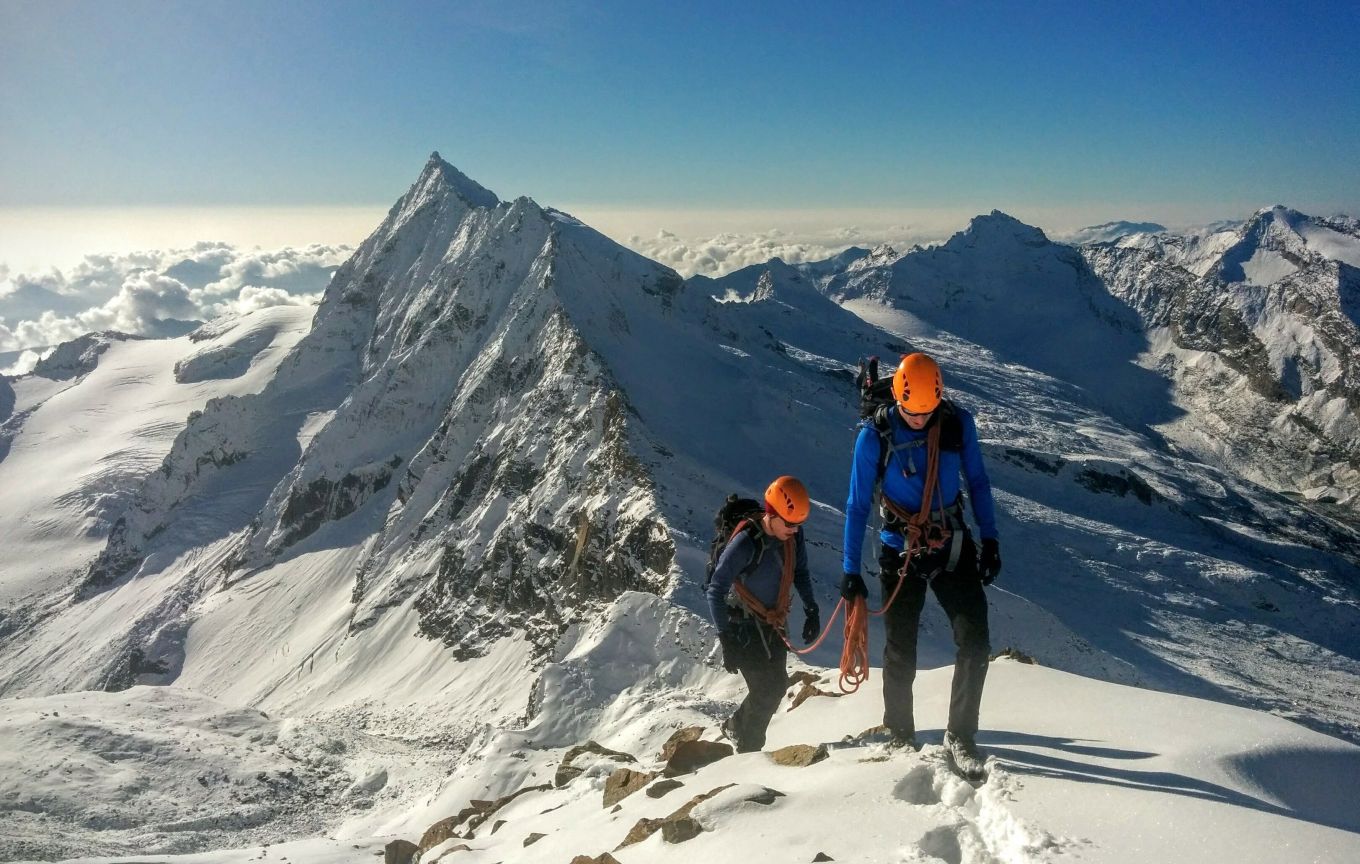 Students short roping on Weissmies 3
Course Highlights
A structured week of instruction
Learning key skills to become more independent
Expert instruction and coaching from experienced ISM Guides
All-inclusive price includes uplift, food, transport and accommodation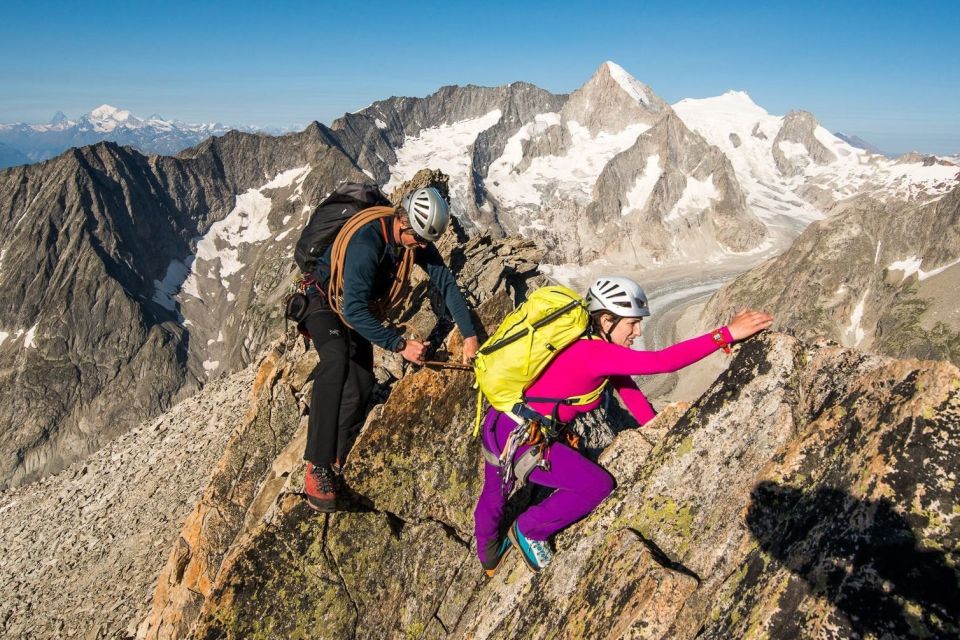 Classic AlpinISM 3
Is This Course For Me?
ISM has structured this course, so that it is a fantastic progression if you have already learned and experienced the basic skills of summer alpine mountaineering and wish to develop further. It will help you on the path if you wish to become more independent or learn the more advanced skills that will you to access more technical alpine terrain in the future.
Dates & Booking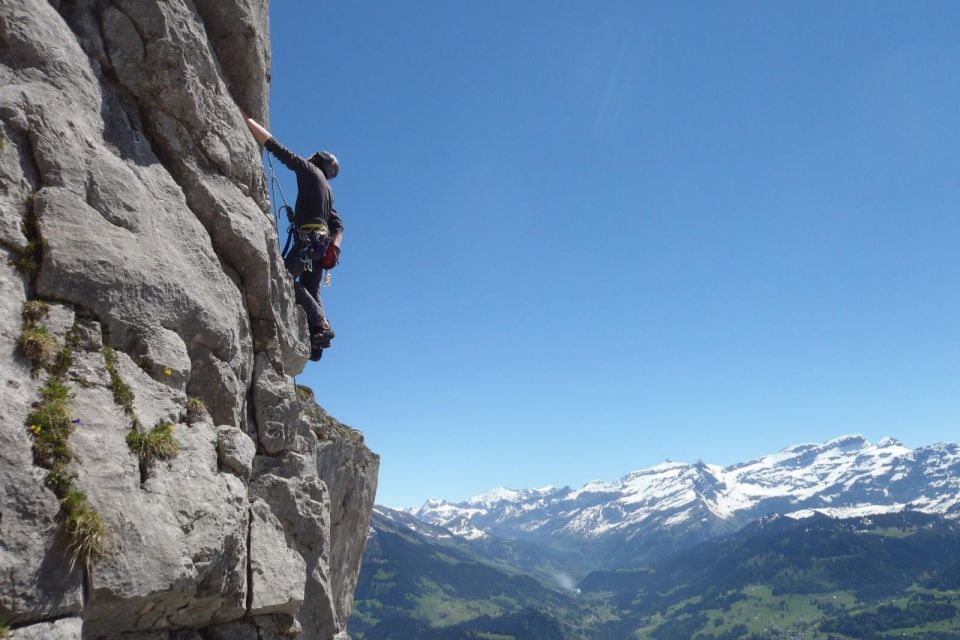 Classic AlpinISM 4
Developing your mountaineering skills
ISM has structured this course around an initial day of developing your rock climbing and rope work skills, before we go into the mountains. We refresh all the key elements around crevasse rescue and glacial travel, which will give you the important skills and confidence to move over a glacier safely. You will get opportunites to 'lead' the rope, learning through a hands-on approach practising route finding, short roping techniques, pitching, building safe anchors and understaning more about the environment around you. The routes and summits you climb through the week will give you the experience to understand more, develop as an alpine mountaineer and over time become more indpendent.
Dates & Booking
Course Content
This is our Level 2 - Instructional course
Understanding the weather forecast and current conditions
Planning a day and week
Climbing and safety equipment
Developing your rock climbing and rope work
Refreshing crevasse rescue techniques
Safe glacial travel
Route finding and navigation
Short roping and short pitching techniques
Multi-pitch rock climbing rope work and techniques
Abseiling and prussiking
Sample Programme
Saturday evening
The course starts with a briefing at 6.45pm at the Tour D'AI hotel in Leysin. This is a chance for you to meet your team mates and Guide and go through the details of the course. There will also be time for you to sort out any equipment you need and for you to ask questions. Dinner will follow the briefing.
Sunday

The limestone cliffs of the Leysin Tours provide a beautiful venue for you to start with a review of rock climbing skills (belay techniques and set ups, rope work and movement). It gives your Guide a chance to find out exactly 'where you are' with your climbing! We move on to cover technical aspects of multi-pitch climbs and descents, lead climbing skills, and to coach your movement on the rock as appropriate. We try to relate crag climbing techniques and rope work to the longer climbs of the Alps and the need for speed and efficiency. As we do throughout this course, we adapt our teaching to your level of experience. We return to the hotel in the evening.
Monday

Today we go to a high alpine hut, where we will spend the rest of the week. This is normally in the Trient region (the Swiss side of the Mt Blanc massif) which is an ideal venue as it has a range of suitable climbs for the next days. A short drive to Champex and a chair lift take you up to La Breya from where a couple of hours' walking gets you to the Orny glacier. We will stop on the glacier for a session reviewing basic crampon and ice axe techniques and roped glacier travel. We demonstrate and coach your ice climbing technique with some 'ice bouldering' and look at the use of ice screw and Abalakov belays, before continuing up to the Cabane d'Orny where we stay the night.
Tuesday
From the hut we head directly up and havie a multi-pitch rock climbing day, climbing the west ridge of the Aiguille d'Arpette. This allows us to deliver many of the elements around having a safe and fun alpine rock day. You will develop your understanding of the hazards around you, route finding, the rope work and techniques for the different types of rock terrain that you're moving over (helping efficiency in the mountains), placing traditional protection and choosing anchors. On the descent we'll also include safe abseiling techniques, thoughts around lowering and other techniques for the changing terrain to help you get down from a climb safely. It is a great area to really help develop your independence in this environment. We'll spent a second night at the Cabane d'Orny.

Wednesday

We make an alpine start before dawn, as it's best practise to be up on the Trient Glacier whilst everything is still frozen. Once on the glacier, we'll head across the huge Trient Plateau and climb the Tête Blanche (3421m) either via the east or north east ridge. Today we'll focus both on safe glacial travel and mixed climbing. During the day we give thought to the weather and conditions around you, route finding, and adapting the rope techniques for the terrain that you're moving over. You will have the opportunity to refresh skills, such as taking coils and techniques around moving together, short roping and short pitching. You'll be working as independent teams gaining experience around route finding, choosing safe anchors, placing traditional gear, different ice axe and crampon techniques and rope work. We descend via the Col Blanche, experiencing how to manage a steep section of glacier safely, perhaps looking at snow belays and abseiling, before heading across the Trient glacier to stay the night at the Cabane du Trient which is a fantastic hut overlooking the whole Trient glacier basin.

Thursday

Today we'll look at another alpine rock objective but this time one where you have a glacial approach to get onto it. It's a great chance to consolidate the skills you have learned so far and to work independently to climb the south ridge of the Aiguille Purtscheller (3475m). This route gives classic alpine ridge climbing on perfect granite – all in a fantastic setting! The climbing is all in pitches (up to grade IV alpine) with an awkward chimney to finish and a narrow rock summit. On the awkward sections your ISM Guide will be there to coach you through any sections and to safeguard them as you move through. It's again a chance to develop your independence at this grade in this alpine environment. We descend with several abseils down the mixed ground on the North East side of the peak back onto the Trient plateau. After crossing the Trient plateau we may have some time to refresh and develop your skills and knowledge around crevasse rescue including holding a fall, snow anchors and the rope work needed to help someone safely out of a crevasse. We spend a second night at the Cabane du Trient.
Friday
This last day is a chance for you to take real ownership of any glacial travel, route finding and rope techniques needed for getting to a summit safely. Your ISM guide will coach you and give you feedback when they feel it's appropriate. We hope that this day will really help you to develop that feeling of confidence and indenpendence moving forward. In the hut the night before the ISM guide will have discussed the weather and conditions, looked at the map, chosen a suitable summit, and a plan of how the day could play out. One of the summits could be the Aiguille du Tour (3542m) which is a lovely alpine summit to finish on, sitting high above the Trient glacier with great views of all the surrounding peaks and valleys. The descent is back down one of the ridges, again giving you chance to practise different rope techniques on your way back to the Trient glacier.
After crossing the Trient plateau and descending the Orny glacier, we descend to the valley and return to the Tour D'Ai hotel in Leysin on in the late afternoon.
Saturday morning
Breakfast at the hotel is included before departure.
Course Dates & Booking
Please call +44 (0) 1539 721561 for availability
Vital Information
Please check the vital information below to help when booking a course
All Vital Information
Testimonials For ISM
Thanks for a great week, in some pretty challenging and extreme conditions. Thanks for keeping us safe, teaching us loads, and being all round fantastic fun. I'd look forward to coming on another trip with you guiding.
Steve
Ski Grand St Bernard
"What an incredible week learning the basics of Mountaineering. The course is perfectly balanced between summiting high alpine peaks and learning rope, climbing and glacier skills.
William 2021
Learned loads and acclimatised well during the course. Its obviously been very carefully planned. Guiding and Instruction was excellent. Anders was fantastic throughout and made the whole course really good fun. A very professional instructor with a great sense of humour. Highly recommended.
Leigh Ritchie
Summits & Skills 4000m (Instructional Course)