Summits & Skills 4000m
Level 1: Instructional Course
Our six-day Summits and Skills 4000m course is designed to give you the best possible introduction to alpine mountaineering and in addition, a chance to climb a 4000m peak to culminate the week.
This is a fantastic week, where you will learn all the basic skills required to have a fun and enjoyable time summer alpine mountaineering.
This course is a great introduction to alpine mountaineering, which culminates with a chance to practise your new skills climbing a 4000m peak.
An ISM Level 1 certificate will be awarded at the end of the course to confirm the level you have achieved.

Dates & Booking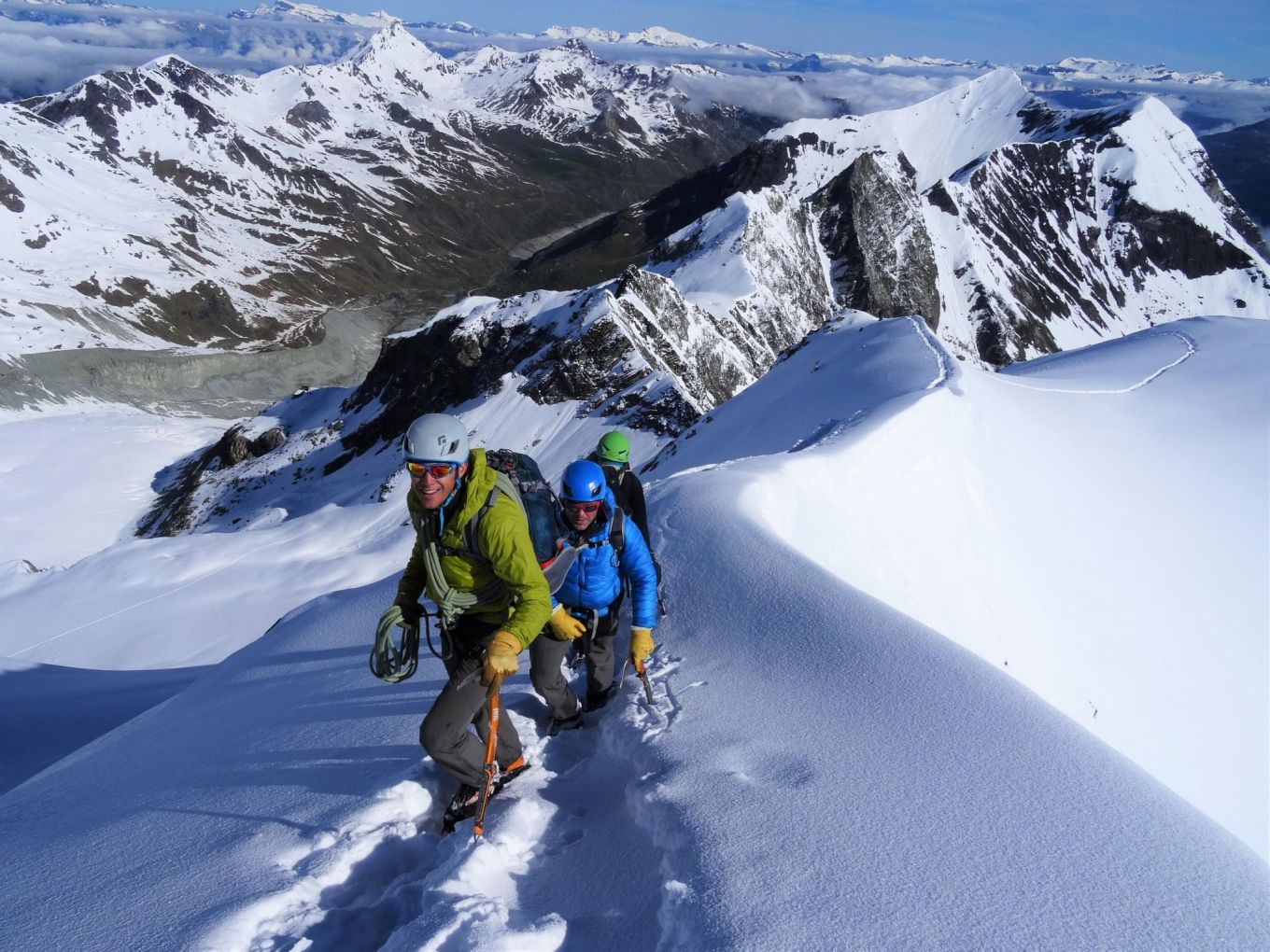 Summits & Skills 3
Course Highlights
A fun week learning alpine mountaineering skills
Practise learnt skills climbing summits and then a 4000m peak
Expert instruction and coaching from experienced ISM Guides
All-inclusive price includes all uplift, food, transport and accommodation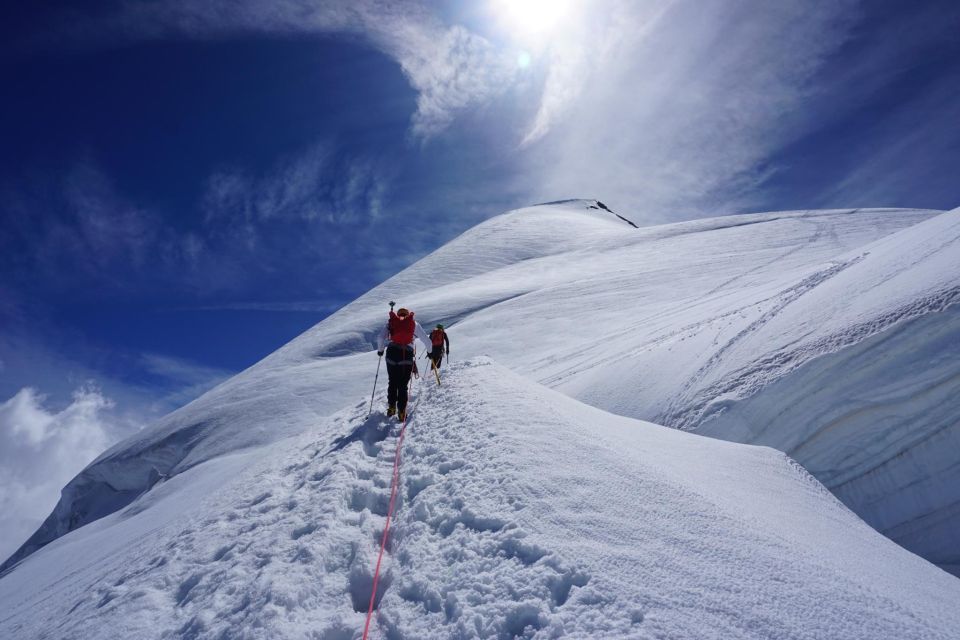 Summits & Skills 4
Is this course for me?
ISM has designed this course to give you a safe and fun introduction to summer alpine mountaineering. Each day is different, starting with the beginings of basic rock climbing and ropework, to putting on crampons and using a mountaineering ice axe for the first time, through to understanding the mountain environment and climbing your first alpine summits. After learning these basic skills we pull all that learning together, and climb a 4000m peak at the end of the week.
Dates & Booking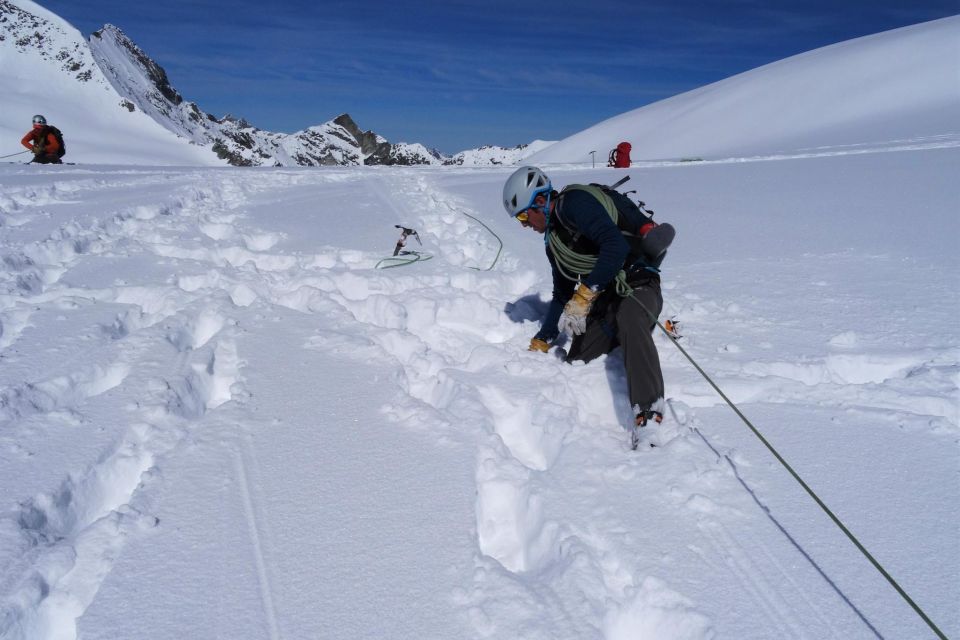 Summits & Skills 5
An Introduction to Alpine Mountaineering
The course is structured to teach you all the basic skills and techniques around alpine mountaineering at an easy pace, to give you the chance to both enjoy and practise the skills delivered. We'll then put all your newly aquired skills into practise climbing your first alpine summits. These summits will also give you a chance to develop your experience and understanding around alpine mountaineering in a fun and relaxed environment.

Course Content
This course is aimed at those new to alpine mountaineering and covers all of the basic climbing and alpine skills, including:

Introduction to basic rock climbing and ropework
Using crampons and a mountaineering ice axe

Safe glacier travel and crevasse rescue techniques

Navigation and interpretation of maps and guidebook
Climbing a number of alpine summits as well as a 4000m peak
Staying in alpine huts
Sample Programme
Saturday evening
The course starts with a briefing at 6.45pm at The Grand Chalet Hotel in Leysin. This is a chance for you to meet your team mates and Guide and go through the details of the course. There will also be time for you to sort out any equipment you need and for you to ask questions. Dinner will follow the briefing.
Sunday
The beautiful limestone peaks above Leysin provide an ideal venue to practise and perfect basic rope and climbing techniques. We cover everything from tying in, belay set-ups and belaying techniques, movement over rock, abseiling and prussiking, taking coils and shortening the rope for moving together on alpine terrain. The multitude of friendly climbs in this area gives plenty of scope for introducing the complete novice, as well as coaching and improving the technique of those with previous climbing experience. We return to the hotel for dinner.
Monday
We travel to the Moiry glacier, an excellent and easily accessible venue, to learn the basics of movement on ice and glacial terrain. We cover crampon and ice axe techniques on different angles of ice, the use of ice screws for protection, belays and good rope technique for safe travel over glaciated terrain.
At the end of the day, we carry on up the glacier a short distance to the Moiry hut, where we spend the night. An evening session at the hut covers the use and interpretation of a map and guidebook, relating it to the terrain around us.
Tuesday
An early start to climb one of the peaks above the hut – normally the Pigne de la Lé (3396m). The mixed climbing on the summit ridge provides excellent ground for practising short rope techniques, and you may have the opportunity to lead the rope during the ascent and descent of the peak. From the summit, we descend to the upper Moiry glacier where there is an excellent spot to stop and learn the basics of building safe snow anchors and crevasse rescue techniques. We return to the Moiry hut late afternoon, for a second night.
Wednesday
Another early start with either an ascent of the Points de Mourti (3563m) to consolidate your learning, with another glacial approach and mixed climbing up the NE ridge or alternatively an involved descent of the Moiry Glacier to further develop your glacial travel, crampon and ice axe techniques. We then descend and drive down to the Rhone valley to Saas Grund where we spend the night in valley based accommodation.
Thursday
Today pulls together the skills you have developed around rock climbing and basic ropework, such as belaying, building a safe anchor, personal rock climbing technique, route finding, prussiking etc. The Weissmies hut gives great access to a number of different venues suitable for all abilities. There are several options today including climbing a fantastic alpine rock pinnacle - the Jagihorn (3206m) which is a longer multi-pitch climb, or single pitch rock climbing close to the hut or climbing the Jagihorn via ferrata. After a day here we will descend using the lift system to Saas Grund where we'll spend a second night.
Friday
After an early breakfast we go to Saas Fee where we take the Alpine Express lift and Alpine Metro to access the Fee Gletscher at the foot of the classic Allalinhorn (4027m). The route up the Fee Gletscher and NW flank of the Allalinhorn will allow you to consolidate and practise many of the alpine skills you will have learned throughout the week. During the ascent you may get a chance to lead the rope and practise route finding and making decisions as the first step in gaining valuable experience to help you become more independent in the mountains.
The Allalinhorn is a great first 4000m peak and provides a fantastic vantage point for many of the other 4000m peaks in the surronding area. You should be able to see across to the Matterhorn and the huge Monte Rosa massif, along the spine of the Mischabel chain and in good weather all the way to the Grand Combin and Mt Blanc behind. From the summit we descend the Fee Gletscher and return to Saas Fee where we will have a course debrief, reflecting on the week, answer any questions and help with your plans moving forward. We return to the Grand Chalet in Leysin for dinner.
Saturday
Breakfast is included before departure.
Vital Information
Please check the vital information below to help when booking a course
All Vital Information
Testimonials For ISM
Terry was a wonderful guide and made everything fun, laid-back and an overall good experience. I would be happy to ski or climb with him again. All the logistics in Leysin and in Italy went smoothly. A really nice time.
KL (2017)
Advanced Ski Touring Skills (Instructional Course)
Just a quick word of thanks for the course last week. Our guide Tom was excellent and covered a lot of miles to ensure we got the best conditions and great routes in and was always ready with a word or two of advice when needed - please pass my thanks on to him,
James (2017)
Technical Alpine Rock
Perfectly paced and tailored, great variety of skills learned. Guiding and Instruction? Thomas was fab! Everything was pitched at the right level (no pun intended), safety was always paramount and everyone had so much fun learning everything.