Sardinia Trekking
Level 2: Guided Trekking
Discover the charm of Sardinia, and trek the steep coastal paths over rugged limestone mountains, cliffs and pristine beaches with incredible views over the Mediterranean Sea.
Enjoy this 'technical' trek in a quiet corner of this beautiful island, with Corsica to the north and the Italian coast to the east. It's a perfect place to spend an autumn week exploring the charm of these coastal paths and enjoying some sunshine before winter sets in!
Dates & Booking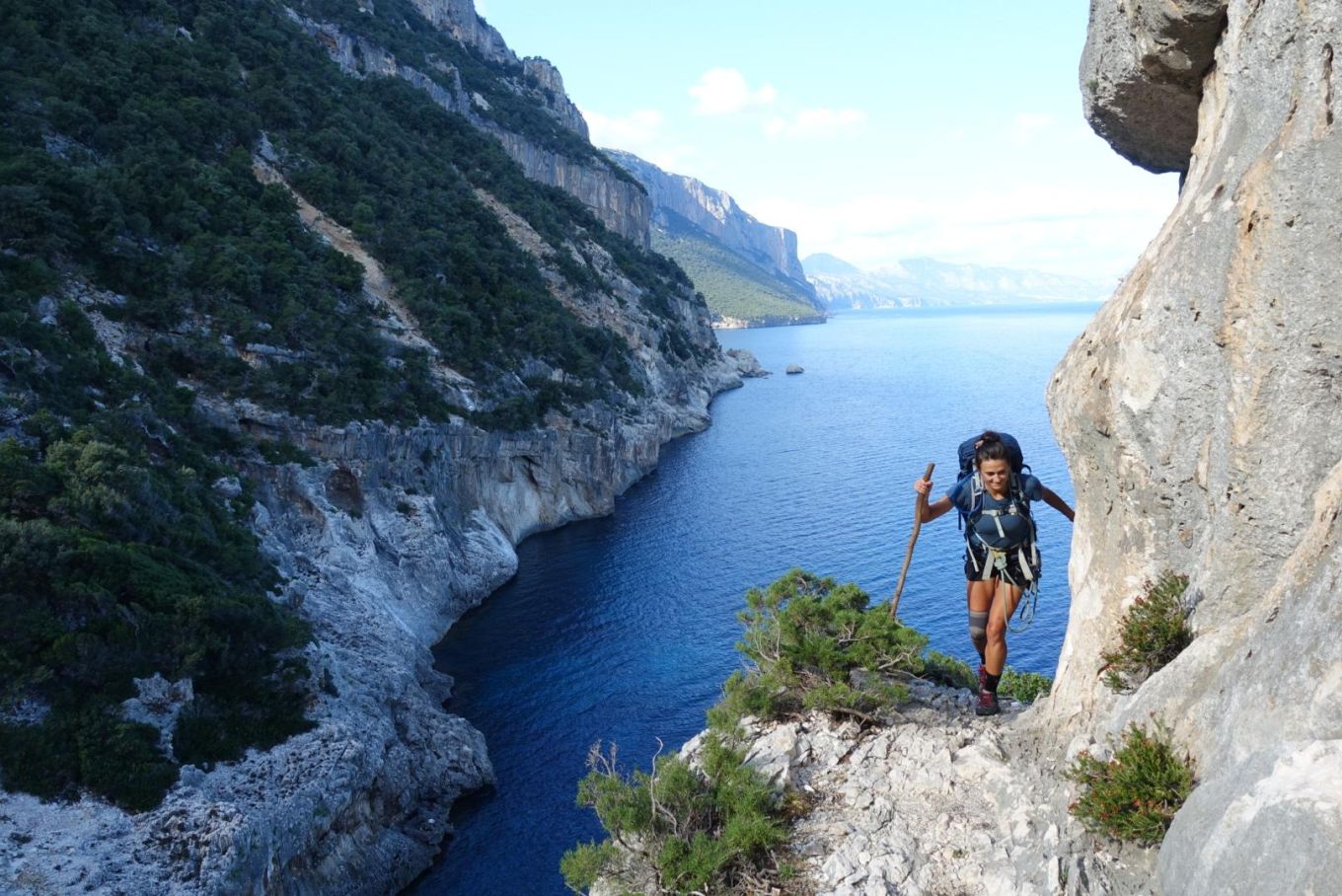 Sardinia Trekking 2
Course Highlights
A fantastic autumn destination to enjoy some trekking with a difference
Enjoy the culture, food and pace of life in this beautiful Mediterranean island
Technical 5 day trek along the rugged limestone coastline with fantastic ocean views
Expert guiding and leadership with experienced ISM Guides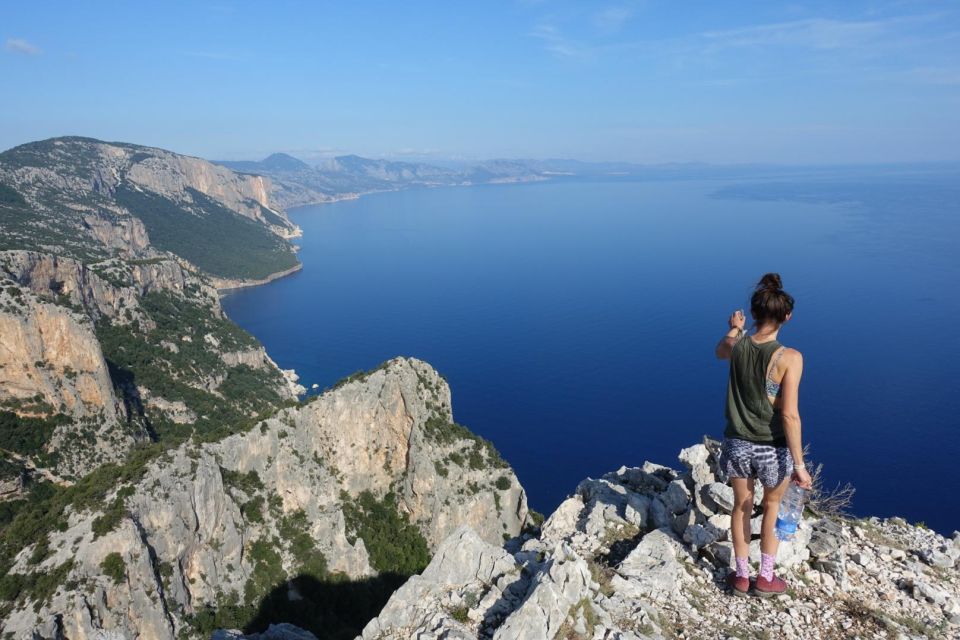 Sardinia Trekking 3
Is This Course For me?
If you're looking for something adventurous but would prefer trekking and scrambling, rather than any of our other mountaineering and courses on offer, then this is for you. This trek is much more adventurous than just a walk along coastal paths, which is why we feel it fits perfectly with everything else ISM offers. This trip would be a great lead into one of our Level 1 introductory alpine weeks or a fantastic trip in its own right. It is a 50km journey during a quieter time of year, outside of the alpine summer and before the colder winter months begin.
A moderate level of fitness is required. No scrambling or roped techniques experince are expected as we'll be there to support you every step of the way!
Sardinia Trekking 4
The Trek
There are some easy climbing sections and some abseiling. The differences in height are not excessive, but the roughness of the terrain and the navigational challenges mean that the stages are never too short.
This is a demanding route, but the mountaineering difficulties can be overcome even if you have never climbed before, if accompanied by an alpine Guide. The navigation, combined with the technical difficulties certainly make it the most demanding hiking route in Italy.
The trek was first done in the 1980s by two Italian mountaineers, Mario Verin and Peppino Cicalò who, fascinated by the wild beauty of this stretch of coast, laboriously covered stretches of shepherds' paths and ancient mule paths which the charcoal burners used from the end of the 19th century. These were combined with other paths that they discovered. The result is a fantastic 50 km trek, along the edge of a vertical cliff, which runs from Pedra Longa to Cala Sisine.
Thanks to the support of a local agency, packed lunches are provided and you will only have to carry day packs, and will enjoy great accommodation and food every evening, so you can make the most of this pearl of paradise, which is the Selvaggio Blu.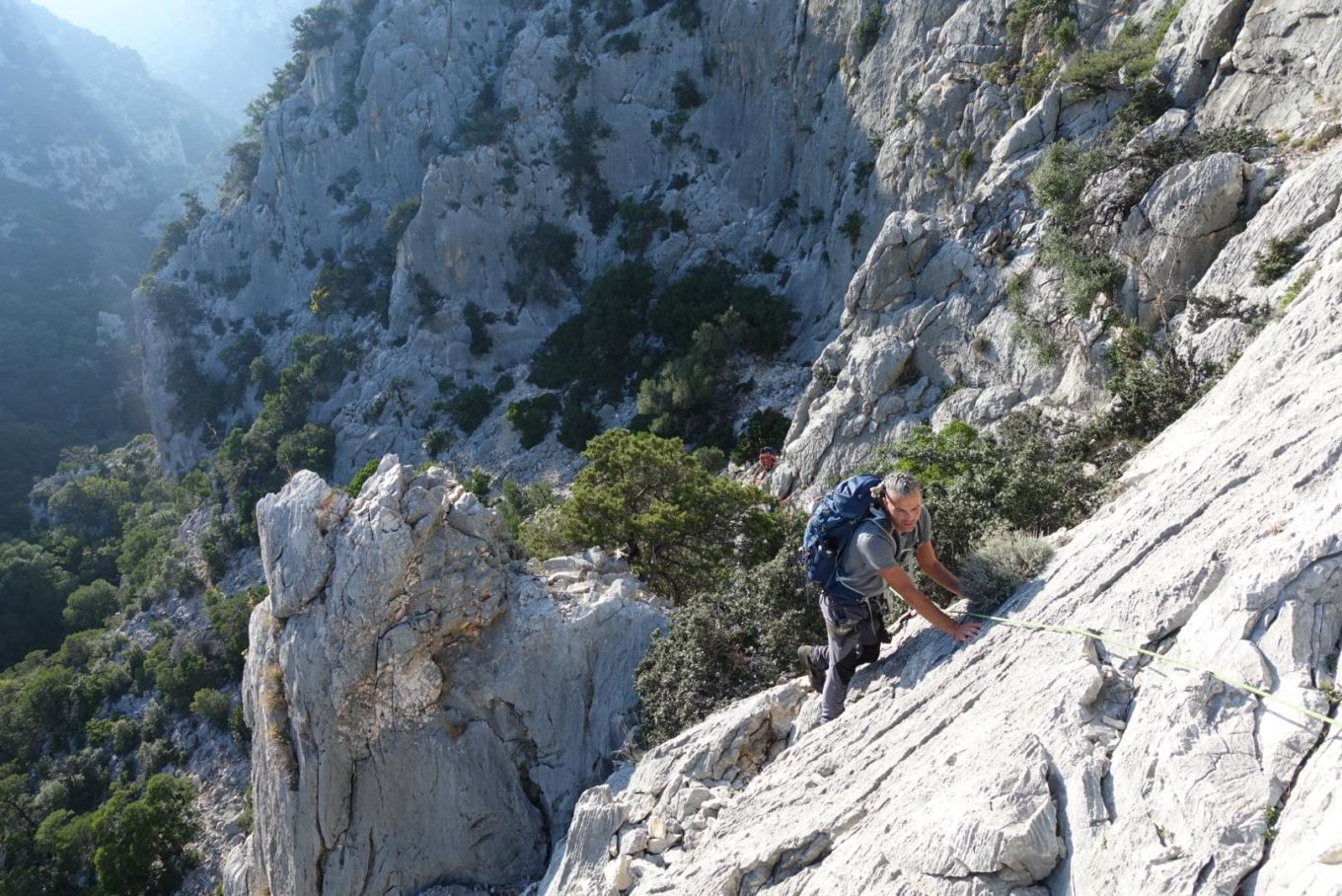 Sardinia Trekking 5
Course Content
Fantastic 50 km journey through the limestone mountains of Sardinia
Technical trekking, not just walking!
Insitu ladders, cable ways and abseiling
Scrambling and easy climbing
Enjoy trek support and so only lightweight backpacks are needed each day
Pristine beaches
Incredible ocean views
Fantastic adventurous experience in a warmer climate
Sardinia Trek
Program
Sunday 3 October
Travel to Santa Maria Naverrese. A course briefing will be followed by dinner at the hotel.
Monday 4
Santa Maria – Pedralonga – Cuile Us'piggius (around 6 hours, 8km and 690m altitiude gain).
We leave the hotel after breakfast and walk along a beautiful and easy path along the Navarrese coast. After crossing the Piana di Forrola, at the foot of the spire of Pedralonga, we go up the magnificent ledge that cuts the south wall of Punta Giradili, and wearing a harness, we will go up to the Iscala Sos Oggiastros. This beautiful and easy climbing takes us to the ridge and then on to the summit of Punta Giradilli. From here we soon reach the plateau (700m altitude) and Cuile Su Idileddu, our first camp. Dinner using local products.
Tuesday 5
Cuile Su Idileddu – Portu Cuau (almost 6/7 hours, 7km, difference in altitude: 210m).
We climb Bacu Tenadiliwe will reach the beautiful bay s of Portu Pedrosu and then Porto Quau. This is a first "technical" stage (but it is not too hard!) and you will use ropes and a harness. It is fairly short and allows you to enjoy the sea. We arrive at our meeting point and our luggage will be delivered by boat. We have dinner and camp in Portu Cuau.
Wednesday 6
Portu Cuau – Cala Goloritzé – altipiano S'Arcu e Su Tasaru (around 9 hours, 9km and 1000m altitude gain).
This is the longest stage. We continue on the plateau overlooking the sea. Your Guide will help with the difficult navigation up to Punta Iltiera where the Bacu Sonnuli begins and you walk along a spectacular suspended path. After another stretch on the edge of the cliffs you climb up to Punta Salinas, which offers a splendid view of Cala Goloritzé. We descend on a gravel path (old coal mine track) to the cove and its amazing Aguglia. Her you can enjoy a well earned rest on the beach. We set off again to climb Boladina, which is one of the most technical trekking paths, and continue on a mule track to the S'Arcu and Su Tasaru plateau. Here we camp and enjoy dinner.
Thursday 7
S'Arcu e Su Tasaru – Ololbizzi (almost 8 ore, 7km 600m D+)
Today we climb to the Lattone ridge and arrive at Punta Mudaloru where a breathtaking view awaits! We follow a gravel track down, using a rope along the famous cat pass to reach Bacu Mudaloru. After a rest and a swim we continue with a steep climb on some exposed sections, surrounded by juniper, until we reach a beautiful rock arch. We are now right above the Grotta del Fico. There may be the chance to descend into the cave, depending on time, as this adds a couple of hours to the day. From here we walk uphil to the plateau at Ololbizzi, where we have dinner and camp for the night.
Friday 8
Ololbizzi – Cala Sisine (almost 7 hours, difference in altitude: 500m)
The grand finale! AFter breakfast we walk along a mule track up to Cuile Piddi and then descend a 'secret passage' (Sa Nurca) using a long rope. We continue along the foot of the most impressive walls of the coast and face the rocky ramparts that block access to Cala Sisine through a complex system of ledges and mysterious climbing passages (partly equipped with chains). After a long abseil and some ups and downs we arrive at the beach of Sisine - The Selvaggio Blu. The end of our jouney!
We rest on the beach of Cala Sisine and return to Santa Maria Navarrese by boat. We have dinner and stay the night back at the hotel where we began the trek!
Saturday 9 October
Breakfast is included before departure.
Course Dates & Booking
Please call +44 (0) 1539 721561 for availability
Vital information
Please check the vital information below to help when booking a course.
Read More
Testimonials For ISM
The classic alpinism course last week led by Swedish Daniel was excellent! The itinerary was really well planned taking into account the less than perfect weather and the abilities and aspirations of the group - we all learned loads.
Chris Ward
Classic AlpinISM (Instructional Course)
Neil, our guide for the week, was exceptional; a true professional, a huge inspiration and just great company. He shared so many useful tips with us and had great stories to share too. Looking forward to booking another course with ISM in 2022!"
William Summits and Skills 4000m 2021
​Good mixture of progressive instruction and learning, climbing and guiding. We climbed some very good mountains from good huts and made the best of the mixed weather conditions. The course also used a range of situations and locations to cover a wide range of skills and techniques.
Donald Connolly
Classic AlpinISM (Instructional Course)