2012 Expedition Report – Tien Shan
Initially the expedition set out to explore the Kokgart region of the Kokshal range, which lies to the west of the established climbing, opposite the military base of Orto Kaskasu.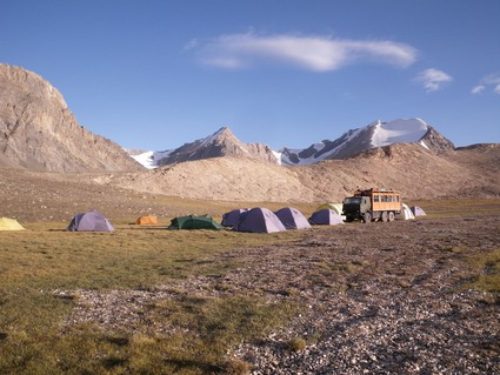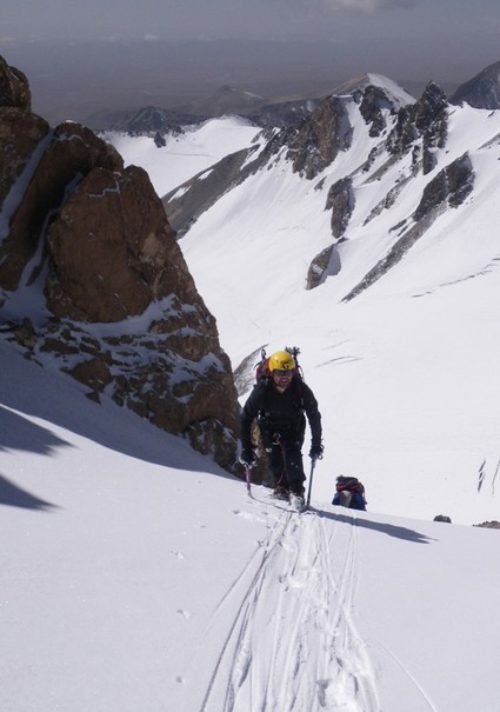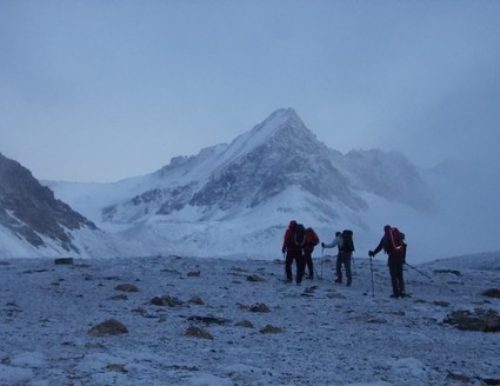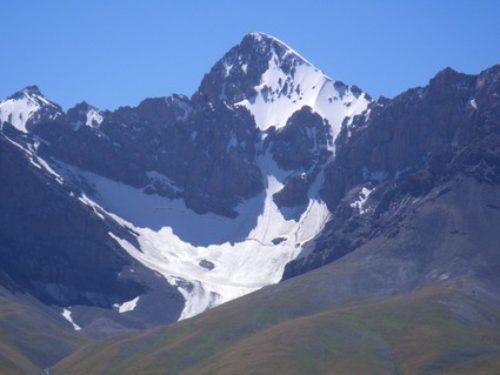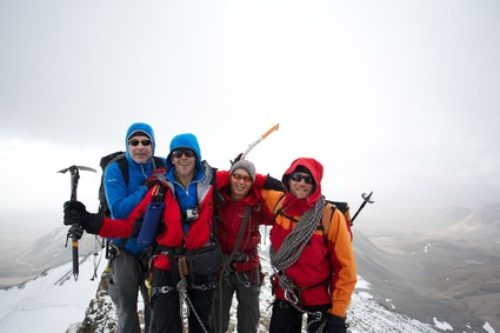 Guides: Pat Littlejohn, Adrian Nelhams, Vladimir Komissarov

Members: Stephen Taylor, Alan Roessel, Jason Sheldrake, Jerry Gale, Karin Burnett, Martin Jouzaitis, Sandra Jouzaitiene, Paul McGrane, Ron Dodenhof.
After an exciting river crossing in the trucks we drove on a vague track into a long valley leading up to a pass (by foot or horseback) into China.

An Advanced Base Camp was established below the highest group of peaks, a comfortable spot still on grass. Sights were set on the impressive main peak of the range (4541m) but a recce showed that this would be too tough an objective, being well defended on every side by steep rock and ice walls. Two teams then tried to explore routes on some of the other main peaks, but these were also very problematic to climb, resembling the ground on the west flank of the Eiger but generally steeper and more serious. Some great days were had on various lower peaks however, which gave routes up to AD standard on both ice and rock. This area would seem to offer countless technical challenges in the TD to ED grades, with imposing faces of 800m and fine ridges of compact marbled limestone.

The team then moved to the central At Bashi range, a fantastic spine of mountains 100km in length. ISM trips had already climbed in 3 parts of this range and here we had a more fruitful time, establishing a high and remote base camp at 3892m and climbing seven summits including the big snow peak 4751m (which is marked on all detailed maps of the range). This was given the Kyrgyz name Idyn Tolgon Kezi, meaning 'full moon'.

The more pointed peak to the west of this gave a good mixed AD taking the west flank then north ridge – Pk Ortosu 4626m. When snow was forecast we had to move out as the approach would have rapidly become impassable under snow, but this gave us a chance to view several of the unexplored valleys of the At Bashi (which we plan to visit in 2013) and to move on to more of Kyrgyzstan's great climbing areas.

Driving around to the north side of the At Bashi range we stopped at Tash Rabat, which is famous for its ancient caravanserai (Kyrgyzstan's oldest fortress). This happens to be located in a valley full of towering limestone cliffs, making it a great stopping-off point for a climbing expedition. ISM teams established the first routes here in 2010 and added 3 more on this trip - the 400m Spine Line Ridge (a fine alpine outing at AD+), a pinnacle which gave one of the easier climbs in the area (Napeski Needle, Hard Severe) and a bold slab climb (Hard Very Severe) on the first cliff high on the right side of the canyon.

As on many previous expeditions, the final destination of this trip was the Son Kul region, Kyrgyzstan's limestone canyonlands. This is currently the prime rock climbing region of Kyrgyzstan, giving a huge variety of routes up to 600m, so far in the lower and middle grades. This year a new canyon to the south of the established climbing areas was explored and found to give excellent climbing. 11 routes were established up to 350m in length and E2 grade (5.10b), making about 30 routes in the canyons in total. On the final drive out towards the handicrafts centre at Korchkor we spotted another canyon with good climbing potential and very quick to access.

Kyrgyzstan is an endlessly inspiring country for climbers and mountaineers and we left eager as ever for our next trip.