ISM Virgin Peaks Expedition 05 by Pat Littlejohn
In September we ran our second ISM trip to the Central Borkoldoy region of the Tien Shan. Only one word for the trip - brilliant!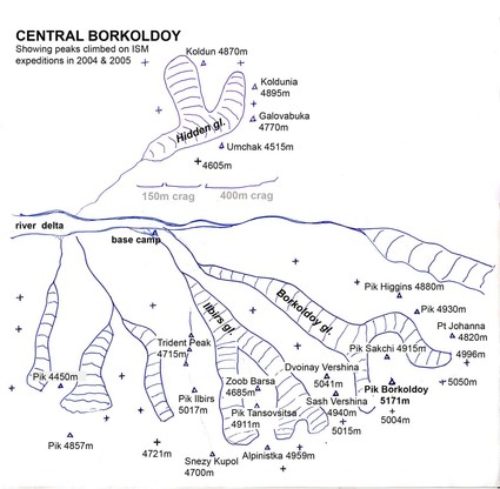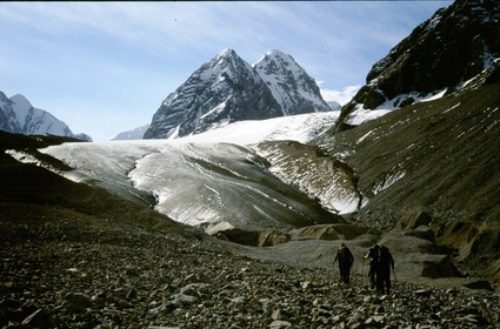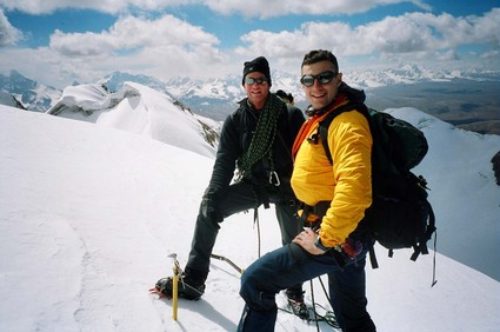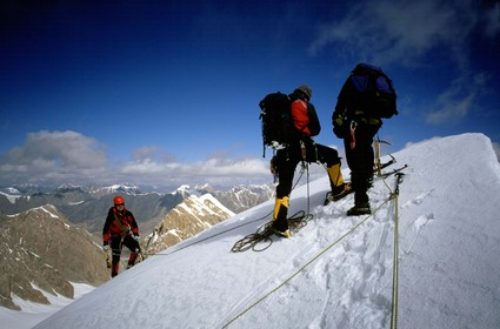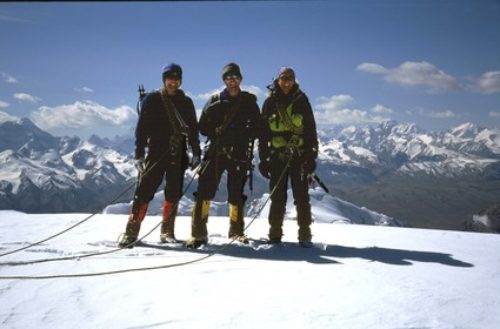 It's always good to go back to an area for a second time - you have objectives in mind and have mentally prepared & planned for them, plus you've done all the reconnaissance so you can crack straight on with the mountaineering. This is what makes 'second-time' visits so productive, and this one was no exception!

As we had done all the digging and rock-shifting on the approach track the previous year, driving into the area was quicker and less stressful this time (though still an outstanding day of off-road driving by Sasha and 'Phil'). It was great to be back in that base camp on a grassy spur between two river deltas, surrounded by glaciers and enticing peaks.

First we set up an ABC on the Ilbirs Glacier, where we had had the unique privilege of seeing snow-leopard tracks the previous year. Adrian had a score to settle with the big peak on the left, which had turned him back due to dangerous snow conditions in 2004. I was interested in the well-defended peak in the SE corner of the glacier, again having had a brush with it in 2004. On the first attempt Adrian, Bill and Mark summitted on Pk Tansovsitsa (Dancing Girl) as they called it, but it took 3 attempts before Dr Jane, Ben, James and I finally made the top of Alpinistka (lady alpinist, named after Jane).

By the time my team made it back to BC Adrian had already left for a new area - the unexplored 'Hidden Glacier' to the north of BC. On their one 'rest day' they also managed two new routes on the superb 150m limestone crag above BC. Joined by Vladimir and Peter, the peaks around Hidden Glacier gave several days of fantastic mountaineering, the highest and toughest peak being Pik Koldunia which had technical climbing at an alpine grade of AD+.

In 2004 James, Ben and I had spent quite a bit of time and energy (both physical and nervous) attempting Pk 5171m, the highest peak in the Borkoldoy range. Having reached 5000m on the N Ridge we were stopped by a knife-edge crest with no belays. This time, with much better snow conditions, we planned to try a line weaving through seracs on the NE flank. In two separate roped teams to share the trailbreaking, Ben, James, Jane and I set off in perfect weather from our Advanced BC right at the base of the mountain. The climbing was technically easy but very hard work, knee-deep snow gradually becoming thigh-deep as we got higher and veered across to the South Ridge, which we hit at 5000m. Here a precarious pitch on fragile snow led to a shoulder and amazing views of the Kokshaal-Too range, then an easier ridge of perfect névé took us to a fantastic summit plateau. It was a great moment for all of us to have achieved a this superb peak after so much effort. As the highest in the range we thought it should be named Pik Borkoldoy.

Before heading down we took a good look (and photographed) the central part of the West Kokshaal-Too range where the 2006 Virgin Peaks expedition will take place. These peaks are both bigger and more remote, and I for one can't wait to get to grips with them!