ISM Virgin Summits Expedition 2017 Trip Report
Areas visited: Central At-Bashi Range, Kashkaratash River Valley, Tien Shan also Tash Rabat and Son-Kul
Trip Leader: ISM Director and IFMGA Guide Adrian Nelhams (AN).
Guides: Stuart McAleese (SM), Max Cole (MC), Alexei Potockiy (AP), Vladimir Komissarov (VK).
Climbers: Stephen Taylor (ST), Jason Sheldrake (JS), Richard Walker (RW), Mark Aitken (MA), David Kennaway (DK), David Woods (DW), Ewan Jones (EJ), Tarni Duhre (TD), Walter Robison (WR), Lisa Ferrero (LF).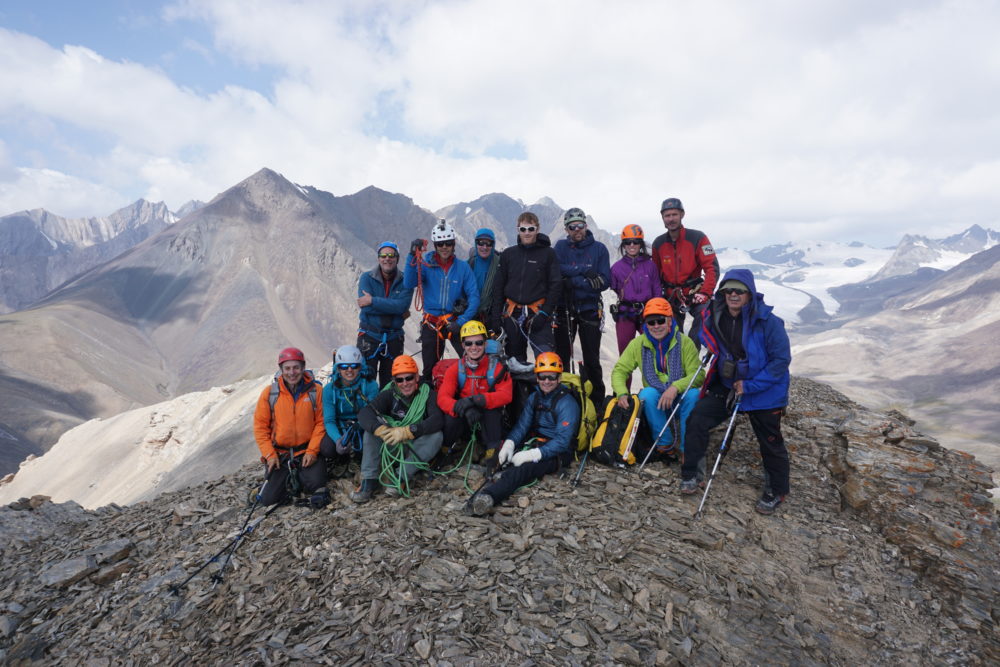 We all arrived in Bishkek, the capital of Kyrgyzstan, situated in the North East of Central Asia, bordered by Kazakhstan in the North, North-Western Tajikistan in the South West, China in the South and East and Uzbekistan in the West. Kyrgyzstan was part of the Soviet Union. In 1953 Stalin died and less than 2 months later Hillary and Tenzing summited Everest. Although both events were un-related, they had a strong effect on the small group of Soviet Mountaineers or al'pinisty as they were referred to in Russia. Two things had changed; the first was that the monolithic Stalinist civilisation, which had extended to leisure and sports, suddenly ended. The second being the first ascent of Everest, which showed what was possible. Both these events re-focused minds to possibilities within their own union. This not only led to new possibilities in a climbing sense, but also opened up communication with mountaineers abroad. The al'pinisty went from strength to strength, becoming known for their hard, tough and committing first ascents around the globe.

Kyrgyzstan's mountain landscape was largely left unclimbed and the virgin summits and valleys unexplored due to militarized zones close to the border of China.
It was only in August 1991, when Kyrgyzstan declared its independence from Moscow and a new democratic government was introduced, that western climbers were allowed into many of these remote unexplored valleys and virgin summits. Ever since this time ISM has very much been part of Kyrgyzstan's mountaineering and climbing history, running annual expeditions exploring the virgin summits and rock climbing in little explored canyons and outcrops throughout the country.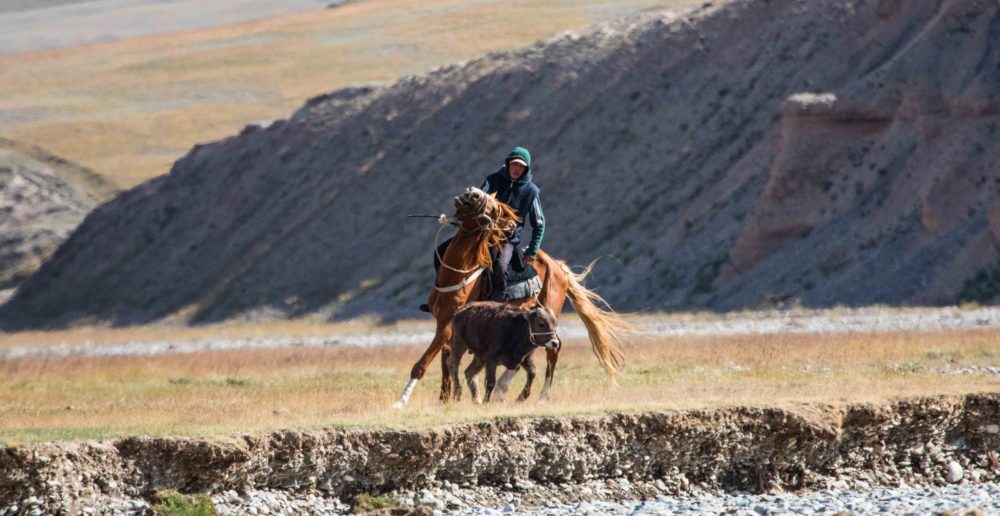 We head over to our operations provider and friends at ITMC to help finalise the expedition, packing kit, food supplies and any last paperwork. A multitude of maps pieced together with sellotape and pinned to the large ITMC office wall, show well-thumbed routes into many of the mountain areas since ITMC was first born in 1992. Next door, a multitude of small rocks and crystals collected on many of the expeditions fill the shelves along with old books layered with dust. Marmot skins hang up alongside leather horsewhips, old mountaineering photos and traditional Kyrgyz swords. Old wooden skis and strap-on crampons also clutter every inch of Vladimir's office. The fabric of Vladimir's office oozes interest, exploration and adventure and add to the excitement of starting this year's ISM expedition.
Vladimir puts some water on a small camping stove and I sink into his sofa and watch it boil. He sits on a small wooden milking stool and makes coffee. Before it has brewed, he reaches into his cupboard, pulls out a clear glass bottle and pours everyone a small shot of vodka. We toast the trip and 'not for drinking, just for health!' We all mooch around the office taking it all in. We chat, relax and catch up on families and then discuss the leaving time tomorrow. We are one permit astray but that does not seem to be deterring from us leaving and sorting it as we go. We finish our coffee and the minibus takes us into the city for a walk around some of the historical sites and a peek into the bustling markets for which Kyrgyzstan is so famous. We head back to the hotel to relax before dinner and an early start the next day. The following morning we load the remaining kit and head east out of the city away from the busy cars, dust and noise and very quickly into fertile farmland of green fields framed by the high peaks of the closest mountains of the Ala-Archa Range. Sitting high in the 6WD Kamas I relax back into a sleepy state as we slowly head east along the border of Kazakhstan.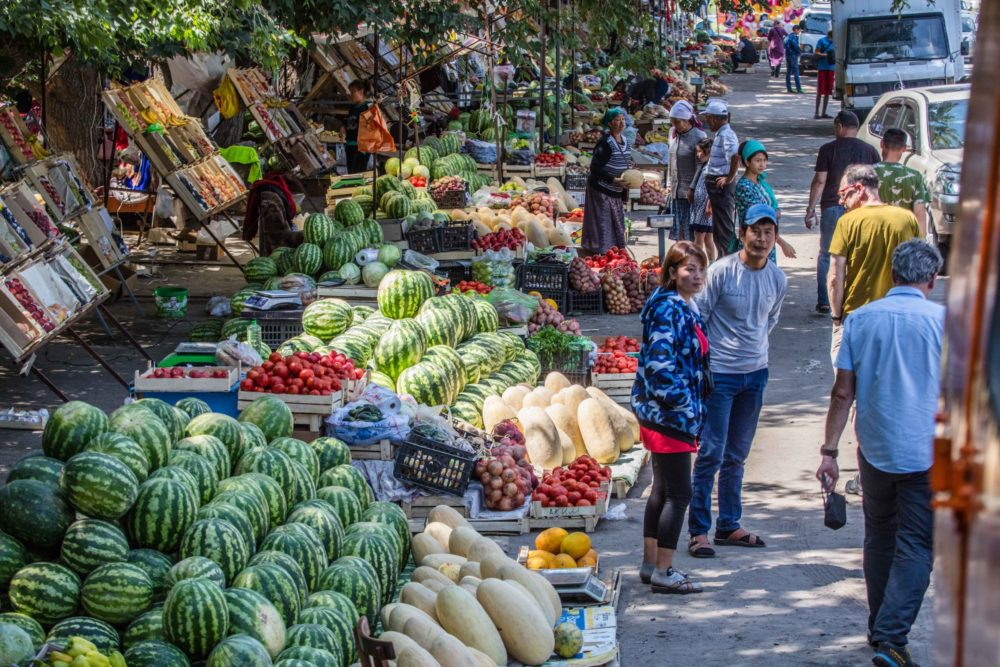 Suddenly, I lunge forward in the seat and attempt to brace myself as the vehicle pulls up and stops sharply. The noisy airbrakes hiss and as the dust settles, I pull the grubby curtains to one side and squint into the bright sunlight recognising instantly where we are. Street sellers at the roadside below and an array of fruit and veg for sale. I open the door, climb down and go over to the sellers who encourage me to taste something. I weave my way through brightly coloured watermelons, grapes, apples, walnuts, peppers and other fruit and vegetables. Everyone follows, tasting grapes and taking photos of our first interaction with the Kyrgyz people outside of Bishkek. I buy bananas! We are on our way south to the Tien Shan.
We first pass through Naryn, a major market town and branch of the ancient Silk Road situated just north of the Torugart Pass (the border of Kyrgyzstan and China). The town is named after the river that cuts a huge gorge through the middle, its waters flowing over 800 kilometres from the Tien Shan Mountains west through the Fergana Valley and into Uzbekistan. The Naryn River is the longest and most important river in Kyrgyzstan and its source is the At-Bashi Range in the Tien Shan Mountains which we'd come to explore. To get to the central part of the At-Bashi Range and into the Kashkaratash Valley we leave Naryn, continuing south towards the main frontier between Kyrgyzstan and China, to a range of peaks called the Kokshal-Too in the Tien Shan Mountains. Two great mountain ranges embrace over 90% of this beautiful country - The Tien Shan Mountains, which stretch for 2,500km from east to west and the Tajik Pamir Mountains, which spill into southern Kyrgyzstan. Over 30% of the country is covered in permanent snow and ice. The Tien Shan host peaks such as Khan Tengri (the Prince of Spirits) at 7,010m, and the highest peak Jengish Chokosu or Peak Pobeda at 7,439m. In the Pamir, Peak Kuh-i-Garmo or Peak Lenin's summit is 7,134m, which is one of the easier 7,000m summits in the world. Khan Tengri, the second highest mountain in the Tien Shan is undoubtedly one of the most beautiful peaks in the world. It's a massive marble pyramid covered in snow and ice, the kind of peak a young child would draw if you asked then to draw a mountain! We can see these snowy high summits in the distance further south as we pass the eastern end of the At-Bashi Range and start to head west along the At-Bashi River valley which runs over 100km parallel to the main frontier west to east.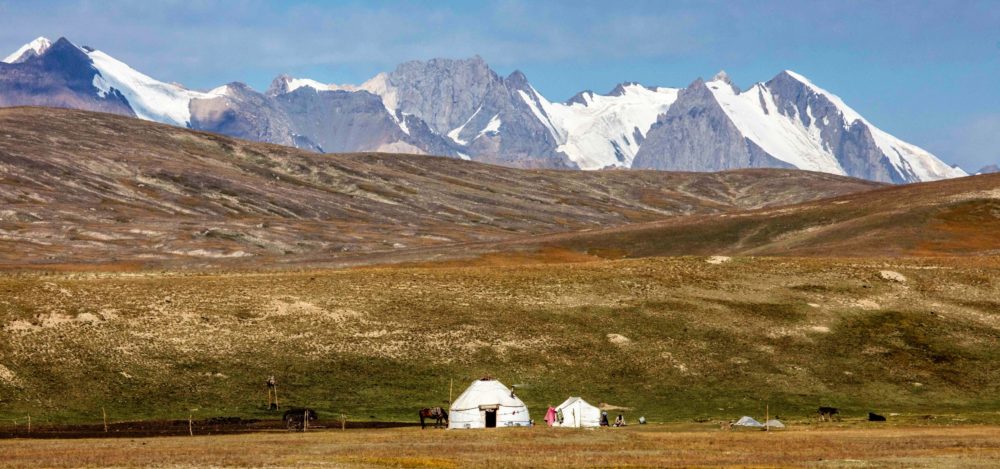 We pass mountain pastures littered with brown rings of dead grass and ramshackle livestock corals most of which have fallen into disrepair, with small walls of dried horse dung left over from the previous tenant. A sign of the Kyrgyz nomad where a yurt once stood and a family lived.
The Kyrgyz people owe their survival to their nomadic lifestyle, which has been key for over 2,500 years. Yurts or felt tents acted as temporary homes while their livestock roamed the mountains in search of food and water. Inside the Yurts (bozuys) the circular walls are lined with bright, colourful felt rugs depicting the changing seasons, the hunting of Marco Polo sheep and their traditional way of life. The multi-fuel stove sits to one side with the chimney snaking up and out of a small gap in the roof. Horses (akyns) or 'the wings of the Kyrgyz people' are central to the Kyrgyz way of life – a friend, worker or source of food. These horses allow the nomads to shepherd their flocks over miles of remote grazing land in the Tien Shan, hunt, carry yurts and provide a source of meat, leather and milk. Their national drink, kymyz or cumous is in fact fermented mares milk. The nomadic people of Kyrgyzstan say 'a man should move, because the sun, animals, fish – everything moves and only the land and dead creatures stay where they are'. Maps out, we pinpoint the Kashkaratash River Valley and the vehicles start the serious bit of our off-road journey, up and down grassy hillsides and over boulder-strewn riverbeds and into base camp. Circling vultures with one standing as a guard on top a high flat grassy terrace look down over the almost dry river bed as the truck in a low gear creaks and groans its way over rough boulders and down into deep cut streams which spring high waters once eroded. Then, in stark contrast to the blue sky and our high spirits of adventure, a dead yak lies motionless in the middle of the dry riverbed. His eyes wide open, but without expression stare up at us as we drive by, the vulture on guard, also motionless, looks on and waits. His huge wings ready to take off again and devour today's kill. We arrive at what looks like a great base camp, a confluence of two river valley systems but then decide on a high grassy terrace directly below the Kashkaratash Glacier.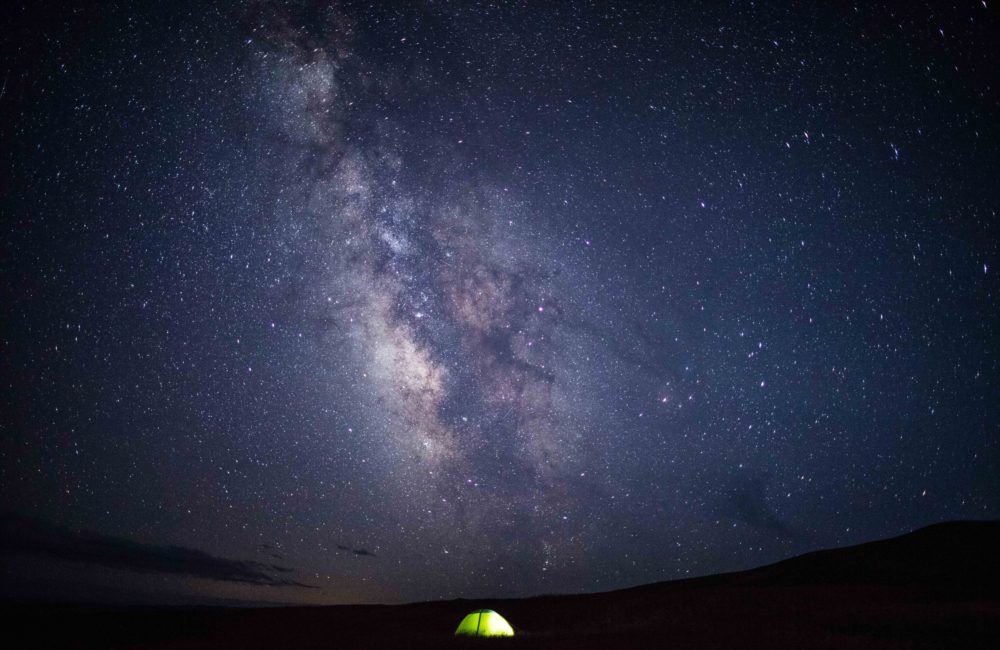 We set up base camp at 3680m and explore some of the unclimbed 4000m peaks close by, which helps with acclimatisation and helps us to get a feel for the area and our bearings.

August 23rd AN, SM, LF, WR, DK climbed unclimbed Peak 4032m.
The next day in better weather, we headed over to another cluster of 4000m peaks.
August 24th everyone climbed unclimbed Peak 4239m and MC, RW, MA, WR, LF, AP, SM, TD, ST, DK & EJ climbed unclimbed Peak 4249m.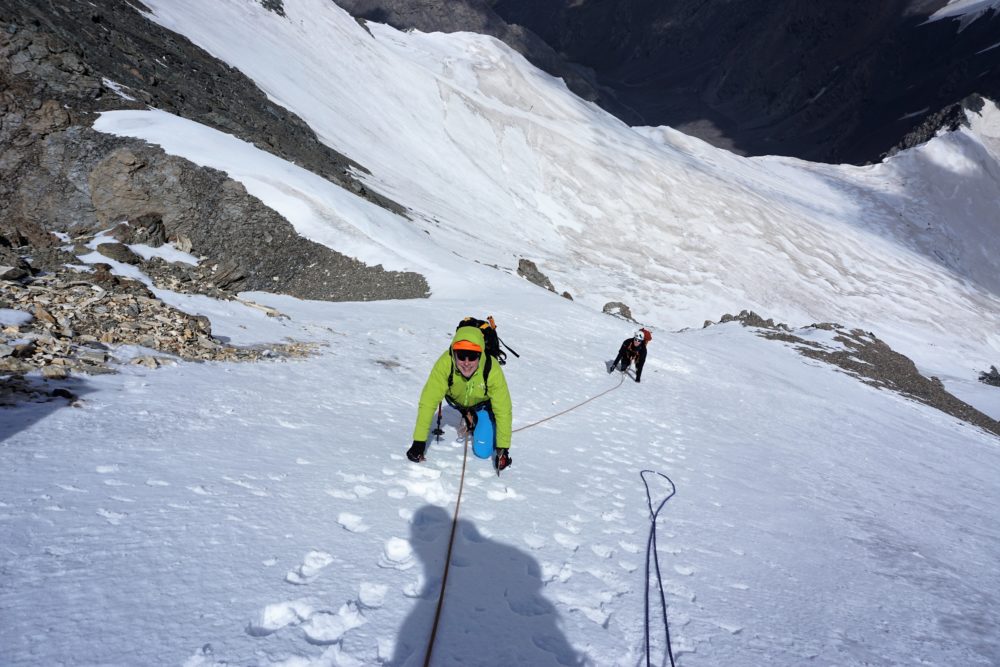 August 25th we headed up to below the Kashkaratash glacier and assembled an ABC.

August 26th AN, ST, JS, DK, RW, SM, MA, MC, TD, EJ, AP, LF & WR all climbed unclimbed Peak 4801m.
Note: The expedition was led to believe that the highest summit in the range indicated on the maps was actually 4788m. Peak 4788m is the summit at the southern end of the 2km ridge and Peak 4801m, which we climbed, is at the Northern end of that same ridge. It would indicate that the ISM team has now climbed not only an unclimbed virgin summit with a GPS altitude ready of 4801m, but the summit is now the highest summit known in the At-Bashi Range which is fantastic.

Richard Walker named Peak 4801m: Peak Rhianydd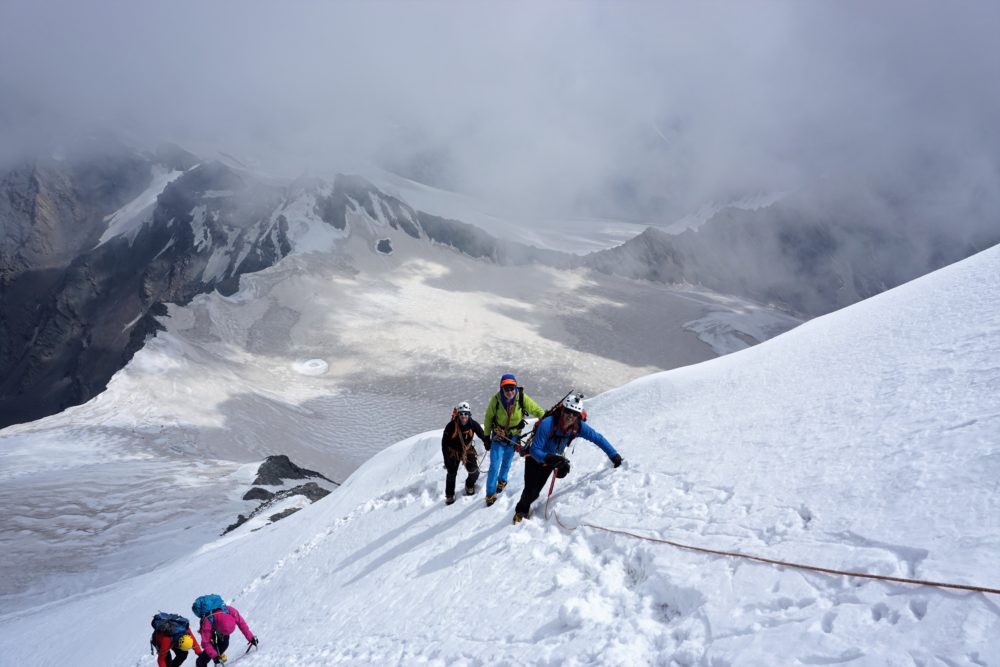 August 27th AN, ST, DK, JS, AP, LF & WR climbed Peak Arie Gabai 4530m via an unclimbed south face via a notch in a rocky ridge guarding the snow ice face. In addition, SM, MA, RW, MC, TD & EJ made the second ascent of the same peak via the west ridge.

VK & DW climbed an unclimbed Peak 4612m via its west face and south ridge, connecting both the peaks south and north summits.
David Woods named Peak 4612m: Peak Ordo.

August 29th everyone climbed unclimbed Peak 4461m & MC, TD & EJ also climbed Peak 4557m via a rocky south ridge.
Stephen Taylor and Jason Sheldrake named Peak 4461m: Peak Volchitsa.
Tarni Duhre and Ewan Jones named Peak 4557m: Peak Ata Babalar

August 30th we moved BC to another area to explore the possibilities for a future trip and hopefully climb another unclimbed summit.
August 31st we all climbed Peak 4516m and Peak 4536m at the head of the new valley and glacial system we had come to visit. This gave us great views of all the surrounding unclimbed summits and fantastic and inspiring possibilities for a future trip.
September 1st AN, SM, MC, ST, JS, RW, MA, DW, EJ and TD climbed Peak 4152m which was located across the river,1km distance from our base camp.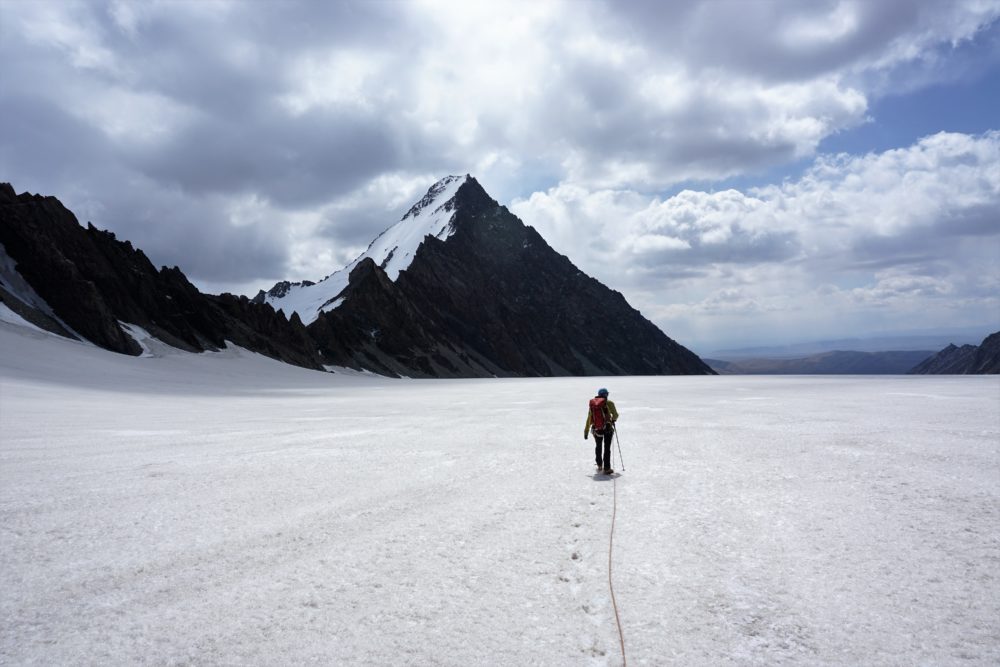 We then Headed to Tash Rabat.
The Tien Shan, which has been crossed for centuries by Silk Road traders, wandered along by generations of nomads, and was the battleground of Genghis Khan and other warring tribes, remains very much today as it was centuries ago.
Tash Rabat, is one of the most important historical sites in Kyrgyzstan, and provided a vital link to and from China, forming part of the Silk Road. The fortified Caravanserai at the head of the valley was a safe house for passing traders who would store their valuable silk safely overnight away from bandits who would follow traders along the road. Money would change hands for a safe passage through the valley and so it was the responsibility of the region to keep the bandits out and the silk safe.
These 7th Century traders explored these parts making their way along the Silk Road, which was once the richest trade routes in the world. Caravans of camels, men, horses, silver, spices and silk travelled across the thousands of miles through Kyrgyzstan to Uzbekistan, through Turkmenistan and Iraq onto the Mediterranean Sea and then into Europe. Trade also passed through Kyrgyzstan and on to Greece via Kazakhstan and Russia. We have visited Tash Rabat a number of times over the years because apart from the historical element the valley is littered with limestone ridges, faces and small peaks offering great climbing and first ascents at all grades.

September 2nd we climbed a number of rock routes low down in the valley and close to the Tash Rabat River:
'Slab 1', an unclimbed 3-pitch route, grade S (severe), climbed by MC, TD, EJ, AN, ST, JS, DK, SM, RW & MA.
'Slab 2', an unclimbed 2-pitch route, grade S (severe), climbed by SM, MA, MC, TD & EJ.
'White Wall', an unclimbed 3-pitch route, grade VD, climbed by SM, RW, MA.
'Slab and Groove', an unclimbed 3-pitch route, grade S (severe), climbed by SM, RW & MA.
'Chimney and Hole', an unclimbed route soloed by our porters Alexey, Misha and cook.
'Zig Zag', an unclimbed 4-pitch route, grade HVS 5a, climbed by AN & ST.
'Chimney Groove', an unclimbed 4-pitch route, grade HS, climbed by AP, LF & WA.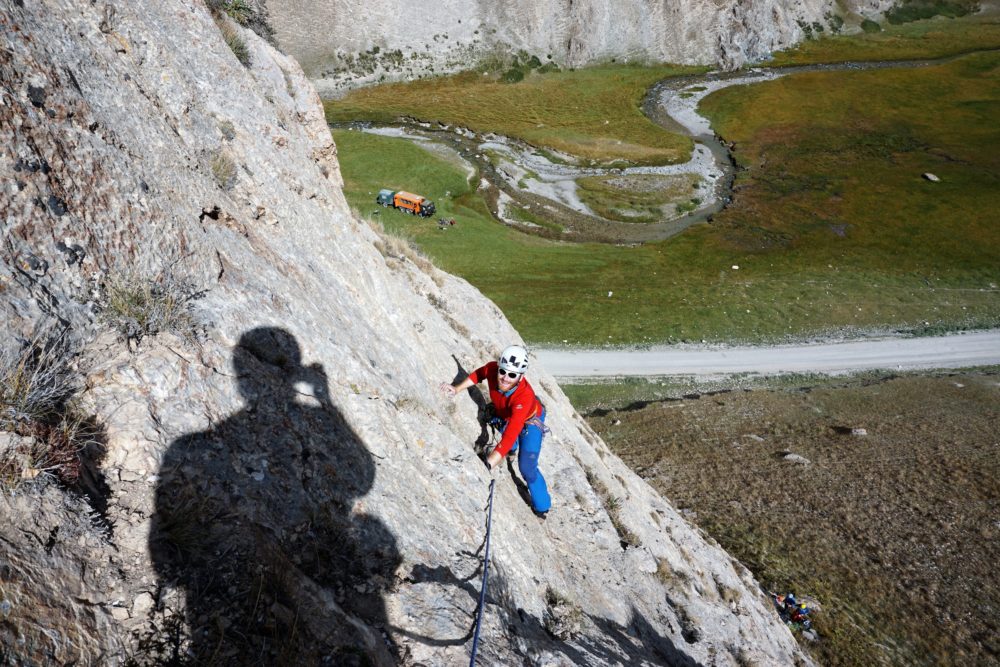 The next day we left Tash Rabat and went to the beautiful region of Son-Kul. Pulling off the main road at a small yurt camp, which sold locally caught dried fish, fermented mares milk and dried cheese balls (kurut), We then travelled west, up into the Son-Kul valley which connects the Son-Kul River and its source - the very scenic high alpine lake of Son-Kul.
Velvet-looking rolling hills, created by erosion and over grazing, look almost contoured as millions of hooved feet over the decades have traversed them, feeding off the sharp and prickly alpine grass, giving the hills a faint terraced look. These hills separate deep valleys, craggy outcrops and steep limestone canyons.
We arrive and camp in Son-Kul Canyon.
September 4th we climbed 4 rock routes in Son-Kul Canyon:
Route 1 – 10 pitch, grade VS climbed by SM, MA & DK.
Route 2 – 10 pitch, grade HVS 5b, climbed by MC, TD & EJ.
Route 3 – 10 pitch and 200m of short roping, grade HS, climbed by AP, LF & WR.
'Jigsaw' - 8 pitch, grade HVS 5a, climbed by AN, ST & JS.
September 5th we drove back to Bishkek, stopping off at Kochkor for a participative and highly entertaining demonstration of felt and rug making.
September 6th we were hosted by Vladimir and his wife for a celebratory dinner, complete with Kyrgyzstan traditional musicians. Vodka glasses were regularly chinking as we toasted a fantastic trip and started crystallising plans for 2018!
A special thanks to Jason Sheldrake for all his stunning images again this year.

Adrian Nelhams