Kyrgyzstan 2014
As each Kyrgyzstan trip approaches, one can't help but get a little excited.
Exploring new areas and attempting unclimbed peaks is just about as much fun as you can have mountaineering, and as the destinations are different every time it doesn't matter whether this your first trip, or (as in my case) your twentieth – it's still a buzz! I was a little apprehensive about this trip though as it seemed that Kyrgyzstan had had a truly exceptional summer…
I have a feeling that ISM will be going back again sometime!
The Team
Pat Littlejohn, Vladimir Komissarov, Steve Taylor, Jason Sheldrake, 'Gadi' Shtirmer, Eric Bates, Martin Wardley, Eric Dahlbom.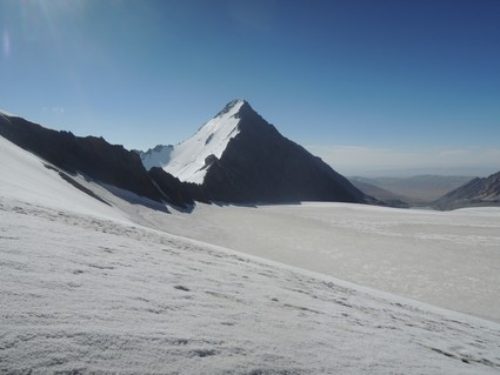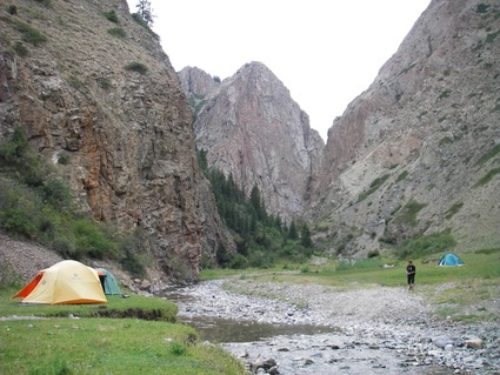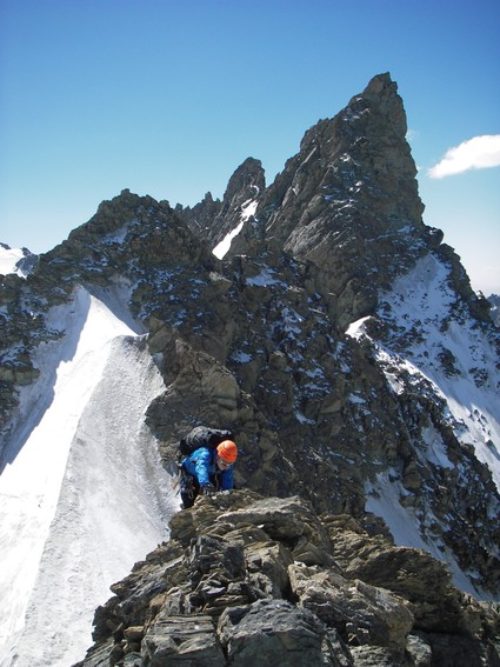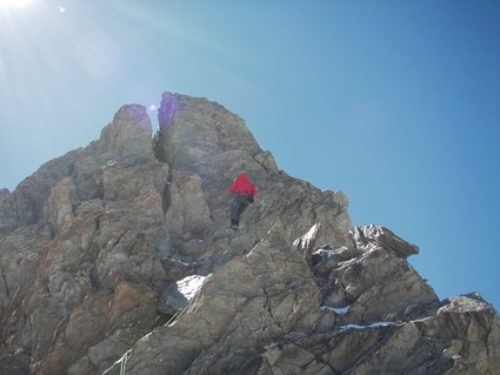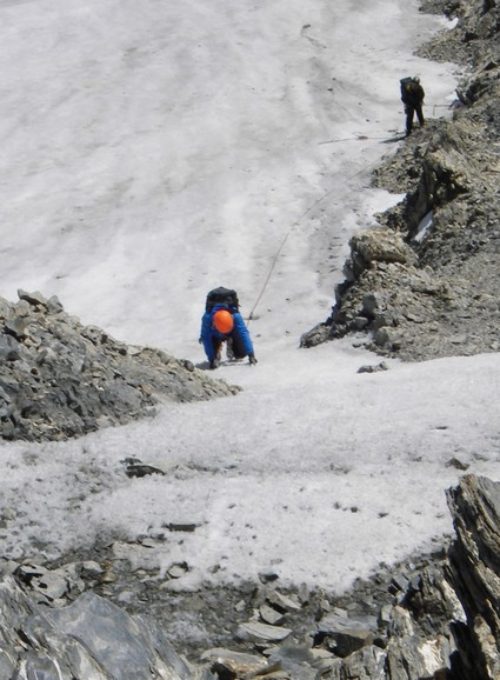 The Expedition
The expedition set out on August 25 to climb from the Kashkaratash glaciers either side of Pk 4788.9m (purportedly the highest peak in the At Bashi range, although at least one nearby peak looked higher, viewed from several angles). Conditions by August were exceptionally dry, Kyrgyzstan having had one of the longest, hottest summers anyone could remember. Temperatures in Bishkek (the capital) had hovered between 35 and 38 degrees Celsius since early June and there had been no significant precipitation. This meant that virtually every snow/ice slope in the At Bashi range was bare water ice, making it arduous and time consuming to climb even relatively low-angle slopes (as everything had to be pitched and usually abseiled in descent). This limited what the expedition could achieve, however we had a great trip and some interesting peaks and 'points' (summits rising less than 50m from one of the lower points either side) were reached.
Approaching the peaks was relatively easy this year as all the rivers were so low (in contrast to the previous year when ITMC had had to abandon a vehicle midstream with water nearly up to its roof). We found a perfect Base Camp at 3650m on a grassy bank beside a river, and after one recce day ABC was established at 4000m beside a large glacial lake on Kashkaratash East glacier.

Two attempts were made on the jagged chain of peaks running up the W side of the glacier (a succession of rocky spires approached by various couloirs). These resulted in AD routes to Pt Tanoguch (4750m) and Pt Penitent (4700m), quite long, hard days thanks to the amount of front-pointing required to climb any ice slope and the number of abseils (7 in succession from Pt Tanoguch) to get back down. The retrievable ice screw abseil technique came in very handy! The most northerly peak of this chain was climbed by its NE ridge at PD+ (Pk Tunduk Gildys, 4730m), which gave a fine day of mixed mountaineering to a fortress-like summit block.

The summits on the E side of Kashkaratash East are generally lower and easier (although some would give fine technical routes including a superb-looking rock crest and a 600m ice face). The obvious snow dome at the N end was climbed via its W ridge at F+ (Pk Arie Gabai, 4530m) while the next rocky summit S-ward is Pk James Bruton (4727m), climbed by its S Flank also at F+ (and named after a wonderful man who joined us on many expeditions but sadly this year died of cancer). Beside this the rocky ridge of Pt 4690m gave a nice AD climb.

A foray to the west up Kashkaratash Central glacier led to Pk Dianne (4439m) and Pk Dostuk (which had been climbed the previous year from the west), and then finally from Base Camp two scree peaks with craggy tops were climbed/traversed – Pk Kara (4534m) and Pk Taaji (4200m, PD). Traversing the summit crest of Pk Taaji in a snowstorm will live long in the memory!

Most ISM expeditions conclude with a couple of days' rock climbing in the limestone canyons of the Son Kul region. This is a vast area with huge climbing potential, and with warmer temperatures and a classic Kyrgyz landscape of grazing pastures and yurts, it is a really pleasant place to visit after spending time in the high mountains. This year we explored a new canyon named Katchik-Kindyk, which gave 3 routes in the V/V+ grades, each over 200m long. Huge scope for adventurous rock climbing remains throughout this area.

Overall a very successful trip given the tough conditions in the mountains, and with better snow conditions (i.e. névé rather than water ice) a future team could have a very productive trip to this area. I have a feeling that ISM will be going back again sometime!