Dolomites Ice
Level 2 : Guided Climbing
The jagged limestone peaks of the Dolomites stand like huge cathedrals spanning the provinces of Trentino and Alto AdigeIn in North Eastern Italy. Clean ribbons of ice form in deep ravines, canyons and down steep cliffs, forming fortifications to these huge limestone castles.
In ice climbing perhaps more than in any other aspect of mountaineering, gaining good technique enables you to progress confidently through the grades and ultimately achieve climbs at your full potential.
Dates & Booking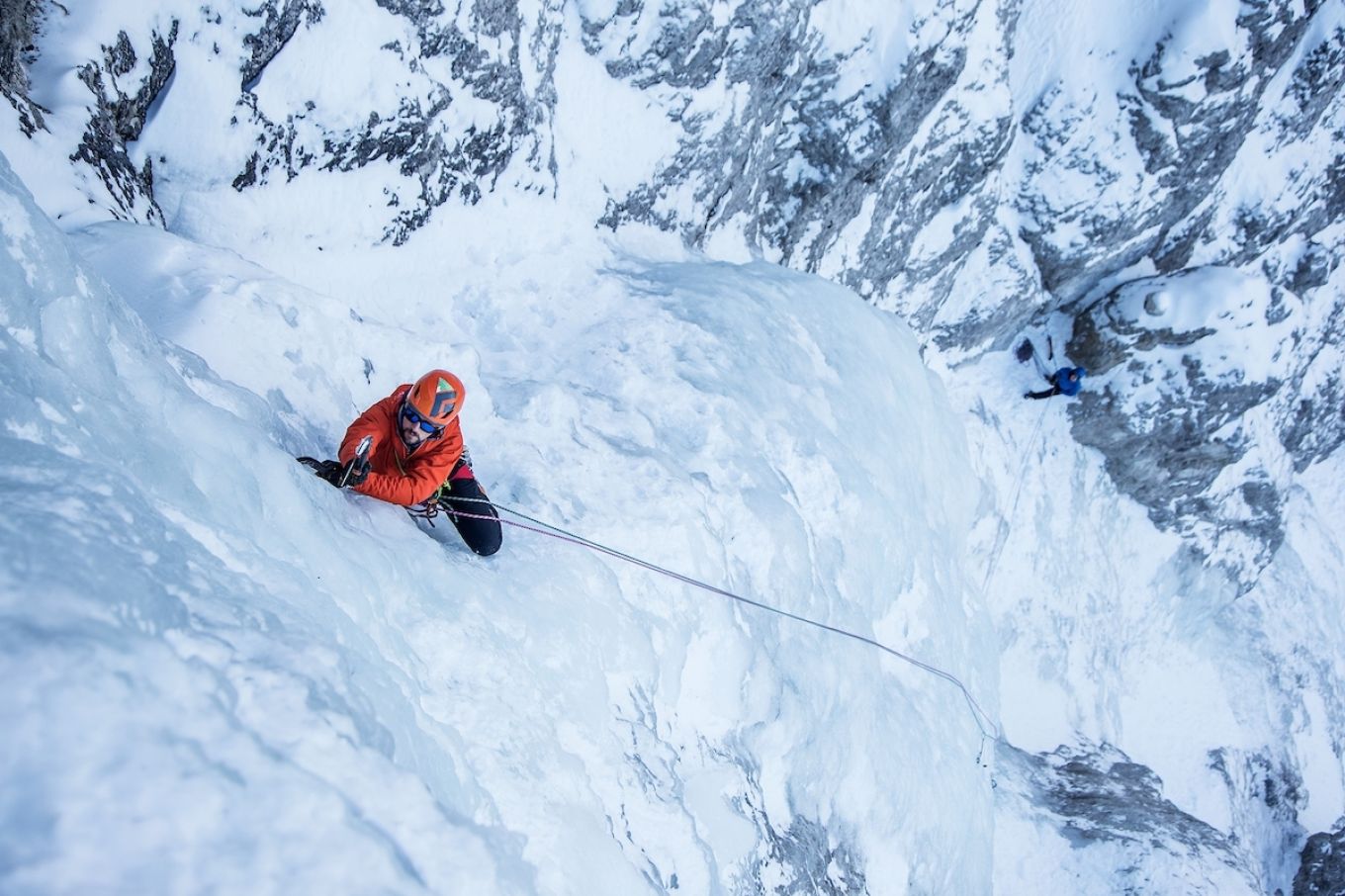 Classic Dolomites Ice 2
Course Highlights
Climb some of the classisc icefalls in and around the Dolomites
Develop your skills and experience icefall climbing
Enjoy a progression of both skills learned and grade of icefalls climbed
Expert guiding and instruction from experienced ISM Guides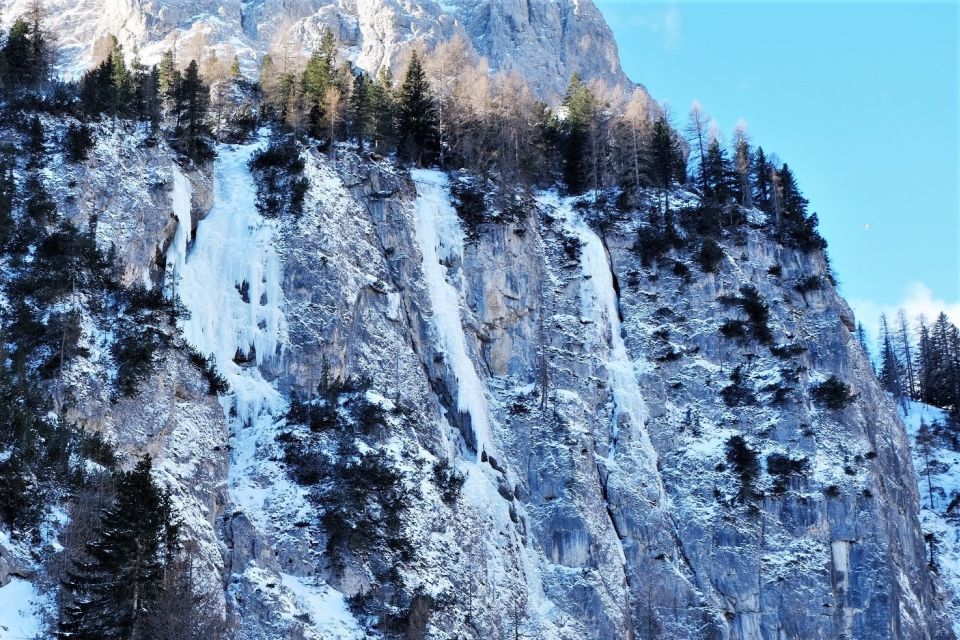 Classic Dolomites Ice 3
Is The Course For Me?
This week of icefall climbing offers you the opportunity to gain and refresh all the important ice climbing skills which are needed to enjoy a week of top quality icefall climbing at the 'classic' grade WI4
We begin the week by refreshing your icefall climbing skills and developing techniques, knowledge and roped skills on routes graded 3/3+. We then aim, as the week progresses, to build on your experience and skills to climb 'Classic' grade 4/4+ ice and experience some of the gems of the region.
We operate on a low 2:1 ratio and are based in one of finest icefall climbing areas of the Dolomites Region, climbing classic icefalls throughout the week.

For people whose ultimate aim is to lead climb on ice, we are happy to incorporate a session on lead climbing skills, which will enable you to climb independently with the best possible safety margin. Or, alternatively, you can just enjoy a week of guided climbing on great ice!
Dates & Booking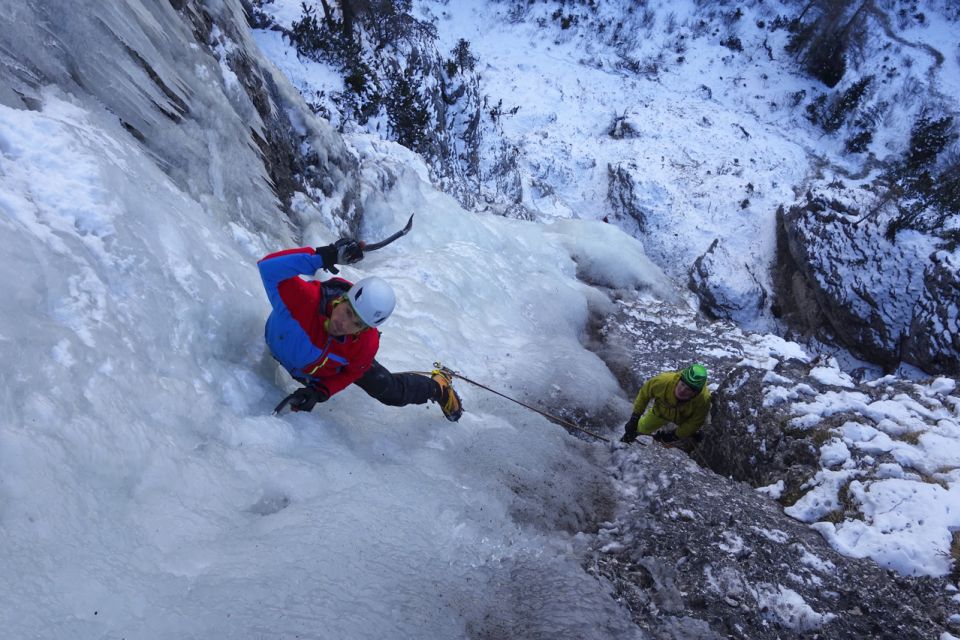 Classic Dolomites Ice 4
Skills Covered
During the course we will teach technical aspects of ice climbing e.g. rapid ice screw placement/removal, racking equipment for steep ice, double rope technique, setting up stances and belays, retreating safely from an ice climb, assessing ice conditions, mixed-climbing techniques and adapting technique for higher-grade climbing. At the guide's discretion we will also teach lead climbing on suitable terrain.

Dates & Booking
Course Content
Refreshing your icefall climbing skills and experience

Developing your personal climbing technique
Understanding icefall conditions, temperature effects and the weather
Snow pack and risk assessment
Climbing some 'classic' alpine icefalls

Placing ice screws and other specific equipment

Ice belays and anchors
Ropework for belaying and lead climbing
V-Thread anchors and abseilling

Grades and understanding icefall guidebooks
Note: This course is the perfect preparation for any of our technical icefall climbing weeks, and two courses may be taken consecutively for a superb two-week holiday in a variety of world-class ice-climbing venues throughout the Alps.
Sample Programme
Sunday
The course convenes in Verona at 6.45pm with a welcome and course briefing from your Guide, followed by an evening meal. We are happy to be very flexible to ensure that we climb where conditions are best and attempt the routes most suitable for course participants.
Monday
We climb on the outstanding Canyon of Bletterbach near Trento. A perfect place to warm up. You will have the opportunity to do several icefalls graded 3 - 5, top roping, leading and enjoying some dry tooling and mixed climbing. This canyon is geologically outstanding due to the red magmatic rock which gives fabulous contrasts with the blue ice. Here we focus on climbing skills, teaching and refreshing the most effective use of ice tools and crampons on various angles of ice. We will analyse your technique, thereby giving you the right foundation for the more challenging climbs later in the week. After the day climbing we will move to Fassa's valley, one of the most beautiful corners of the Dolomites.
Tuesday
We will attempt to climb the multipitch icefall "Bus de Tone", 250m grade 4, in Fontanazzo (Trento). This icefall has beautiful views of the Catinaccio, the Sella and Sassolungo range. Every pitch offers different angles of ice, so we can change the grade to suit you.
Wednesday
We move to the Badia Valley, the German speaking part of the Dolomites, where we will climb one of the amazing ice falls in the Sella range: Lujanta, Pissadù and Spada di Damocle (120m grade 3 to 4+).
Thursday/Friday
We'll spend two days in the ice climbing mecca of the Sottoguda Canyon. This is the most famous ice climbing venue in the eastern alps and can be compared to Cogne but in a smaller area where you can choose between 20 icefalls of all length and all grades.
Saturday
Breakfast is included at the hotel before departure.
Course Dates & Booking
Please call +44 (0) 1539 721561 for availability
Vital Information
Please check the vital information below to help when booking a course
All Vital Information
Testimonials For ISM
The course content was brilliant. No knocking whatsoever. We had Jacky for the duration, and his experience shines through and his leadership. He taught me a lot of things, not just the black and white of things but actually quick methods to overcome tricky situations!
Andy Challenor
Summits & Skills 4000m (Instructional Course)
What a brilliant week we had! I really enjoyed the fact that the course was very hands on and we were given freedom and responsibility to look after ourselves. I really like the fact that the price was all-inclusive, the the course was excellent value for money!
Rachel (2017)
Summits & Skills 4000m (Instructional Course)
I just wanted to thank you as well as Mark, our guide for the amazing week. The course was well organized and was just perfect for a beginner to mountaineering. We couldn't have wished for a better adventure. The memories are irreplaceable.