Dolomites Ice
Level 3 : Guided Climbing
Enjoy some of the more challenging icefalls that form as ribbons of clean ice amidst the beautiful limestone peaks and canyons in one of the most fascinating areas of the Alps - the Italian Dolomites.
The week comprises five full days of top-quality ice climbing in some of the best areas of the Dolomites, stretching from the provinces of Trentino to Alto Adigeln in North Eastern Italy.
Dates & Booking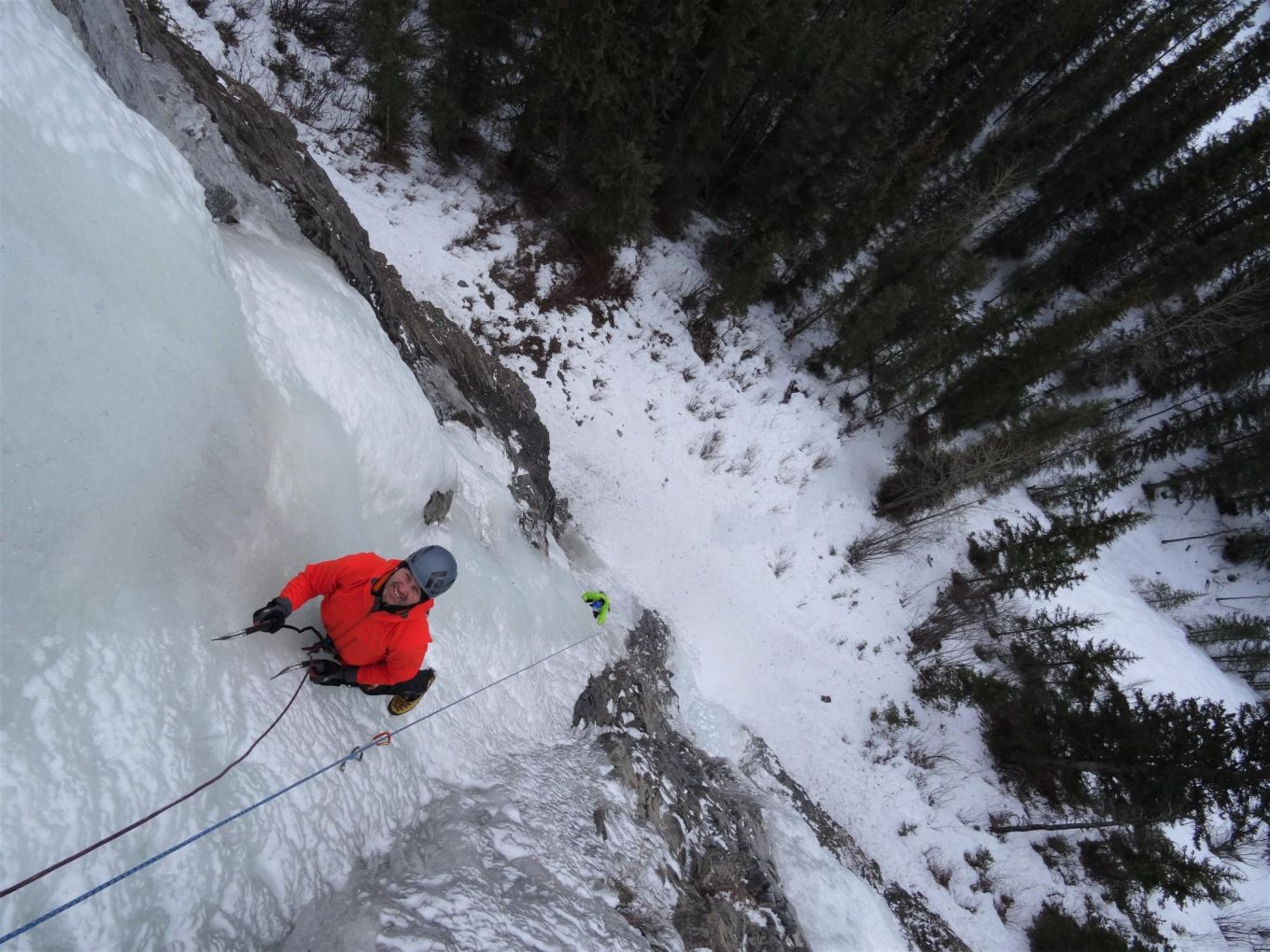 Technical Dolomites Ice 2
Course Highlights
Challenge yourself on some world class technical alpine icefalls
Hone your technical skills and experience icefall climbing in a new venue
Enjoy a progression of steeper and more technical grades of icefalls
Expert guiding and instruction from experienced ISM Guides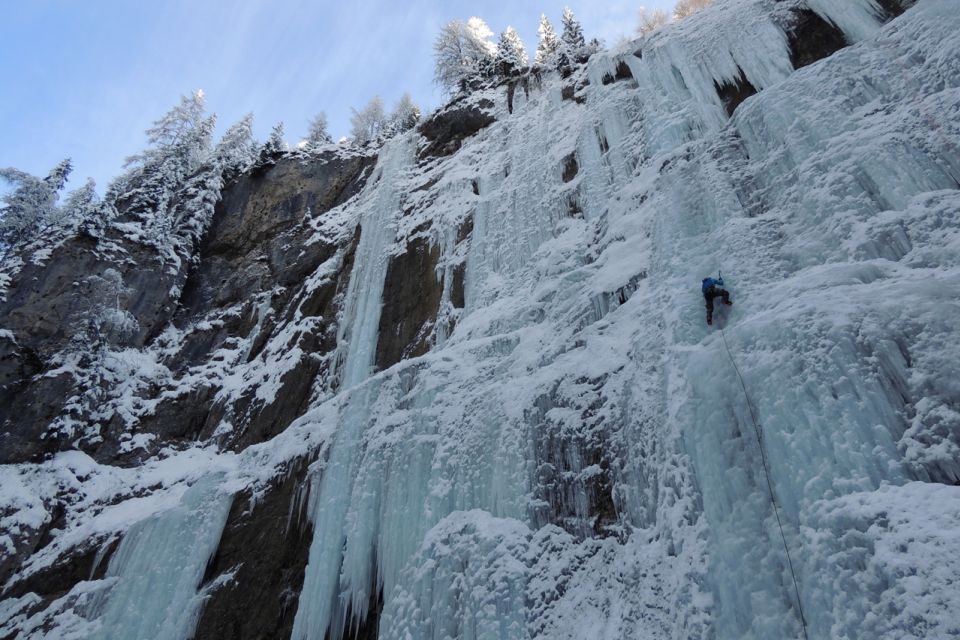 Technical Dolomites Ice 3
Is The Course For Me?
To get the most from this course, you should have experience of seconding ice routes of grade IV or above in the Alps, or on winter routes in the UK. If you do not already climb at this grade, you may wish to consider either our 'Classic Alpine Icefalls' or 'Classic Dolomites Icefalls' courses as preparation.
Through expert coaching and instruction, we aim to build on both your personal climbing ability and also the skills-based technical aspects of climbing steep ice, so that you can fully enjoy some of the best grade IV and V icefalls in the region.
Dates & Booking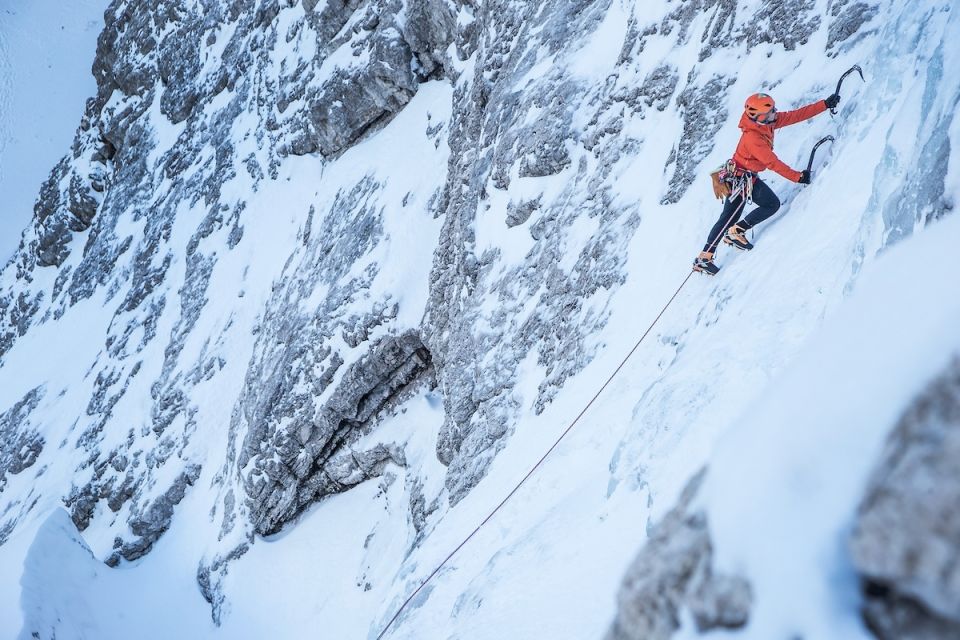 Technical Dolomites Ice 4
Climbing Technical Icefalls
We adapt the course so that everyone has the right level of challenge. Keen, fit clients will have the opportunity to follow routes at grade WI4+/WI5 and everybody on the course will greatly increase their ice climbing experience. There will be opportunies to learn lead climbing skills if your goal is to climb independently.

We operate in small teams and travel by car, giving us great flexibility to climb where the ice is best and to visit areas/routes which are new to you, even if you have joined us many times before. This flexibility, backed by the depth of knowledge of the ISM guides, is the key to giving you a great ice climbing week, which won't be ruined by bad weather or poor ice conditions in any particular area.
Course Content
As on the 'Classic Alpine Icefalls' course, during the week we review skills including: rapid ice screw placement and removal, racking equipment for steep ice, double rope technique, setting up stances and belays, retreating safely from an ice climb, assessing ice conditions, mixed-climbing techniques and adapting technique for higher-grade climbing.
On your booking form please mention any ice climbing venues where you have climbed previously. The final plan for the week will take account of your prior experience, the weather, and prevailing conditions in the mountains.
Sample Programme
Sunday
The course convenes in Venice at 6.45pm with a course briefing from your ISM guide followed by an evening meal.
Monday/Tuesday
2 days climbing in "Serrai di Sottoguda". This is a deep natural gorge around 2km long, carved into the rock between Malga Ciapela, the departure station of the Marmolada cableway, and Sottoguda. Surrounded by huge rock walls, this canyon is the best known and most popular ice climbing area in the Dolomites. Serrai di Sottoguda has more than 20 icefalls and offers routes of all grades from 1 to 3 pitches.
Wednesday
We will move to the Badia Valley, the German speaking part of the Dolomites, where you will climb one or two of the amazing icefalls that form out of the Sella range: Cascate di Damocle, Solo per Pochi, Brivido Sottile (120m grade 4+ to 5+).
Thursday
We will travel to Cortina, the 'Queen of the Dolomites', to discover the most wild and beautiful valley for ice climbing in the Dolomites, the Val Travenanzes. The approach is around 2 hours (the longest of the week) but is well worth it as you will climb one of the most beautiful and famous icefalls - "Sogno Canadese" (200m, grade 5).
Friday
We will climb in another amazing and wild valley, Val di Gares, and attempt "Tre per Tre" (120m, grade 5).
Saturday
Breakfast is included at the hotel before departure.
Vital Information
Please check the vital information below to help when booking a course
All Vital Information
Testimonials For ISM
Perfectly paced and tailored, great variety of skills learned. Guiding and Instruction? Thomas was fab! Everything was pitched at the right level (no pun intended), safety was always paramount and everyone had so much fun learning everything.
Just a quick word of thanks for the course last week. Our guide Tom was excellent and covered a lot of miles to ensure we got the best conditions and great routes in and was always ready with a word or two of advice when needed - please pass my thanks on to him,
James (2017)
Technical Alpine Rock
The course was excellent, lots of variety and provided me with a good range of skills. Loved reaching the summit of the Weissmeis, for such a nervous and unconfident novice like me, I gained a real sense of achievement from the ascent and the whole week. Huge thanks to Pat.