Slovenian Ice
Level 3 : Guided Climbing
Our Technical Slovenian Ice week, gives you the chance to climb and explore amongst the unique limestone mountains of the Julian Alps. It's an adventurous week with quieter climbs and remote valleys in and around the Triglav National Park.
Flying into Ljubljana, the capital city of Slovenia, you'll instantly feel a warm welcome and a different central European flavour to the landscape around you. Whether you take the train or bus to Kranjska Gora, you'll enjoy the short 1 hour transfer before being in the heart of the Julian Alps.
Dates & Booking
Technical Slovenijan Ice 2
Course Highlights
Enjoy the rich taste and cultural heritage around climbing in Slovenia
Explore remote quiet, valleys away from the crowds
Climb some fantastic icefalls that form readily in the Julian Alps
Expert guiding and coaching from experienced local ISM Guide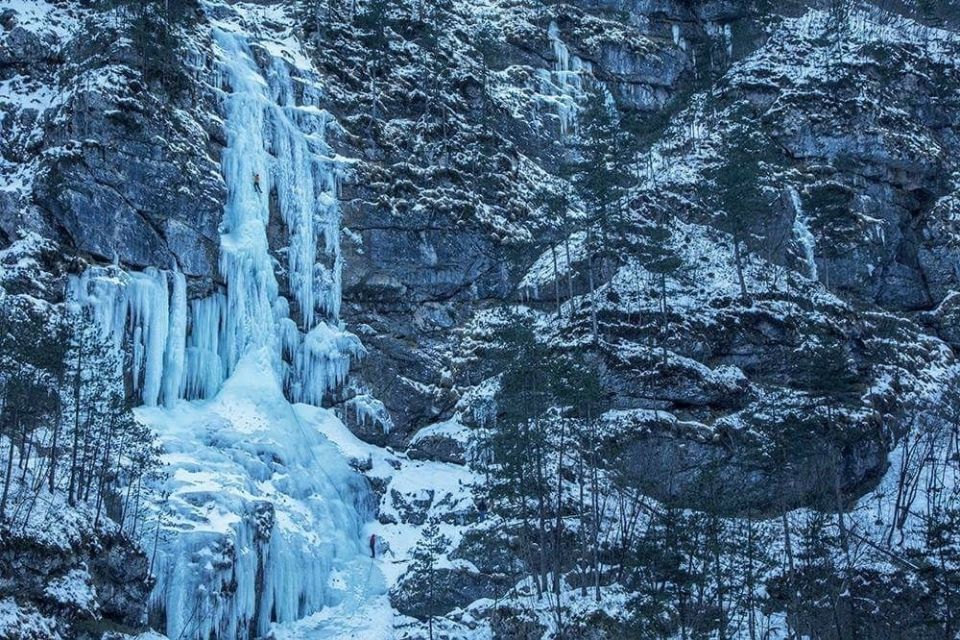 Technical Slovenijan Ice 3
Is This Course or Me?
On your booking form please mention any ice climbing venues you have climbed at previously. The plan for the week will take account of your prior experience, the weather, and prevailing conditions in the mountains.
You must have the ability to follow ice routes of grade WI4+ standard and a desire to attempt more challenging climbs led by the guide. Although approaches to the climbs are relatively short, general fitness is important. Icefall climbing at this standard requires good upper body strength such as would be gained by regular rock climbing or regular visits to an indoor climbing wall/gym.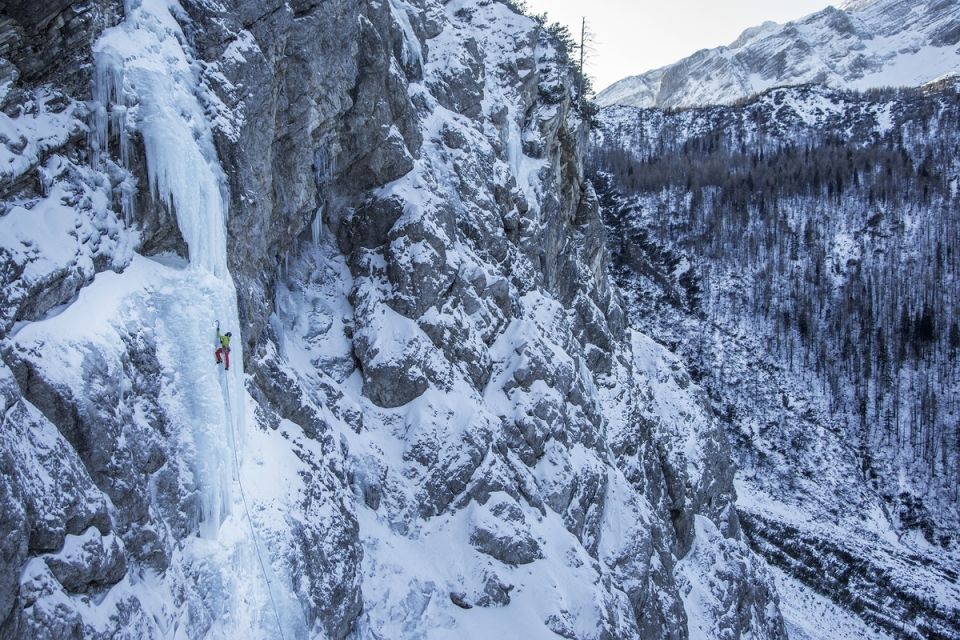 Technical Slovenijan Ice 4
Kranjska Gora
Once in Kranjska Gora, you'll head into the mountains to enjoy some of the best icefalls in condition at that time, at a grade to suit you. We operate on a low ratio throughout the whole week, so that the climbs we choose are better matched and can be of the more adventurous nature.
We'll use the hotel in Kranjska Gora as our base for the week, although if conditions dictate, we may change our hotel base part way through.
It's a chance to explore another beautiful corner of the Alps - climbing and developing your own personal climbing skills, whilst at the same time, experiencing the genuine nature that surrounds the Julian Alps.
Dates & Booking
Course Content
As on the 'Classic Alpine Icefalls' course, during the week we review skills including: rapid ice screw placement and removal, racking equipment for steep ice, double rope technique, setting up stances and belays, retreating safely from an ice climb, assessing ice conditions, mixed-climbing techniques and adapting technique for higher-grade climbing.
On your booking form please mention any ice climbing venues where you have climbed previously. The final plan for the week will take account of your prior experience, the weather, and prevailing conditions in the mountains.
Sample Programme
Sunday
Arrive in Kranjska Gora from Ljubljana airport and meet for introductions at the Hotel.
Monday

Initially we'll head into the Saisera valley and a short walk accesses a couple of classic icefalls to kick the week off.

Placche parallele (WI3+/4, 200 m) is a really wide icefall in the first 100 meters and a good place for some top roping, to help develop and refresh your climbing technique.
Or Cave del Predil (10 min from TAR, 30 from KG. 5 min walk) offers a couple of alternatives from WI3+ to WI5+ up to 120 m.
Tuesday
Today we have a number of options driving towards the high summit of Mt Prisojnik, either Levi slap (WI4, 150m), Desni slap (WI4+, 200m), or Centralni slap (5/5+, 200m) - Slap in Slovenian means waterfall!
Wednesday
Another adventure awaits you in the Tamar valley close to Kranjska Gora and about an hour's walk in, where there are many icefalls close to a nice hut from WI4 to WI6, from 100m to 180m.
Thursday
Today we head to Mangart, which is home to one of THE classic WI4+ climbs in the area - Damocle sword. The climbing here has a real adventurous and remote feel, away from any crowds and the climb is a must do if you are in the Julian Alps
Friday
Today, we drive up the valley to the small hamlet of Godz Martuljiek meaning 'unspoilt alpine nature with mountain waterfalls'. It's an historic place and is home to where the first icefall in Slovenia was climbed back in 1979 - Lucifer - a 200m icefall which is the main focus of your day.

Saturday

Breakfast before departing.

Course Dates & Booking
Please call +44 (0) 1539 721561 for availability
Vital Information
Please check the vital information below to help when booking a course
All Vital Information
Testimonials For ISM
The course was excellent, lots of variety and provided me with a good range of skills. Loved reaching the summit of the Weissmeis, for such a nervous and unconfident novice like me, I gained a real sense of achievement from the ascent and the whole week. Huge thanks to Pat.
Please pass on my very, very sincere thanks to Thomas, Daniel & Christian. They are truly quality people! Patient, understanding, professional, and wonderful ambassadors for your company. I have experienced many guides over my 50 years in climbing and they rank right up there with the very best.
David Hughes
Mont Blanc Ascent
Brilliant!! I was a walker at the start of the week. By the end had been on glaciers and climbed a 4000m peak!! It was a wonderful, wonderful, experience which i will never forget. It was excellent value for money and I hope to be joining you for years to come.
Ian Twizell
Summits & Skills 4000m (Instructional Course)