Ski Saas 4000ers
Level 4 : Guided Skiing
This circular route across the high glaciers of the Mischabel gives a spectacular week climbing three 4000m peaks, the Allalinhorn (4027m), Strahlhorn (4190m) and Alphubel (4017m). While none of the peaks are technical they are all at high altitude and are strenuous climbs.
Dates & Booking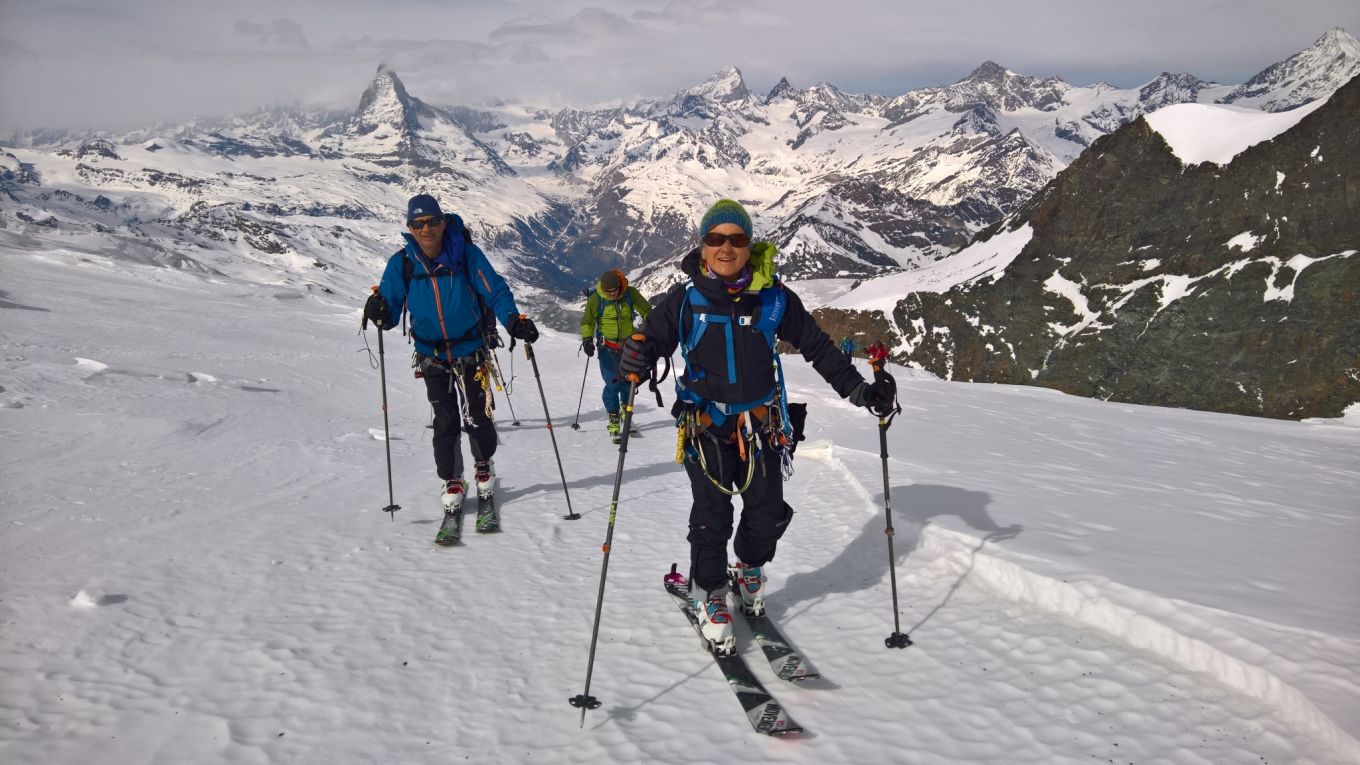 Ski Saas 4000ers 3
Course Highlights
An adventurous ski trip into the heart of the Mischabel mountian range
Incredible views of the surrounding 4000m peaks
High altitude glacial skiing and amazing long off-piste descents
Expert ski guiding and instruction from experienced ISM Guides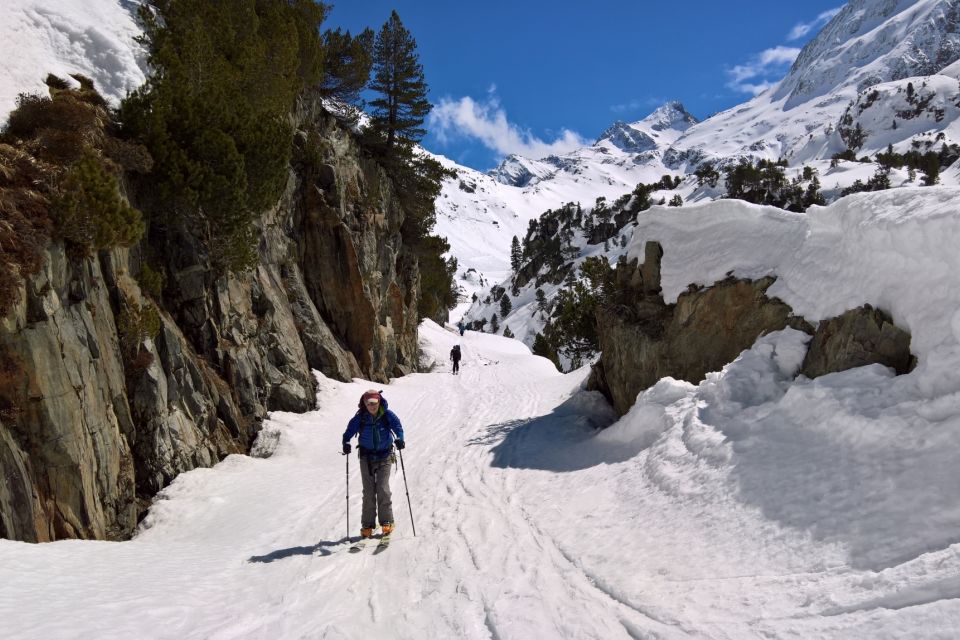 Ski Saas 4000ers 5
Is This Course For Me?
The Saas 4000ers is a great progression if you have completed our 'Ski Touring Skills' course and also a Level 2 hut to hut journey, where you will have developed your skills and gained experience, before tackling the higher 4000m peaks that you will find on this course. You will require a basic level of general mountaineering experience for any steeper terrain that you're challenged with.
Ski ability required: This is a very demanding tour at high altitude. Prior ski-touring experience is essential and you should have effective turns off-piste in a variety of snow conditions. A high level of fitness is very important as a typical day could involve up to 6 hours of uphill skiing (up to 1400m of ascent).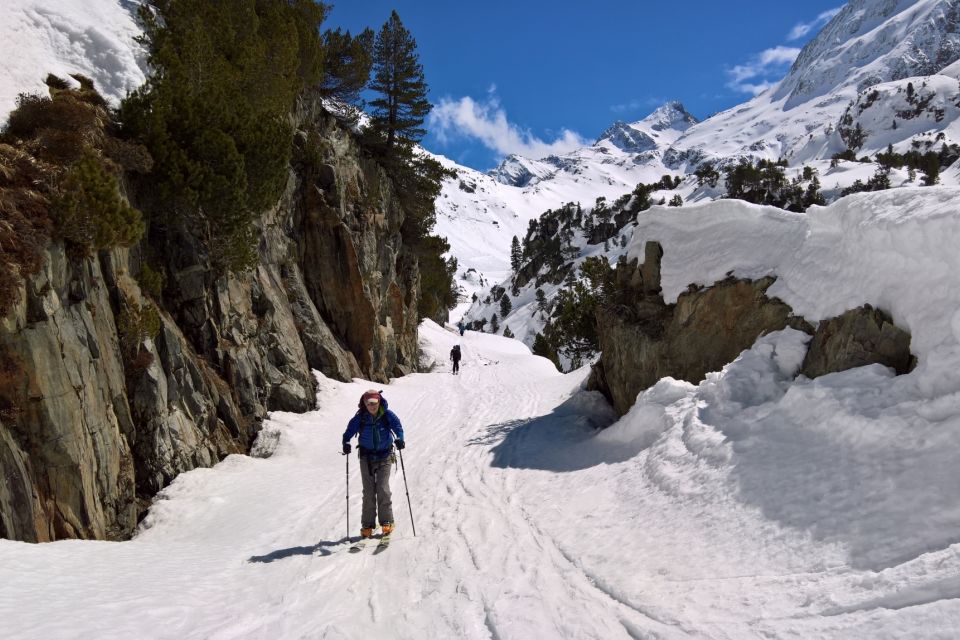 Ski Saas 4000ers 5
Skiing the 4000ers
The ISM Saas 4000ers explores the higher peaks around the Saas valley, staying in mountain huts as well as in valley based hotel accomodation.
This circular route across the high glaciers of the Mischabel gives a spectacular week climbing three 4000m peaks, the Allalinhorn (4027m), Strahlhorn (4190m) and Alphubel (4017m). While none of the peaks are technical, they are at high altitude and are strenuous climbs.
An exciting traverse over the Mischabel range climbing three 4000m peaks and the Fluchthorn (3795m).
Course Content
Ski touring and attempting a number of 4000m peaks

Refresh ski touring skills
Develop general mountaineering skills on steeper terrain
Glacial travel and crevasse rescue
Planning each day, weather and snow conditions
Avalanche awareness and route finding/navigation
Develop off-piste ski technique
Enjoy a fantastic high mountain ski experience

Sample Programme
Sunday
6.45pm - We meet at our accommodation at 'Zurbriggen Sports' (Saas Grund).
Monday
We take a bus to Saas Fee and the first lift to Mittel Allalin where we make the glaciated climb to the Allalinhorn (4000m - 600m vertical, 3hours). We descend to spend the night in the Britannia hut (3030m).
Tuesday
After a comfortable night at the Britannia hut, we have an early start to climb the Fluchthorn (3795m - 850m vertical, 3 hours 30 mins). Descending the north/north east flank. We return for a second night at the Britannia hut.
Wednesday
This is a big day, traversing over to the Zermattertal. We start by retracing our tracks from yesterday and then branch out to climb the Strahlhorn (4190m - 1300m vertical, 5 hours). We then descend to the Adler pass, where a rope is normally necessary, to descend the short but steep slope to access the Adler gletscher. We ski the Findelglestcher to the Sunnegga lift system which we take to Zermatt adn stay the night at the Banhoff Hotel.
Thursday
Using the Sunnegga lift system we pass by the Fluealp Berg Restaurant on our ascent to the Pfulwe (3155m - 850m, 3 hours). From here we enjoy the north facing slopes to Tasch Alp and a short ascent takes us to the Tasch hut (2701m - 500m vertical 1hour 30mins), where we spend the night.
Friday
The Alphubel (4206m - 1500m vertical, 6 hours) is a big push on the last day. An early start heading east to the Alphubel gletscher takes us to the Alphubeljoch (3771m). From here we head north to summit the Alphubel. We descend the massive Feegletscher to Langflue where the pistes take us back to Saas Fee. We return by bus to Saas Grund and Zurbriggen Sports where we spend the last night.
Saturday - Depart after breakfast.

Maps: Mischabel 284 S 1:50K
Course Dates & Booking
Please call +44 (0) 1539 721561 for availability
Vital Information
Please check the vital information below to help when booking a course
All Vital Information
Testimonials For ISM
Neil, our guide for the week, was exceptional; a true professional, a huge inspiration and just great company. He shared so many useful tips with us and had great stories to share too. Looking forward to booking another course with ISM in 2022!"
William Summits and Skills 4000m 2021
Summiting Mont Blanc was an important milestone for me which I am grateful to all at ISM. Particularly Terry, who is the ultimate professional never compromising on safety. Max is a pure gem with wonderful guidance and outstanding people skills in abundance.Altogether a brilliant week!
David (2017)
Mont Blanc Ascent
​Good mixture of progressive instruction and learning, climbing and guiding. We climbed some very good mountains from good huts and made the best of the mixed weather conditions. The course also used a range of situations and locations to cover a wide range of skills and techniques.
Donald Connolly
Classic AlpinISM (Instructional Course)