Technical AlpinISM
Level 3 : Instructional Course
ISM's longest-running and very highly-regarded instructional course, gives you invaluable climbing experiences and learning opportunites, to develop the important skills and become more independent on technical alpine terrain.
Technical AlpinISM is a perfect progression leading on from any of our Level 2 or Level 3 - Guided Climbing courses or maybe from our Classic AlpinISM instructional course, if you've already gained other alpine experience previously. We'll help you develop your existing climbing and mountaineering skills to gain confidence in that environment and in turn more independent.

An ISM Level 3 certificate will be awarded at the end of this course.
Dates & Booking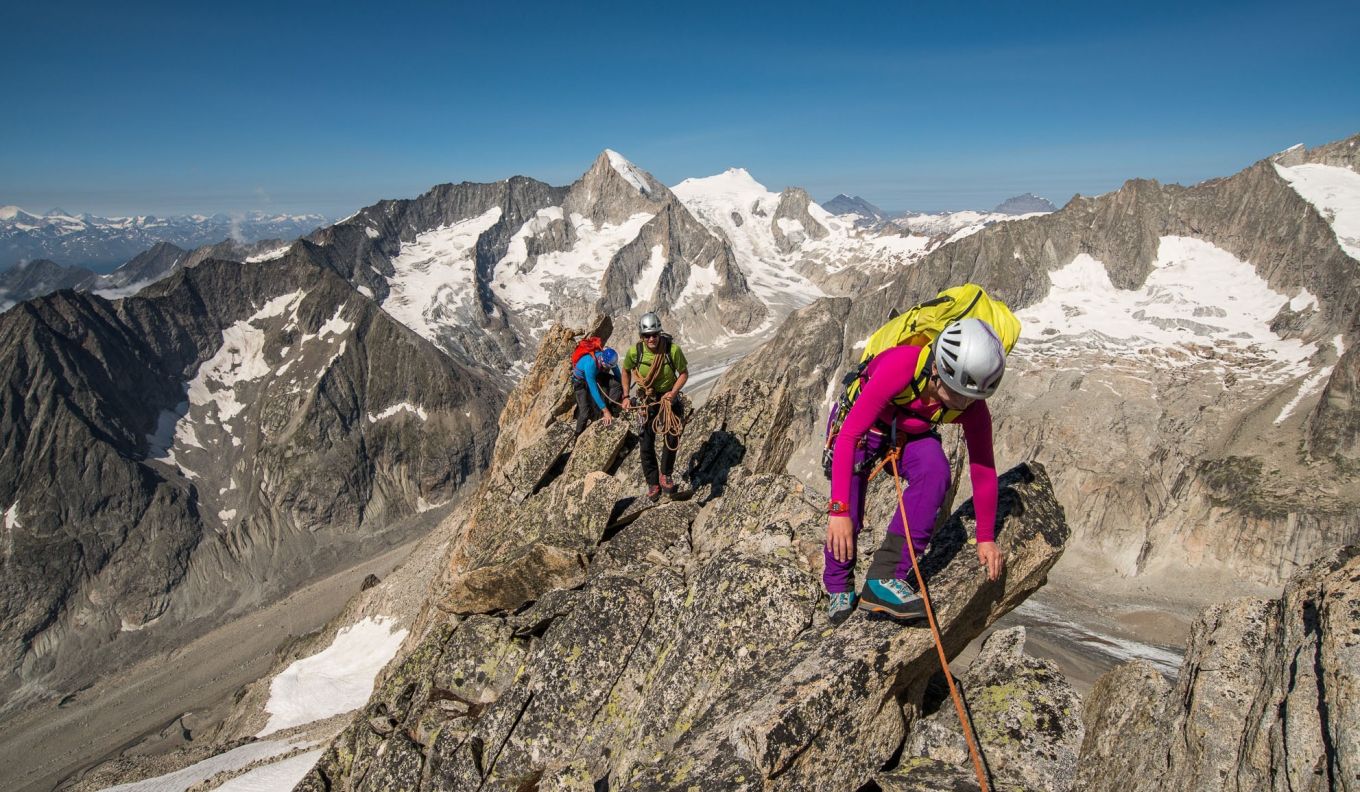 Technical AlpinISM 2
Course Highlights
Develop your existing skills to become more independent
Gain valuable experience leading the rope and receiving constructive feedback.
Expert instruction and coaching from experienced ISM Guides
All-inclusive price includes all uplift, food, transport and accommodation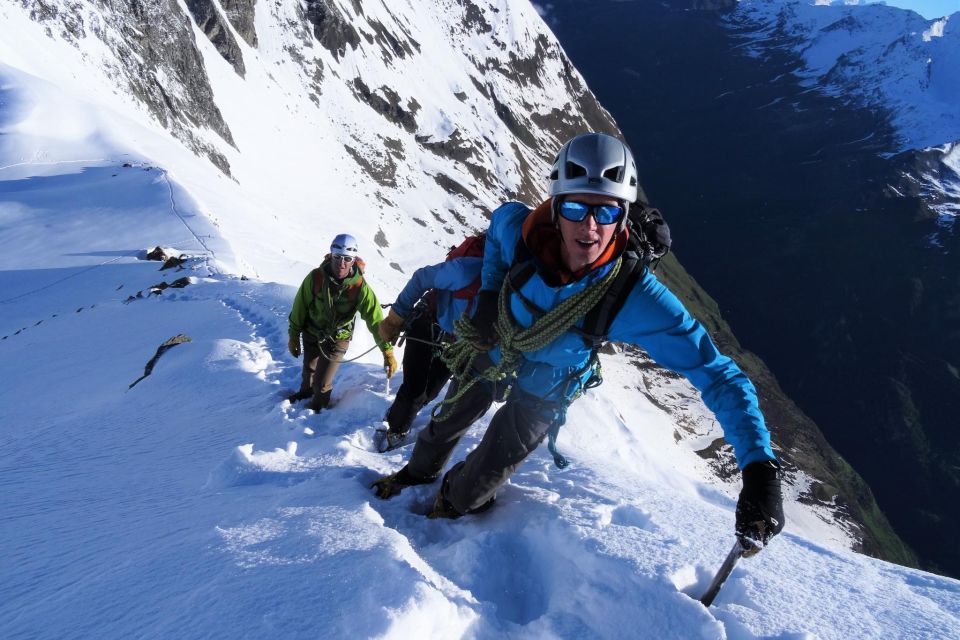 Technical AlpinISM 3
Is This Course For Me?
ISM has structured this course so that it's a great progression if you already have the competency in both moderate rock climbing and summer alpine mountaineering, but wish to develop and learn the more advanced skills, to become independent on more technical alpine terrain.
Dates & Booking
Technical AlpinISM 4
Developing your mountaineering skills
This course pulls together all the skills and experience you have aquired over the years and fine tunes them, so that you feel more confident and can move over alpine terrain more efficiently and safely. Every day we focus on different aspects around alpine mountaineering - from refreshing your crevasse rescue techniques, safe glacial travel and moving efficiently over moderate rocky terrain as well as steeper multi-pitch rock climbs. We'll deliver the week so that you start to make your own decisions around planning a day, route choice, conditions, navigation, rope techniques to use at any given time, managing the ropes, people and environment around you, and through expert coaching you will build the confidence and skills needed to become more independent.

Course Content
This course will focus on climbing more technical alpine mountaineering terrain whilst delivering both instruction and coaching to help develop your confidence and ability to operate in the mountains more independently.

Improving your movement and climbing technique on both rock and ice.
Giving thought to safe anchors, leader placed protection and rope management.
Developing a range of different rope techniques for the varying alpine terrain.
Experienced based learning, climbing technical routes and peaks on snow, ice and mixed terrain.
Growing a knowledge of efficiency in the mountains.
Understand better how to plan an alpine day, weather, conditions, navigation and route finding.
Refreshing taking coils, safe glacial travel, snow and ice anchors and crevasse rescue.
Sample Programme
Saturday evening
The course starts with a briefing at 6.45pm at the Tour D'Ai hotel in Leysin. This is a chance for you to meet your team mates and Guide and go through the details of the course. There will also be time for you to sort out any equipment you need and for you to ask questions. Dinner will follow the briefing.
Sunday
The limestone cliffs of the Leysin Tours provide a beautiful venue for us to start with a review of rock climbing skills (belay techniques and set ups, rope work and movement) within the context of an enjoyable climbing day. It gives your Guide a chance to find out exactly 'where you are' with your climbing! We move on to cover technical aspects of multi-pitch climbs and descents, lead climbing skills and to coach your movement on the rock as appropriate. We try to relate crag climbing techniques and rope work to the longer climbs of the Alps and the need for speed and efficiency. Throughout this course, we adapt the level we teach each of these things to your level of experience. We return to the hotel in Leysin in the evening.
Monday
The objective of the day is for you to climb an alpine length rock route with instruction and feedback from yoru Guide on the best and most efficient techniques to use on different types of ground. This could be the traverse of 'Gais Alpin', which involves sections of pitched climbing as well as sections where we move together with the rope. There is also an abseil descent from a pinnacle along the ridge. This combination of different types of terrain and technique make for an excellent training route and you will have the chance to lead the rope as appropriate. For those with more experience we may choose a climb on the magnificent 'Miroir d'Argentine' – a classic alpine outing to a beautiful summit and a long time favourite with the ISM team. Both of these climbs are done as a 'long day out' from Leysin and we return to the Tour D'Ai hotel in the evening.
Tuesday
In the morning, we head off to a high alpine hut, where we will spend the rest of the week. One option is to climb around the Almageller hut (2894m) where there are a great number of routes and summits both rock and mixed in nature. If we decide to go there we'll drive from Leysin to Saas-Almagell in the Saastal valley close to Saas Fee. It's a good walk into the Almageller hut and once there we will refresh some rope work skills in readiness for the next day.

Wednesday
After an alpine start, we leave the Amageller hut, heading towards the Sonnigpass to climb and traverse the Portjengrat (3653m), which is one of the best climbs of it's type in the Saas Valley. The route involves good navigation, some pitched climbing on fantastic rock, then a variety of short roping techniques and some intricate route finding to reach the summit. From the summit an abseil, some down climbing and more route finding, leads to easier ground and then a walk back to the Almageller hut.

Thursday
A more relaxed start, after the long day on the Portjengrat we plan to climb and traverse the Dri Hornli. The Dri Hornli is a more technical alpine rock route that requires both good climbing technique in big boots and also good rope work to manage this intricate route. It's a fun day out, which we hope will develop your pure alpine rock techniques of rope work, leader placed protection, anchors and safe management in both ascent and descent over the many pinnacles along the ridge. We return to the Almageller hut.

Friday
Our final day at the Almageller hut, we plan to climb the mixed alpine south ridge of the Weissmies (4017m) and descend down the steep north glacier route. It's not always possible to do this classic alpine traverse, but if conditions allow it gives a great alpine mountaineering expedition. We'll initially walk up to the Zwischbergenenpass which will allow us to connect to the mixed and rocky south ridge of the Weissmies. It's a chance for you to pull together the skills you have learned over the previous days and lead the rope to the summit. From the summit it's a steep and long glacial descent to Hohsaas and a lift back down to the valley. If conditions dictate that the traverse isn't possible, then there are other options for this last day, whether is starting out from Hohaas and climbing the long technical and involved south ridge of the Lagginhorn (4010m) or perhaps the lower ridge traversing the Jagigrat. Both are long technical alpine ascents which require a range of technical skills practised throughout the week.
Saturday
Breakfast is included before departure.
Depending on the experience and abilities of course participants, there are many other peaks and climbs to choose from in this area.

Vital Information
Please check the vital information below to help when booking a course
All Vital Information
Testimonials For ISM
Learned loads and acclimatised well during the course. Its obviously been very carefully planned. Guiding and Instruction was excellent. Anders was fantastic throughout and made the whole course really good fun. A very professional instructor with a great sense of humour. Highly recommended.
Leigh Ritchie
Summits & Skills 4000m (Instructional Course)
Our three guides were all excellent: Thomas, Phil and Paulo. I can't speak highly enough of them. They were all good company and superb climbers, and patient with us all.
Donald Connolly
Matterhorn Ascent
What a brilliant week we had! I really enjoyed the fact that the course was very hands on and we were given freedom and responsibility to look after ourselves. I really like the fact that the price was all-inclusive, the the course was excellent value for money!
Rachel (2017)
Summits & Skills 4000m (Instructional Course)