Mont Blanc (Extension)
Level 2 : Guided Climbing
In the 'high season' summer weeks we offer the opportunity to climb Mt Blanc as a three day follow-on to any of our other summer courses.
The grandeur that is the 'classic' north side of Mt Blanc sits high above the Chamonix Valley, centre piece to the beautiful Mt Blanc Massif. The summit is fortified by huge glaciers and the route to get there only requires a basic level of mountaineering ability. It does, however, require a very good level of fitness for the long summit day
and you must be acclimatised to the higher altitude - a perfect 3 day extension to many of our existing courses including Summits and Skills 4000m.

Dates & Booking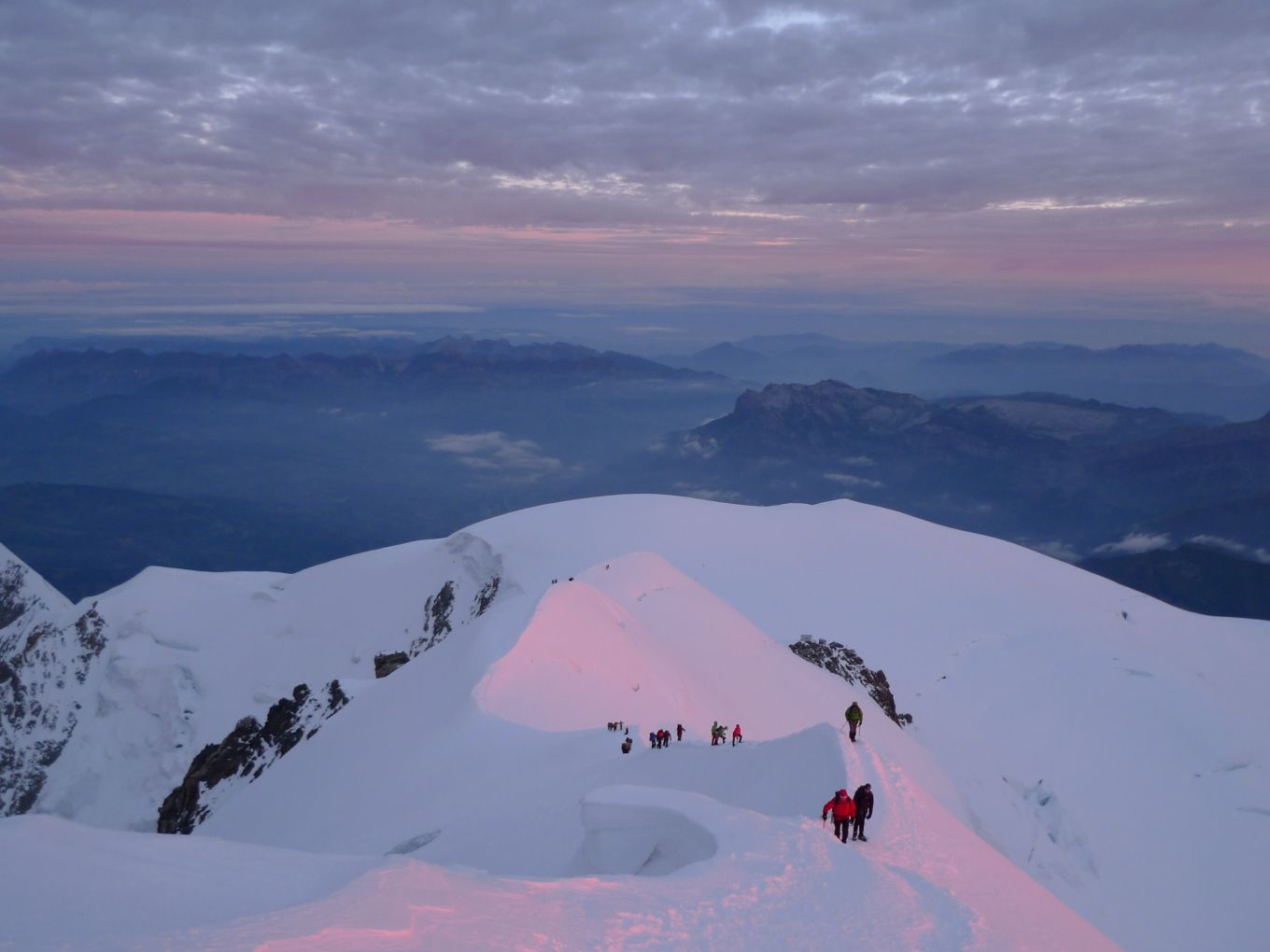 Mt Blanc Extension 2
Course Highlights
Attempt the highest summit in the Alps
Professional and experienced ISM Guide
You make your ascent on the quietest days of the week
Already being acclimatised gives you the best chance of success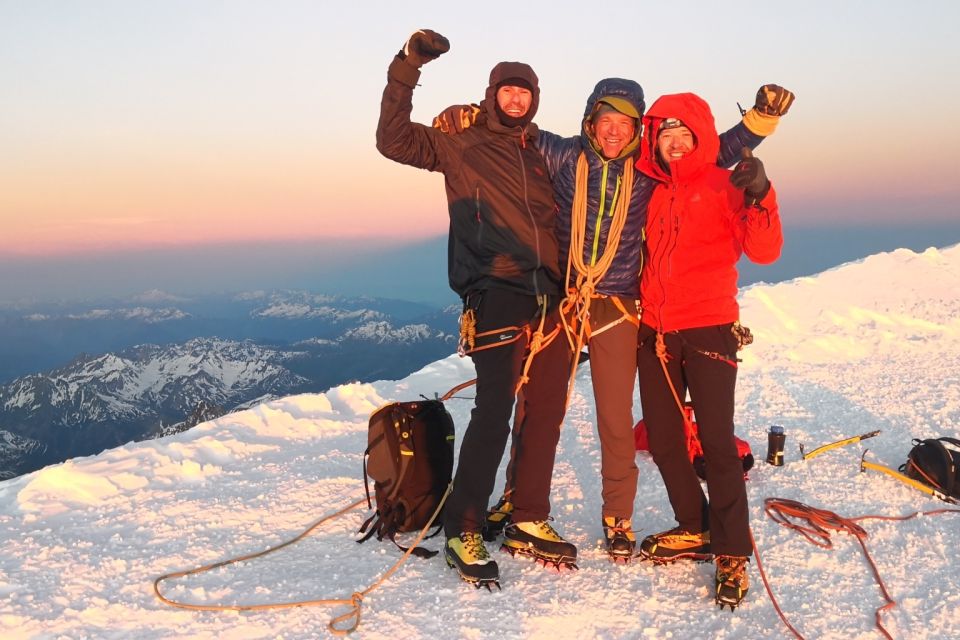 Mt Blanc Extension 3
Is The Course For Me?
This Mt Blanc Three Day Extension is perfect for anyone who is thinking of booking onto another ISM course. For example, you can learn the basic alpine mountaineering skills and get acclimatised on our Summits and Skills 4000m course, or by booking on to one of our Level 2 - Guided Climbing weeks, where you'll refresh your mountaineering skills and get acclimatised climbing summits during your week - both these paths lead perfectly into attempting Mt Blanc

Dates & Booking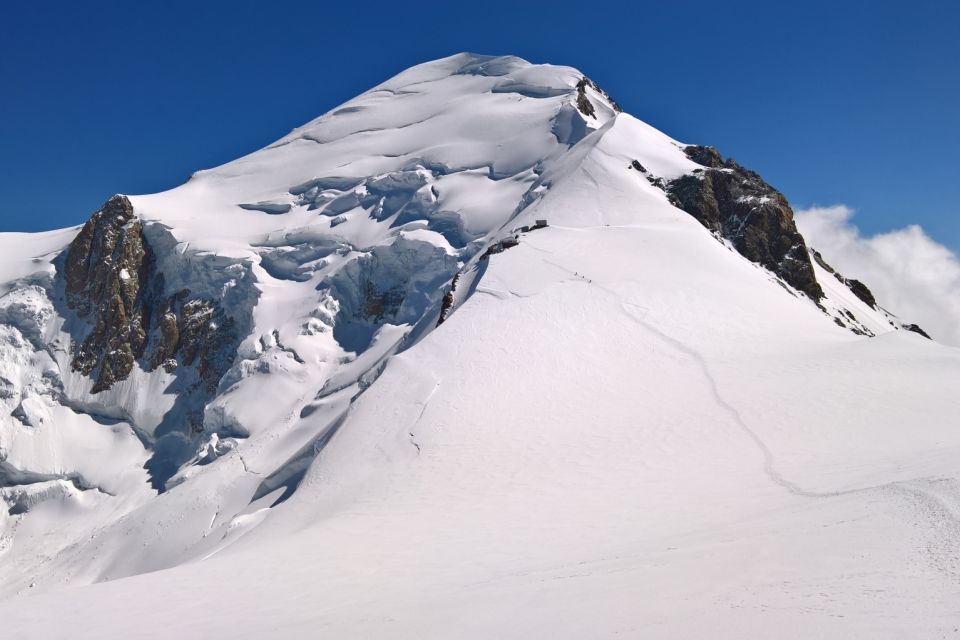 Mt Blanc Extension 4
Climbing Mt Blanc (4810m)
Please do not underestimate how arduous an ascent of Mt Blanc can be. A very good level of fitness is required.
From Chamonix a lift and tram gives you access to a high mountain trail,. From here a long walk and a rock scramble take you up to the Gouter Hut (3815m). Summit day isn't technically demanding, but involves a steep glacial walk and climb above 4000m wearing mountain boots, crampons and carrying a reasonably heavy backpack for most of the day. Good weather is needed for this highest summit of the Alps. Even on a sunny and clear day the wind can stop teams reaching the summit dome.
The Three Day Extension
You will be fully prepared and acclimatised from another ISM course
A two day weather/conditions window to attempt Mt Blanc
Be out of sync with other courses meaning you attempt the summit on the quieter days
Maximise your time in the Alps by climbing the highest summit.
A good level of fitness is needed for the ascent - it's not 'just a walk!'

Sample Programme
The 'Gouter' route via the Tete Rousse and Gouter Hut is our preferred option, depending on conditions and ratios.
Saturday
The course starts with a briefing at 6.45pm at the Tour D'Ai Hotel in Leysin. This is a chance for you to meet your Guide and go through the details of the course. There will also be time for you to sort out any equipment you need and for you to ask questions. Dinner will follow the briefing.

Sunday
After an early breakfast we drive to Chamonix to begin our ascent. Sunday evening sees us at our chosen hut.
Monday
We plan to attempt the summit if the weather and conditions permit, staying either in a hut or in the valley.
Tuesday

This day is in hand in case of bad weather or adverse conditions. The course will end on Tuesday afternoon.

Course Dates & Booking
Please call +44 (0) 1539 721561 for availability
Vital Information
Please check the vital information below to help when booking a course
All Vital Information
Testimonials For ISM
Brilliant!! I was a walker at the start of the week. By the end had been on glaciers and climbed a 4000m peak!! It was a wonderful, wonderful, experience which i will never forget. It was excellent value for money and I hope to be joining you for years to come.
Ian Twizell
Summits & Skills 4000m (Instructional Course)
Terry was a wonderful guide and made everything fun, laid-back and an overall good experience. I would be happy to ski or climb with him again. All the logistics in Leysin and in Italy went smoothly. A really nice time.
KL (2017)
Advanced Ski Touring Skills (Instructional Course)
Thank you very much for an enjoyable and inspiring week in the Alps, and for your patience and good humour throughout. You have a completely satisfied customer and I hope to join another ISM course sometime in the future.
Michael Firth
Classic AlpinISM (Instructional Course)