Swiss 4000ers
Level 2 : Guided Climbing
A week of 'classic' alpine mountaineering climbing some of the highest and most beautiful snow capped 4000m peaks in the Swiss Alps.
The 'Swiss 4000ers' is a week of alpine mountaineering, attempting a number of 4000m summits that you haven't climbed before. With the changing conditions in the Alps and the fact you may have already climbed a number of 4000m peaks before, ISM offers this week on a low 2:1 ratio giving us more options.
Dates & Booking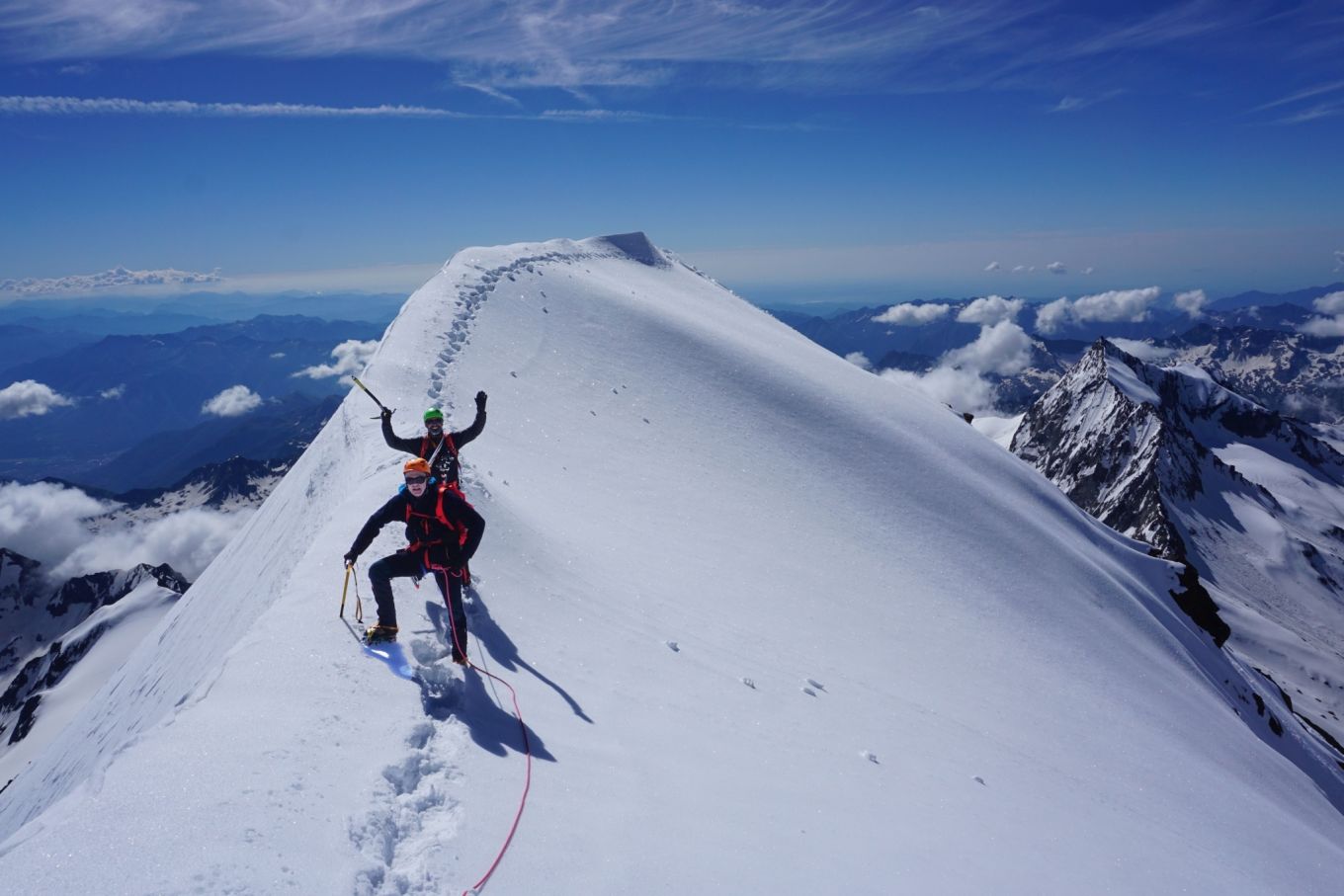 Classic 4000m 2
Course Highlihghts
A fun guided climbing week of Swiss 4000m peaks
Low ratio adapting to the changing conditions
More options of what 4000m summits you can climb
Expert guiding and instruction from experienced ISM Guides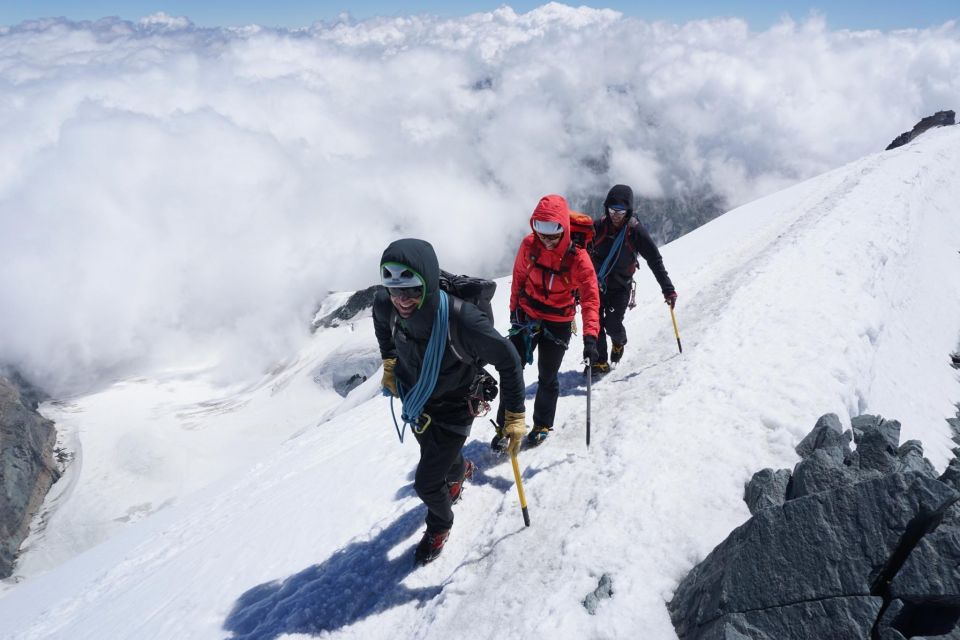 Custom Courses 2
Is This Course For Me?
This course is a perfect progression from our Summits and Skills 4000m - Level 1 instructional course and gives you the opportunity to build your experience and practise many of the skills you will have learned during that course, whilst climbing a number of 'classic' Swiss 4000m peaks. It is also a perfect course for you is you wish to enjoy some fantastic summer alpine mountaineering at a 'classic' grade and to summit some 4000ers that you haven't climbed previously.

Our low ratio of 2 clients to 1 ISM Guide, allows us more flexibility and gives us more options in planning what 4000m peaks to climb, when all the factors are taken into consideration, such as your experience and what peaks you've already climbed, balanced with the mountain conditions on any given week.
Higher ratio weeks can be more restrictive and will only focus on a few easy Swiss 4000ers, and possibly repeat peaks that you've already summited.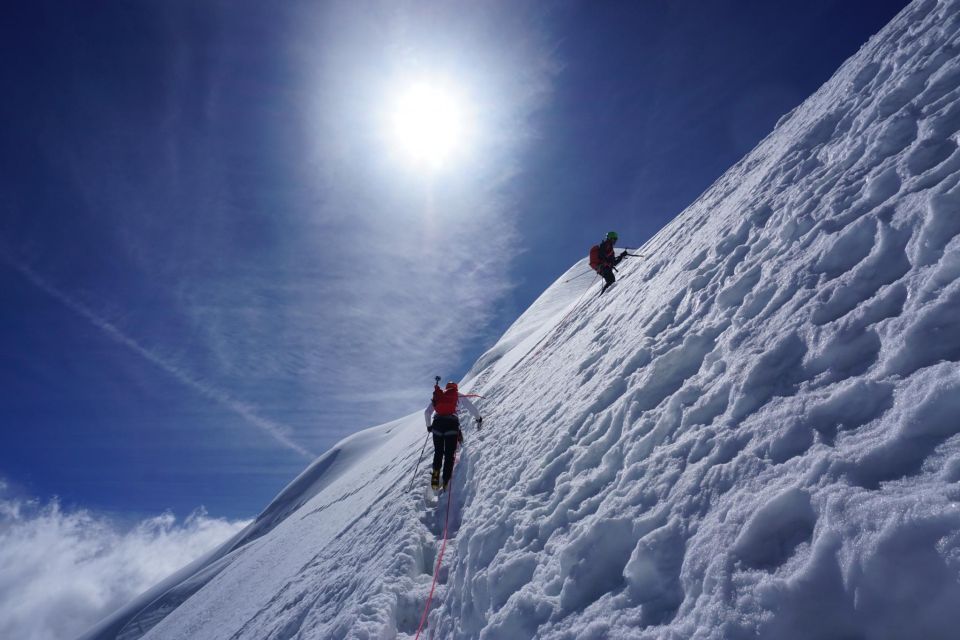 Classic 4000m 4
Climbing the 4000m Peaks
There are 82 alpine summits above 4000m, and over half of those are in Switzerland. These summits can be a great incentive and motivation for many mountaineers climbing in the Alps each summer.
ISM has split these summits into two categories - 'Swiss 4000ers' (grade PD/PD+/AD-) and 'Technical 4000ers' (grade AD/AD+) Both these courses are run on a 2:1 ratio giving you the most options of peaks to climb and also adapting to the changing conditions in the Alps, where higher ratios restrict which summits you can climb throughout a summer season.
View Dates
A selection of peaks that can be climbed
Dom (4545m)
Dufourspitze (4634m)
Grand Combin (4324m)
Briethorn (4164m)
Castor (4226m)
Alphubel (4206m)
Rimpfischhorn (4199m)
Nadelhorn (4327m)
Allalinhorn (4027m)
Weissmies (4023m)
Lagginhorn (4010m)
*Please note that this course normally runs without taking mechanical uplift and is priced accordingly. If uplift is taken (with agreement of course participants) it is charged as an extra.
Sample Programme
There are many combinations when planning a week around the classic 4000m peaks and we do our best to deliver the week at the right level of abilitiy for the course participants, taking into account the weather and conditions.
Saturday
The course starts with a briefing at 6.45pm at the Tour D'Ai hotel in Leysin. This is a chance for you to meet your team mates and Guide and go through the details of the course. There will also be time for you to sort out any equipment you need and for you to ask questions. Dinner will follow the briefing.
Sunday
After breakfast you head up the Rhone valley towards Tasch, a small village below Zermatt. From there we will drive up the steep winding road to Tasch Alp from where you will walk on a good track up to the Tasch Hut to stay the night.

Monday
A pre-dawn start sees the team walking by headlamp up good trails towards the glacier Alphubel. Once on the glacier we continue up and over the Alphubeljoch and onto the Fee Gletscher. We then head north up the steepening glacier, over the 'Ice Naso' and on to the summit of Alphubel. The descent is back down the broad glacier to the Alphubeljoch and then we continue down to the Tasch hut where we'll spend a second night.

Tuesday
After a more relaxed start, we leave the hut to go down the valley and drive back to Tasch. From here we take a short drive around to Saastal and up to Saas Grund where we take the Hohsaas lift to Kreuzboden and walk into the Weissmies hut. We should have the afternoon free and you will have the option of climbing a rocky peak (the Jagihorn) which is an hour's walk from the hut or doing some rock climbing closer by. You may also be able to refresh your glacier skills such as crevasse rescue on the Trift Gletscher. We stay in the Weissmies hut that night.

Wednesday
A pre-dawn start, sees the team walking up the steepening track towards the Lagginhorn Gletscher to climb the 'Normal Route' on the Lagginhorn. This is a great summit with the route steepening as you near the summit and one which earlier in the year isn't possible with a larger ratio group. From the summit, you'll enjoy fantastic views down into Italy, across to the high summits of the Mischabel Range and the huge Monte Rosa Massif behind, with over thirty 4000m peaks laid out in front of you. The descent takes us back down the same route, past the Weissmies hut and on down to the Hohsaas lift and Saas Grund below where we'll spend the night. This night in the valley will give you a chance to freshen up after three nights in mountain huts.

Thursday
More of a relaxed start today and a short drive up to Saas Fee. From here we will take a long hike up to the Mischabel hut to climb the Nadelhorn.
Friday
A pre-dawn start with headlamps to walk up the Hohbalm Gletscher towards the Windjoch and the North East Ridge of the Nadelhorn. Once on this snowy ridge there is fantastic and steeper climbing with amazing views all the way to the summit. The summit offers great views across to the classic Dent Blanche, Matterhorn and all the other inspiring 4000m peaks in the area. The descent is back down the North East Ridge, returning to the Mischabel hut and on down to Saas Fee before travelling back to Leysin for a debrief and final dinner at the Tour D'Ai.
Saturday morning
Breakfast at the hotel is included before departure.
Vital Information
Please check the vital information below to help when booking a course
All Vital Information
Testimonials For ISM
​Hi Eira! It is Maite from Spain again! Just a message to tell you that I spent a wonderful week and that both guides (Paolo and Christian) were superb.
Maite Iriarte
Swiss 4000ers
Summiting Mont Blanc was an important milestone for me which I am grateful to all at ISM. Particularly Terry, who is the ultimate professional never compromising on safety. Max is a pure gem with wonderful guidance and outstanding people skills in abundance.Altogether a brilliant week!
David (2017)
Mont Blanc Ascent
Brilliant!! I was a walker at the start of the week. By the end had been on glaciers and climbed a 4000m peak!! It was a wonderful, wonderful, experience which i will never forget. It was excellent value for money and I hope to be joining you for years to come.
Ian Twizell
Summits & Skills 4000m (Instructional Course)