Technical Alpine Icefalls
Level 3 : Guided Climbing
This ice climbing course is for the more experienced ice climber who wishes to make the most of a winter week of ice climbing in the Alps.
The course comprises five full days of top-quality ice climbing in such celebrated venues as Kandersteg and Cogne, as well as more remote valleys like Adelboden, Lenk and the Val de Bagnes. We steer clear of overcrowded icefall venues (such as some of those in the Chamonix valley) to give a safer, more aesthetic and adventurous ice climbing experience.
Dates & Booking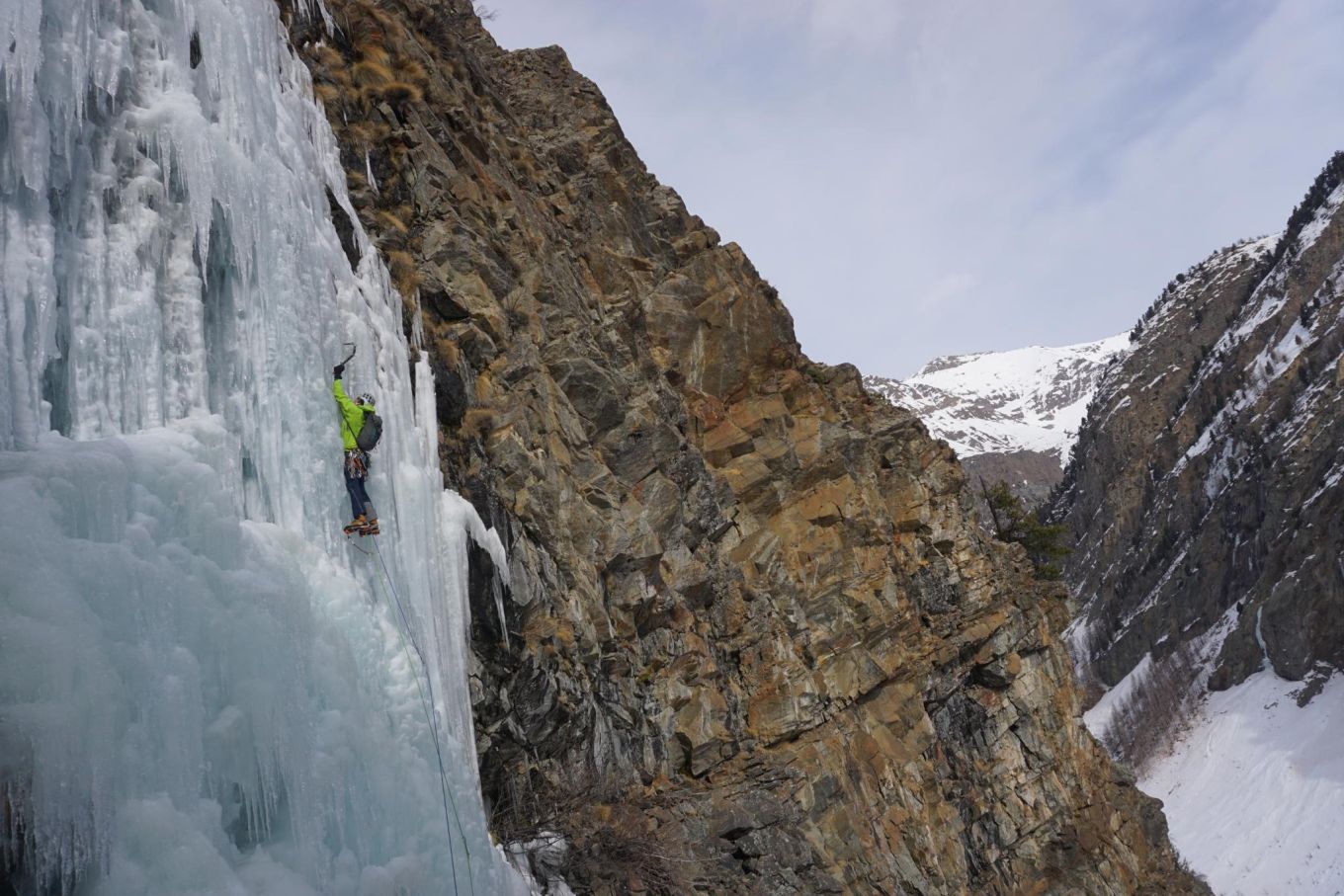 Technical Alpine Icefalls 2
Course Highlights
Challenge yourself on some world class technical alpine icefalls
Hone your technical skills and experience icefall climbing
Enjoy a progression of steeper and more technical grades of icefalls climbed
Expert guiding and instruction from experienced ISM Guides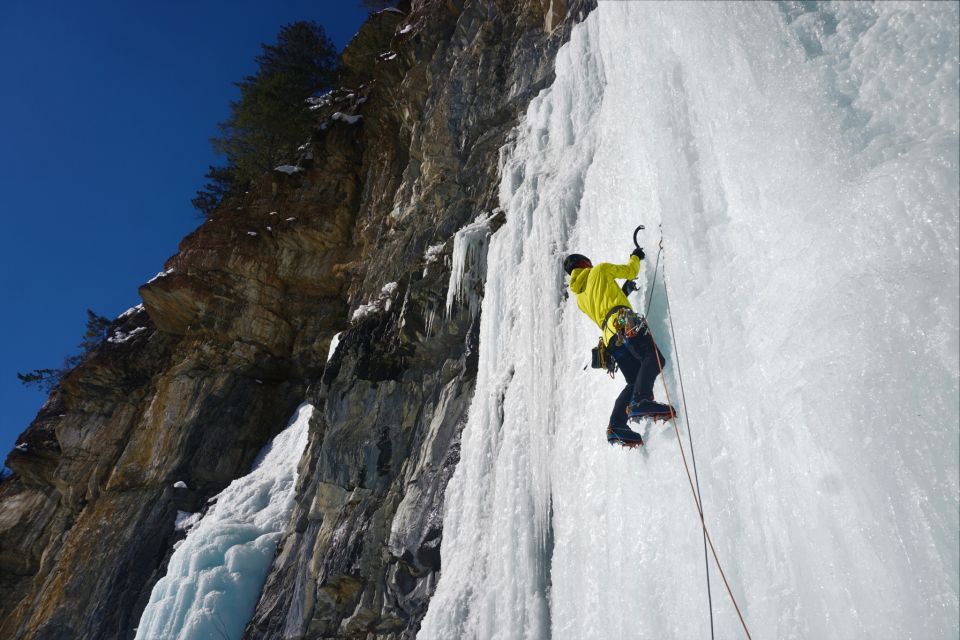 Technical Alpine Icefalls 3
Is This Course For Me?
To get the most from the course, we would advise that you first complete our Classic Alpine Icefalls course, which acts as a perfect lead into the steeper and more technical alpine icefalls you will encounter on this course. You will need to have ability to follow ice routes of grade WI4 as a standard base level and a desire to attempt more challenging climbs led by the Guide. Although approaches to the climbs are relatively short, general fitness is important. Icefall climbing at this standard requires good upper body strength such as would be gained by regular rock climbing or regular visits to an indoor climbing wall/gym

The aim of the course is to build on your technical skills and ice climbing ability whilst enjoying classic grade WI4+/WI5 icefalls in at least two different venues. To achieve this we give continuous expert instruction throughout the week, looking at your climbing technique in detail and trying to ensure that you climb as well and as efficiently as you can.
Dates & Booking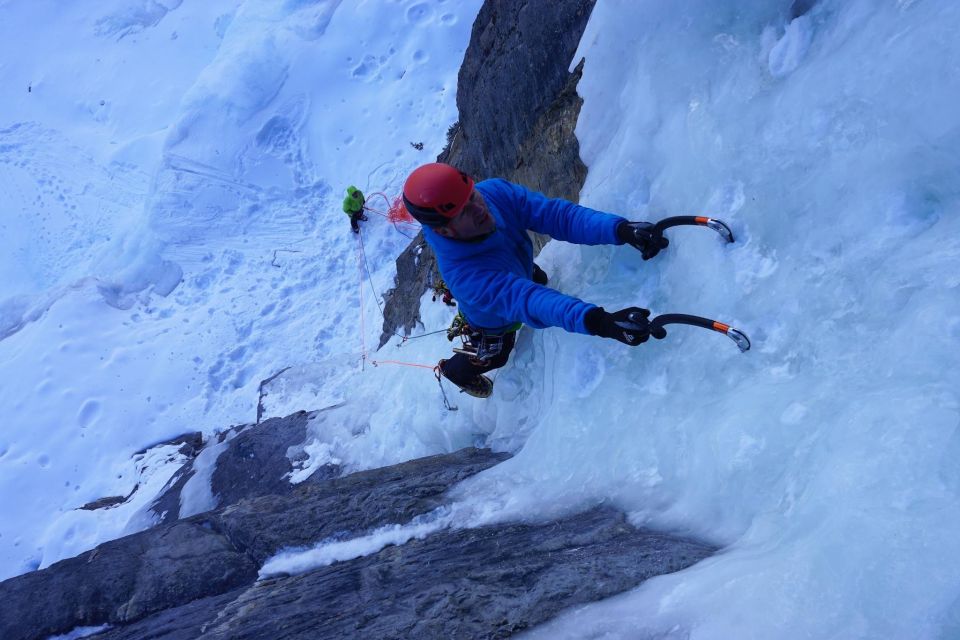 Technical Alpine Icefalls 4
Climbing Technical Icefalls
We adapt the course so that everyone has the right level of challenge. Keen, fit people will have the opportunity to follow routes at grade WI4+/WI5 and everybody on the course will greatly increase their ice climbing experience. There are opportunies to learn lead climbing skills for people whose goal is to climb independently.

We operate in small teams and travel by car, giving us great flexibility to climb where the ice is best and to visit areas/routes which are new to you even if you have joined us many times before. It can be critical whether we head north to the Oberland or to more southern areas - this flexibility, backed by the depth of knowledge of the ISM guides, is the key to giving you a great ice climbing week which won't be ruined by bad weather or poor ice conditions in any particular area.
Course Content
As on the 'Classic Alpine Icefalls' course, during the week we review skills including rapid ice screw placement and removal, racking equipment for steep ice, double rope technique, setting up stances and belays, retreating safely from an ice climb, assessing ice conditions, mixed-climbing techniques and adapting technique for higher-grade climbing.
On your booking form please mention any ice climbing venues where you have climbed previously. The final plan for the week will take account of your prior experience, the weather, and prevailing conditions in the mountains.

Sample Programme
Sunday
The course starts with a briefing at 6.45pm at The Grand Chalet Hotel in Leysin. This is a chance for you to meet your team mates and Guide and go through the details of the course. There will also be time for you to sort out any equipment you need and for you to ask questions. Dinner will follow the briefing.
Monday
Climbing on the Lauenen Icefalls near Leysin, which offer routes of all grades up to three pitches long and in beautiful quiet surroundings. Here we look at your technical skills, analyse climbing technique, coach when appropriate and refresh the range of safety skills needed for bigger ice routes later in the course.
Tuesday - Friday
Climbing in two of Switzerland's premier icefall climbing areas, typically the Val d'Herens, Val de Zinal and Val de Bagnes in the Swiss Valais, and the amazing icefall venue of Kandersteg in the Bernese Oberland. If the weather is better in the south we can drive through the St Bernard tunnel to the ice-climbing mecca of Cogne. We are happy to be very flexible to ensure that we climb where conditions are best and attempt the routes most suitable for course participants. Our choice of venues will take into account prevailing conditions, the weather forecast and the needs of the group. We return to the Grand Chalet in Leysin for the final night.
Saturday
Breakfast is included at the hotel before departure.
Accommodation throughout the course is in mountain hotels with excellent, plentiful food, helping us to relax, refresh and rest well each night to be ready for another full day on the ice.
Vital Information
Please check the vital information below to help when booking a course
All Vital Information
Testimonials For ISM
What a brilliant week we had! I really enjoyed the fact that the course was very hands on and we were given freedom and responsibility to look after ourselves. I really like the fact that the price was all-inclusive, the the course was excellent value for money!
Rachel (2017)
Summits & Skills 4000m (Instructional Course)
Neil, our guide for the week, was exceptional; a true professional, a huge inspiration and just great company. He shared so many useful tips with us and had great stories to share too. Looking forward to booking another course with ISM in 2022!"
William Summits and Skills 4000m 2021
I just wanted to thank you as well as Mark, our guide for the amazing week. The course was well organized and was just perfect for a beginner to mountaineering. We couldn't have wished for a better adventure. The memories are irreplaceable.