West Oberland Haute Route
Level 3 : Guided Ski Touring
A fantasic ski tour in a quiet corner of the Western Oberland, enjoying the lower mountains and remote valleys for the perfect hut to hut ski journey.
Virtually unknown to British skiers, this beautiful ski tour has long been regarded by the Swiss as one of the 'classic' ski tours in the Oberland, and people compare it favourably to the Chamonix-Zermatt Haute Route.
Dates & Booking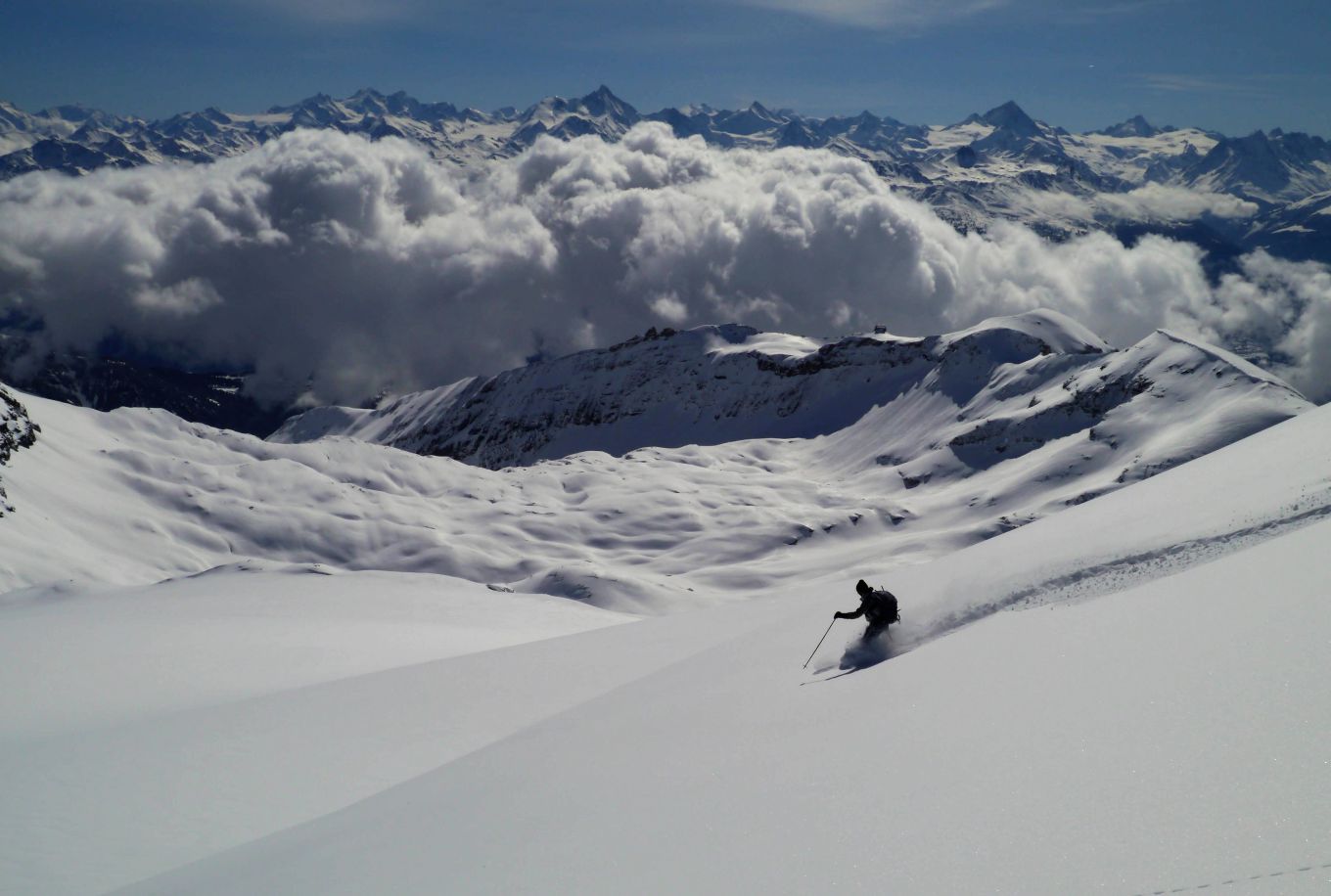 West Oberland Ski 2
Course Highlights
Probably the best off-piste skiing to be found on any Haute Route
North-facing descents of 1000m each day to comfortable huts, giving well balanced ski touring days
Magnificent views in a remote and very quiet area of Switzerland
Expert ski guiding and instruction from experienced ISM Guides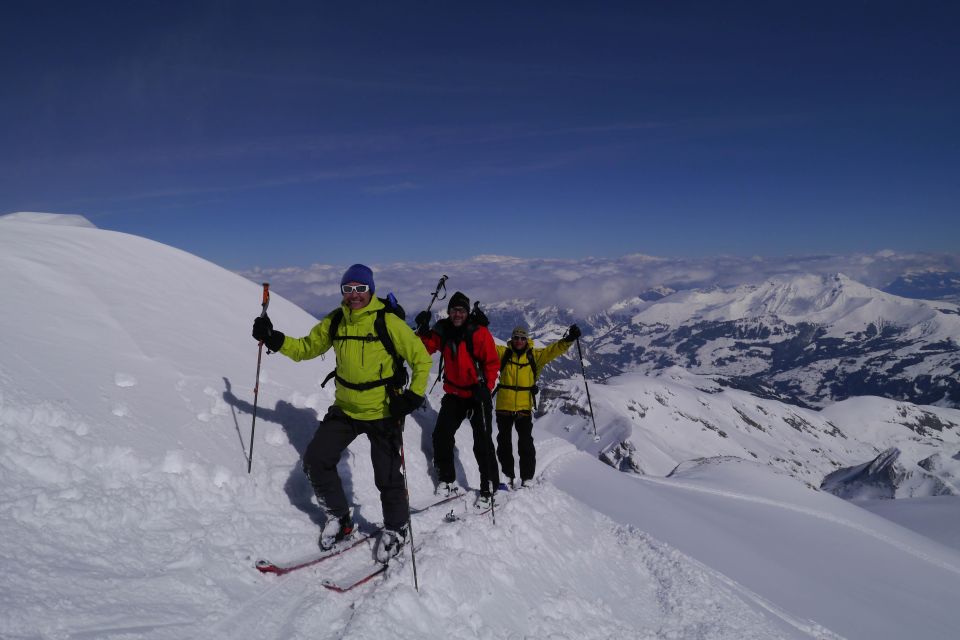 West Oberland Ski 3
Is This Course For Me?
If you're looking for some fantastic off-piste skiing in a quiet corner of the Alps, and have experience skiing off piste and a good knowledge of ski touring skills and techniques then this would be a perfect week for you.

Ski ability required: Prior ski-touring experience, effective turns off-piste in a variety of snow conditions and a high level of fitness. A typical day will involve up to 6 hours of uphill skiing (up to 1300m of ascent).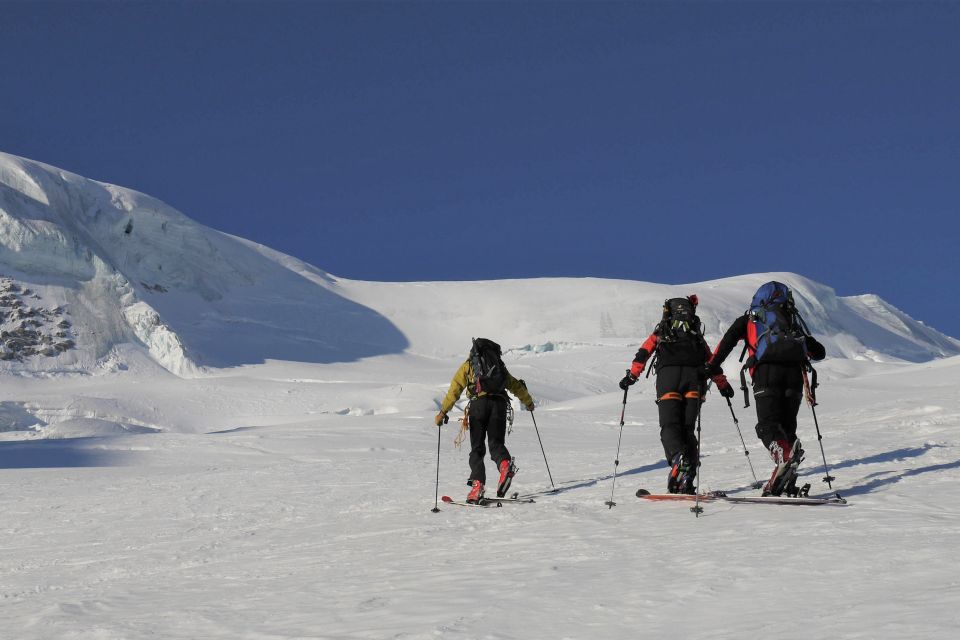 Custom Off Piste Ski Touring 3
Skiing in the Bernese Oberland
The tour has a truly remote, 'high mountain' feel, keeping to the spine of the range for most of the way, so that the views are magnificent and mostly full panoramas. Small, friendly and comfortable huts add to the experience and more summits are ascended than on the standard Haute Route. Among the highlights of the tour are superb north-facing (powder) slopes giving about 1000m of descent each day, and beautiful backdrops of huge limestone cliffs and the peaks of the Swiss Valais.
You start the journey in Diablerets, a small mountain village close to our home in Leysin and from here we thread our way through the quiet valleys and mountains of the Westhern Oberland finishing in Kandersteg.

Course Content
Hut to hut ski touring
Develop your ski touring skills, technique and experience

Avalanche transceiver, shovel and probe training
Planning the week, weather and snow conditions
Off-piste ski technique coaching

Refresh basic use of crampons, ice axe and ropes
Glacier travel and crevasse rescue
Enjoy some great off-piste skiing
Group management
Sample Programme
Saturday
The course starts with a briefing at 6.45pm at The Tour D'Ai hotel in Leysin. This is a chance for you to meet your team mates and Guide and go through the details of the course. There will also be time for you to sort out any equipment you need and for you to ask questions. Dinner will follow the briefing.

Sunday
A day ski touring around the peaks above Leysin. This is a chance for us to check equipment and for you to practise your off-piste ski technique and to refresh your ski touring skills. We will make a ski ascent of one of the local peaks such as Pic Chaussy, La Para or Walighurli (each of which gives an excellent view of our route through the Western Oberland).
Monday
We take the Glacier 3000 lift system to the Diablerets Glacier and descend to the Col de Sanetsch, then ascend the fine crest of the Arete de L'Arpille (800m) to gain the summit of the Arpelistock (3035m). The descent (1000m) to the Geltenhutte (fresh coffee and showers available) is a breathtaking run.
Tuesday
A big day over the major ski-touring summit of the Wildhorn (3247m -1400m ascent, 5 to 6hrs) and down to the Wildhorn hut. The route spirals around the peak, taking us through the impressive cliffs that defend its summit. Another fantastic glacier descent (1000m) takes us to the Wildhorn hut.
Wednesday
We climb the Schnidehorn (2937m, 3hrs) which is a great little summit and gives us access to a superb narrow valley which takes us to the flat expanse of the snow plateau of the Alpage du Rawil (2300m - 650m descent). The Rohrbachstien (2950m) can be climbed as we climb to the newly renovated Wildstrubel hut (2800m). The Wildstrubel hut has an excellent reputation for its food (the apple tart and fresh coffee are particularly recommended!).
Thursday
After a short ascent to the Weishorn (2950m, 40 mins) we have a great ski down to the glacier de Plaine Morte. Touring across the massive expanse of this glacial plateau evokes a powerful feeling of wilderness. We then ascend the south rib of the Wildstrubel (3243m - 600m ascent). With its ten summits over 3000m it is a fantastic viewpoint for the great Oberland peaks. We traverse most of these summits before descending yet another classic run (800m) to the Lammerenhutte.
Friday
From the Lammerenhutte we climb to the domed summit of the Roter Tot (2850m, 2hrs) then an intricate north-facing descent takes us down 1600m into Kandersteg, skiing beneath impressive rock architecture of towering limestone cliffs. Train or taxi back to Leysin for dinner.
Saturday
Depart after breakfast at the hotel.

Course Dates & Booking
Please call +44 (0) 1539 721561 for availability
Vital Information
Please check the vital information below to help when booking a course
All Vital Information
Testimonials For ISM
"What an incredible week learning the basics of Mountaineering. The course is perfectly balanced between summiting high alpine peaks and learning rope, climbing and glacier skills.
William 2021
Learned loads and acclimatised well during the course. Its obviously been very carefully planned. Guiding and Instruction was excellent. Anders was fantastic throughout and made the whole course really good fun. A very professional instructor with a great sense of humour. Highly recommended.
Leigh Ritchie
Summits & Skills 4000m (Instructional Course)
Thanks for a great week, in some pretty challenging and extreme conditions. Thanks for keeping us safe, teaching us loads, and being all round fantastic fun. I'd look forward to coming on another trip with you guiding.
Steve
Ski Grand St Bernard