Kalymnos
Heading to Kalymnos for the first time?
Back in 1996, by chance, an Italian climber by the name of Andrea Di Bari visited Kalymnos on holiday. Andrea stood in awe as he drove around the island looking at the beautiful limestone walls and caves festooned with stalactites and tufas. Andrea immediately understood the massive potential of the climbing on Kalymnos and that this was going to be world class.
Andrea returned in May 1997 with friends and 'put up' over 40 bolted, now classic, sport routes in sectors such as Arhi, Odyssey and Poets. So excited about the climbing on Kalymnos and its potential, Andrea with Andrea Gallo, friend and photographer (working for Alp magazine at the time) returned later that same year. They both continued to put up new bolted sport routes, but this time they didn't just go back with memories and a few holiday snaps, they went home with inspiring photos which they published with an article in Alp magazine and Rotpunkt, a German climbing magazine. The floodgates opened!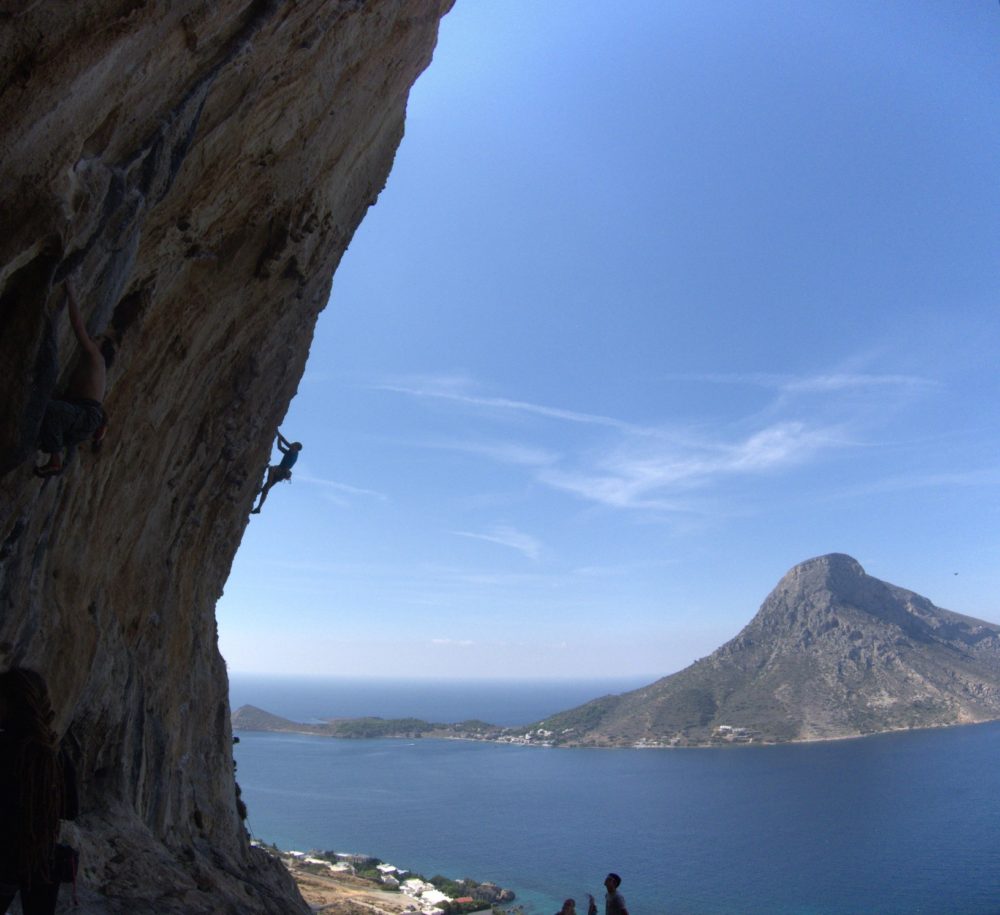 Kaylmnos today has become one of the 'meccas' of sport climbing in the world. The climbing is sensational as you pull up steep overhanging pocketed walls and laybacks, and steep overhanging tufa lines, or swing around upside down on hanging stalactites that feature in many of the caves that strew the island. All this within a short drive, walk or scooter ride from anywhere on the island.
The climbers arrived and the island grew, now the town of Masouri (central for much of the climbing) has grown and there are modern, well-equipped climbing shops, restaurants and cafés and scooter hire outlets. The hotels and self-catering apartments are clean, well-equipped and reasonably priced. The food is fantastic, the locals are super friendly and the whole place gives off a great relaxed and chilled out feeling. There are also any amount of ferries and water boats to take you to the famous and beautiful island of Telendos (no roads or cars, just a couple of restaurants and some fantastic single pitch and multi-pitch sport routes) or to climb at any number of the deep water soloing venues that have grown over the years. It's got it all for a super relaxed sport climbing holiday by the sea and in the sun!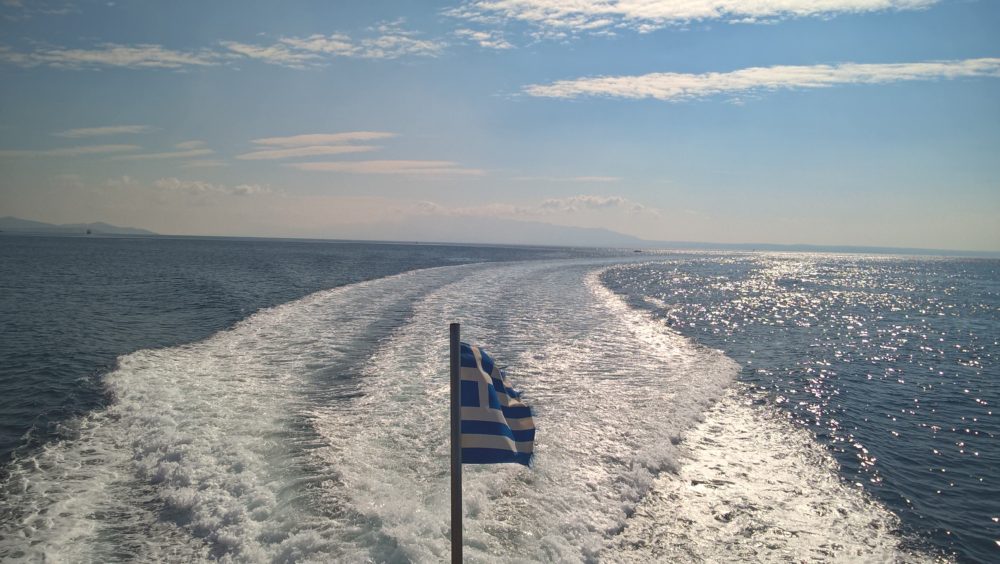 There are a number of options getting to Kalymnos from the UK. In season the best way is to fly from London Gatwick to Kos. Stay in Kos close to the port of Mastichari which is where the Kalymnos ferry goes from. The following day spend a relaxing morning in the port and then catch one of the many ferries to Kalymnos. It's a short 35 mins ferry journey and costs less than £10 a person (buy the ticket at the small booth next to the ferry at the port, which opens 15 mins before departure).
Out of season, you'll need to fly to Athens, spend a night there and then either fly to Kalymnos or to Kos (and then take the ferry as mentioned above). The only problem in flying direct to Kalymnos from Athens is that you can't always guarantee getting there the same day as flights do get cancelled due to the wind. The airstrip in Kalymnos is small and exposed to the weather. The best way to ensure you get to Kalymnos the same day is to fly to Kos and take the ferry. It's a great way to arrive on the island and makes the trip more of an adventure!
A short 15-minute taxi drive (around 15 Euros) from the port of Pothia will take you to Masouri, which is central to all the climbing. The island is set up for climbers and the taxis meet every ferry.
Getting around Kalymnos is easy. If you've never been before, spend a few days walking from where you're staying in Masouri to the many local crags/areas that are dotted around close and offer hundreds of routes at all grades.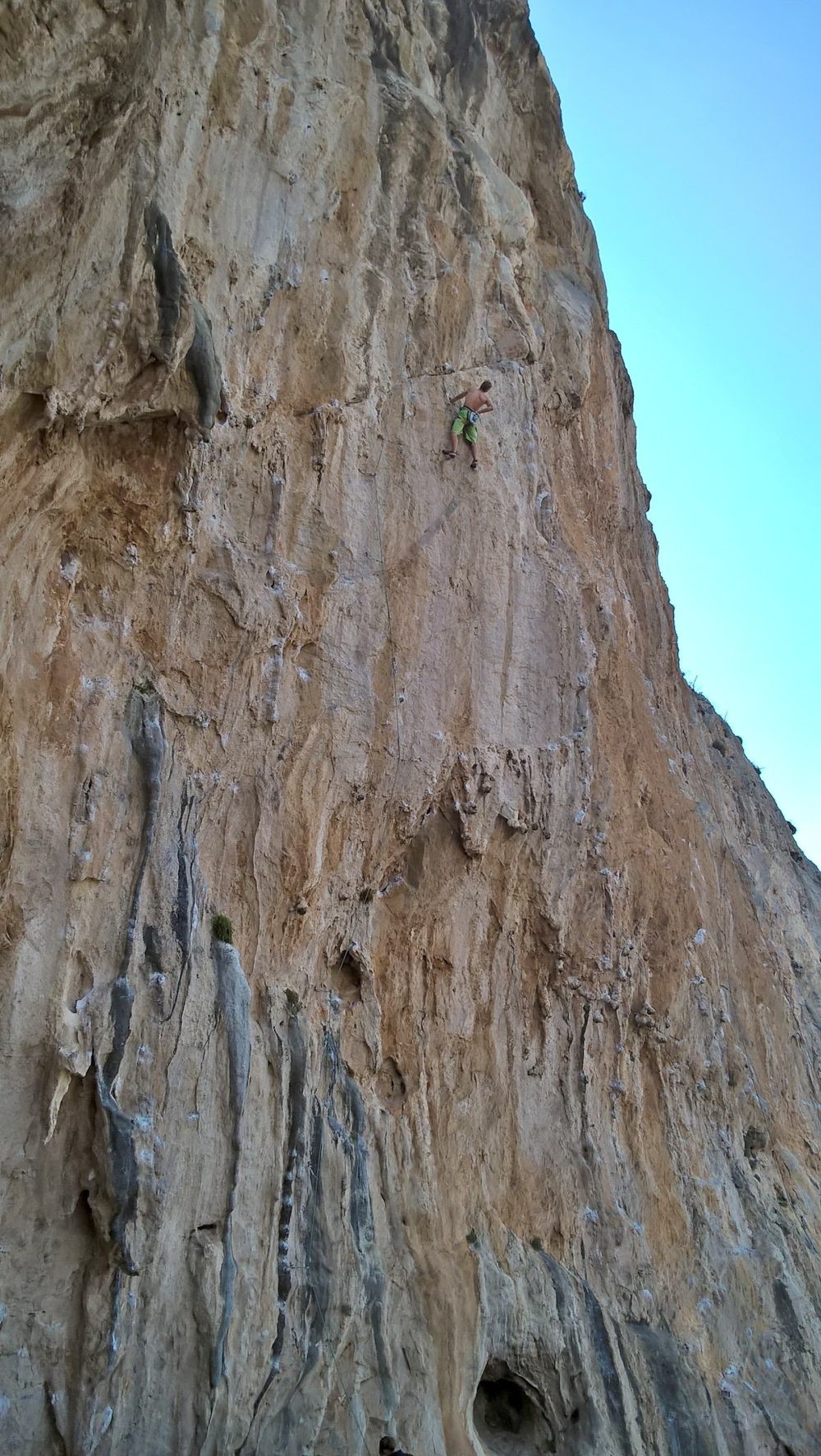 After this, consider taking the short boat trip across to the beautiful island of Telendos, which will not only give you a change of scene, but it's a great outing and adventure. The journey's only 20 mins and around 5 Euros each way and you get to climb on an island with no roads - just walkers, climbers and fisherman. There are both single pitch and fantastic bolted multi-pitch routes to climb. Enjoy the whole day, have a beer to settle the dust and some food (I recommend the freshly caught fish), watch the sun go down and catch a late ferry back to Kalymnos. It's again only a short walk from Masouri to the small ferry port to catch the boat to Telendos.It's too easy and feels like a proper holiday!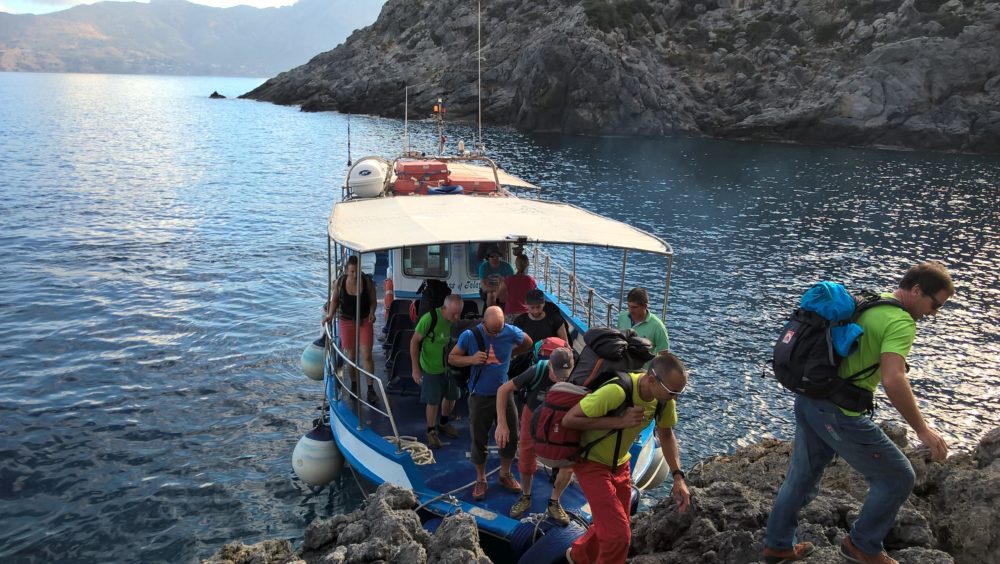 Another idea is to then hire a scooter from Mike's Bikes or any number of other scooter hire shops in and around Masouri. For around 15 -20 Euros a day you can access some of the other sectors around the island and explore a little. Remember to take your driving licence and even if you sport climb without a helmet and were thinking of leaving it at home don't, as you should get into the habit of wearing one when leading and it doubles up as a helmet that you can wear on the scooter that's comfortable and fits properly!
There's a cash point in Masouri, which feeds you with money for beer, fresh bread and fruit, scooter hire and suchlike.
All you need is the time to go there and enjoy yourself! Climbers visit the island all year round although for me I'd find it too hot in the middle of summer even though there are many places that you can stay in the shade for some of or all of the day. Even in October when I last went we couldn't climb in the sun and would change crags when they came into the sun or only go to them when they went into the shade.
You can go with any number of ideas or mix it up a little, Steve and I took our road bikes and had some great rides around the island. The new guidebook has twice the number of routes than the old one and also highlights crags that that are family friendly.
Safe climbing
Adrian Nelhams