Things to do in Leysin
A few ideas if you have some free time before or after your course.
Leysin has a leisure centre which houses a great swimming pool. The Centre is also home to the Tourist information Centre. You can obtain a Carte de Sejour at most hotels which will give you a discount at the pool.
The 'Tours' above Leysin are home to a nature reserve and classic Swiss pasture dotted with chalets and farms. The region is served by a network of well-marked hiking and mountain-biking trails and this, combined with the range of sports facilities within the village, makes Leysin a popular destination for an active holiday and a pleasant place to spend time before or after a course.

Hefti Sports in Leysin is open all year and has a good range of equipment to buy or hire including mountaineering boots. If you would like to hire boots for your course please contact them in advance to reserve a pair for when you arrive. If you do need any last minute kit then the shop also sells a range of waterproofs and outdoor clothing, socks, sunglasses, water bottles and other technical hardware such as crampons and ice axes.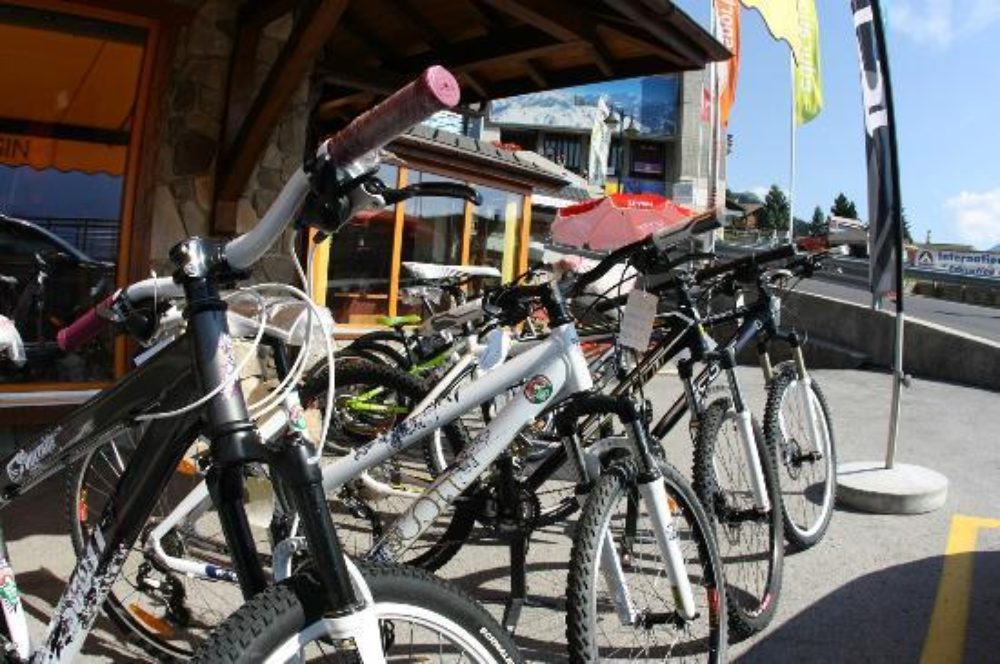 Throughout the summer you can also hire Mountain bikes to explore the surrounding mountain bike tracks and trails. Leysin and the Leysin Tours above the village are littered with world class mounatin bike trails and 'full on' downhill mountain bike tracks which are all graded in difficulty. To access many of these runs simply take the Berneuse cable car up the mountain to the top of the Leysin Tours. The lift also accesses many of the walking routes around the Tours including the Via Ferrata.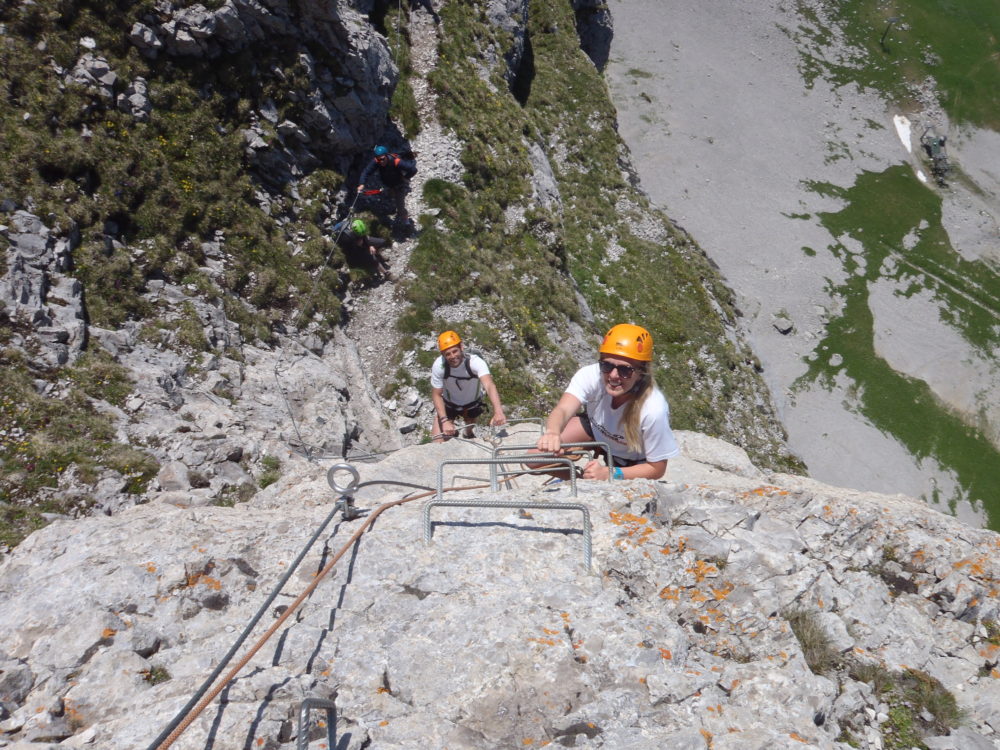 Leysin has two great Via Ferratas, one of which is only a 10 minute walk from the village.

Hotel Grand Chalet Via Ferrata. This excellent new via ferrata can be found by walking directly uphill from the parking area just below the Grand Chalet Hotel. It takes around 10 minutes to approach and about 2 hours to climb. There are two starts to the route, which traverses its way along the top of this cliff. This also allows you the option to bail out early if you wish to as this is shorter but steeper than the Tour D'Ai via ferrata. A short cows tail (an extender) is very useful for clipping in tightly to the cable if you get tired (the gripper clipper!). This via ferrata has sustained and strenuous overhanging sections on it.
The second, the Tour D'Ai Via Ferrata is ideal for the more adventurous and technically minded. It is accessed from the top of the Berneuse lift and takes about an hour to walk to the start. It is best approached by taking the path to Chaux de Mont and then walking towards the west face of the Tour D'Ai. This via ferrata is only grade 2, but is extremely exposed and not for those nervous of heights! The Tour D'Ai Via Ferrata is a fantastic day out and finishes on the summit of theTour D'Ai (2,331m). Once on the summit you're rewarded with some amazing 360 degree views stretching out across Lake Geneva, around to the Mt Blanc Massif, the Swiss Valais and the Bernese Oberland.

Please note that there is an etiquette that users descend via the via ferrata as this obstructs people on their way up and it can be dangerous to pass. Walk down the footpaths when you have finished.
Both the Via Ferratas are a great way to acclimatise and stretch your legs before your course. If you have any time at the end of your course and feel confident then the Tour D'Ai is great.
You can hire Via Ferrata kit at Hefti Sports in Leysin.
Please note: If you do plan to climb the Via Ferratas, please ensure that you have a good weather forecast which is sunny and without the chance of afternoon thunderstorms, as the Via Ferrata makes a great lightening conductor! Please carry plenty of water and some food for the day, walking boots or approach shoes, warm clothes and take a waterproof/windproof jacket.
If you prefer walking, there's also a popular mountain trail to the summit of the Tour D'Ai (which is also the descent from the Via Ferrata). This is a great day out and you can also take in other summits within the Leysin Tours.
Whatever you decide to do, please make sure that you take care and get as much information as you can when planning your trip. Speak to Hefti Sports and also the Leysin Tourist Information office as they'll all very pleased to help.

In the winter Hefti Sports also hires and sells skis and ski boots. They also offer a ski touring package which includes ski rental, boots, skins, harscheisen and poles. Please contact them in advance to reserve equipment. Hiring ski equipment really does make sense, as you get the latest models and can hire the best ski type and shape for the snow conditions at that time.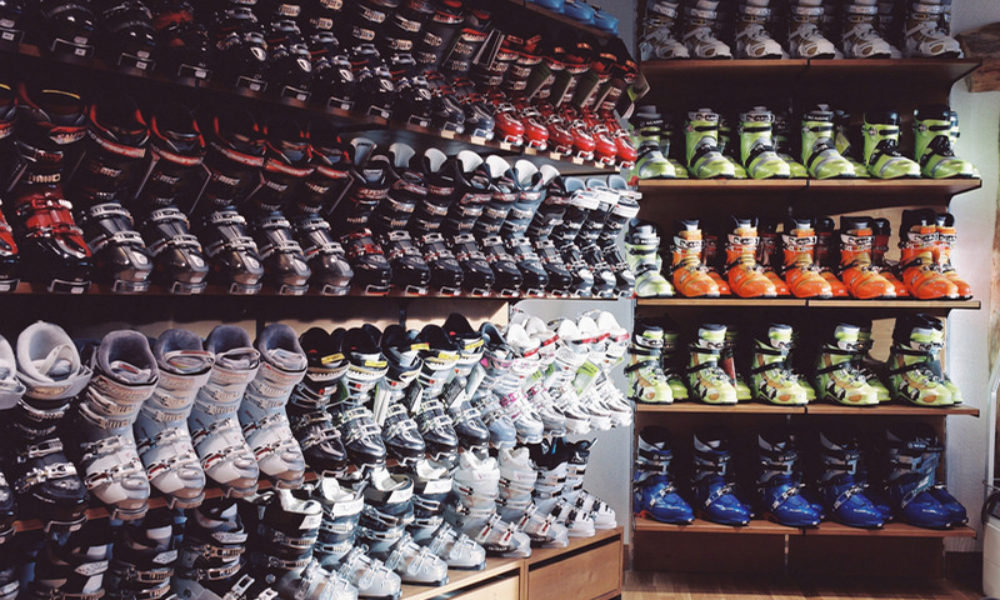 Testimonials For ISM
Our three guides were all excellent: Thomas, Phil and Paulo. I can't speak highly enough of them. They were all good company and superb climbers, and patient with us all.
Donald Connolly
Matterhorn Ascent
The course was excellent, lots of variety and provided me with a good range of skills. Loved reaching the summit of the Weissmeis, for such a nervous and unconfident novice like me, I gained a real sense of achievement from the ascent and the whole week. Huge thanks to Pat.
Thanks for organising an excellent week. The course format, accommodation and set up was perfect. The guide was outstanding and gave us a full week of constructive tuition. I was able to put his training into practice the following week when I met up with a friend and did the Cosmiques Arrete.
R W (2017)
Classic AlpinISM (Instructional Course)