All Day: Women's Multi-Pitch Rock Climbing
Get stuck into a 'full day out' multi-pitch rock climbing on a classic high mountain crag in the Lake District. Learn how to develop your trad climbing skills, manage ropes, belays, gear placements, general crag safety and abseiling.
This is a great clinic for those climbers wishing to develop their skills and experience multi-pitch trad. climbing. It is also great for those who would like to develop skills to become more independent. We'll look at route choice, the extra equipment needed and things to think about when multi-pitch climbing, all whilst climbing one of the classic routes in the Great Langdale Valley. A big barrier for people can be how to set up a belay part way up a climb and how to manage the ropes safely or what happens if you need to descend part way up a climb. We'll address some of these issues to help give you some of those skills and confidence to tackle similar climbs in the future independently.
Joining the clinic will be MSR ambassador Kieran Creevy. Kieran will show you how to refuel and rehydrate with your own nutrition focused soup using a few ingredients.
Sample menu:
Mexican tortilla soup; with corn tortillas, lime, tomato, and garlic.
The day will run -
9am to 5pm - Sunday (FULL)
Dates & Booking
Course Highlights
Enjoy some fun multi-pitch rock climbing.
Multi-pitch rope work and belay techniques
Learn new skills, build confidence and become more independent.
Cooking up a lunchtime feast will be outdoor chef Kieran Creevy
Expert coaching and instruction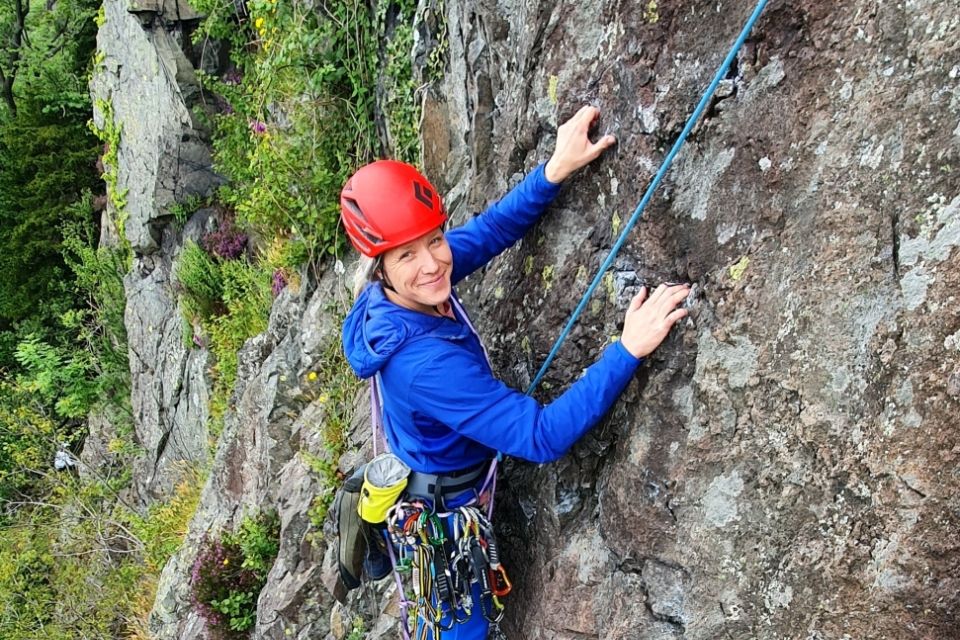 20220619 133720
Skills learned
General crag safety
Route choice
Ropework and rope choice
Trad equipment
Belay and anchor set up/belay stance management.
Hazards on bigger routes
Abseiling/descent
Arcteryx Climb Lake district Sunday49 Copy
Additional Event Information
Additional Event Information
Equipment
Helmet*
Harness*
Loose clothing appropriate for climbing
Rock shoes
Any items with a (*) can be borrowed at the Arc'teryx event
Read More
Testimonials For ISM
Thanks for a fantastic week. It was really one of the best things I have ever done. I learned a lot during the week, not only about climbing technique, but also about attitude.
Lachlan MacGregor
Bernese Oberland 4000ers
Brilliant!! I was a walker at the start of the week. By the end had been on glaciers and climbed a 4000m peak!! It was a wonderful, wonderful, experience which i will never forget. It was excellent value for money and I hope to be joining you for years to come.
Ian Twizell
Summits & Skills 4000m (Instructional Course)
Please pass on my very, very sincere thanks to Thomas, Daniel & Christian. They are truly quality people! Patient, understanding, professional, and wonderful ambassadors for your company. I have experienced many guides over my 50 years in climbing and they rank right up there with the very best.
David Hughes
Mont Blanc Ascent