Outdoor Bouldering for Beginners w/ Global Arc'teryx Athletes
This is a chance to give outdoor bouldering a try or if you already boulder outdoors a chance to pick up some tips for next time you're out! This is a fun clinic where you will be covering everything from mat management, the skill of spotting and receiving some coaching for your own personal climbing movement.
This bouldering clinic will run -

9am to 12.30pm - Sunday Morning - Arc'teryx Global Athlete Mina Leslie Wujastyk will be joining this morning clinic (FULL)
1.30pm to 5pm - Sunday Afternoon - Arc'teryx Global Athlete Mina Leslie Wujastyk will be joining this afternoon clinic (FULL)

9am to 12.30pm - Monday Morning - Arc'teryx Global Athlete Alex Luger will be joining this morning clinic

Note - Please specify on your booking form whether you would like a Sunday morning or Sunday afternoon clinic.

Dates & Booking
Langdale Bouldering
Clinic Highlights
A fun introduction to bouldering outdoors
Safety considerations around mat management and spotting
Developing personal climbing movement and technique
Expert coaching and instruction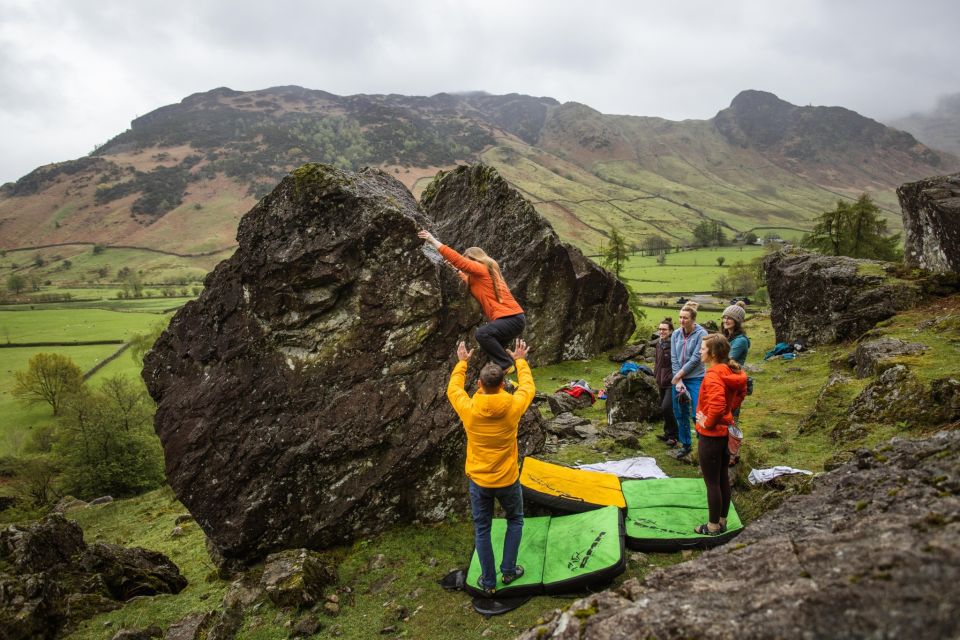 20220502 Climb Lake District RONEY 2952
Skills Covered
Climbing movement
Route choice and grades
Learning to spot
Bouldering mat management
Learning to fall off!
Being aware of the terrain around you
Crag ethics
Additional Event Information
Disclaimer: In case the athlete or ambassador can't attend clinic due to injury or illness the clinic will still take place with the allocated guide.
Course Dates & Booking
Please call +44 (0) 1539 721561 for availability
Equipment
Helmet*
Loose clothing suitable for climbing
Rock shoes
Bouldering mat*
Any items with a (*) can be borrowed at the Arc'teryx event
Read More
Testimonials For ISM
Neil, our guide for the week, was exceptional; a true professional, a huge inspiration and just great company. He shared so many useful tips with us and had great stories to share too. Looking forward to booking another course with ISM in 2022!"
William Summits and Skills 4000m 2021
"What an incredible week learning the basics of Mountaineering. The course is perfectly balanced between summiting high alpine peaks and learning rope, climbing and glacier skills.
William 2021