Advanced Ski Touring Skills
Level 3 : Instructional Course
This course will help you develop your ski touring skills to become more independent and confident and able to take a leadership role in a group when skiing with friends. It is ideal for those who have completed our Ski Touring Skills (or similar) and have some experience hut to hut ski touring.
The course includes certification in Avalanche training level 2 from the Swiss Mountain Training Organisation and The Association of Swiss Mountain Guides (SBV/ASGM).
Dates & Booking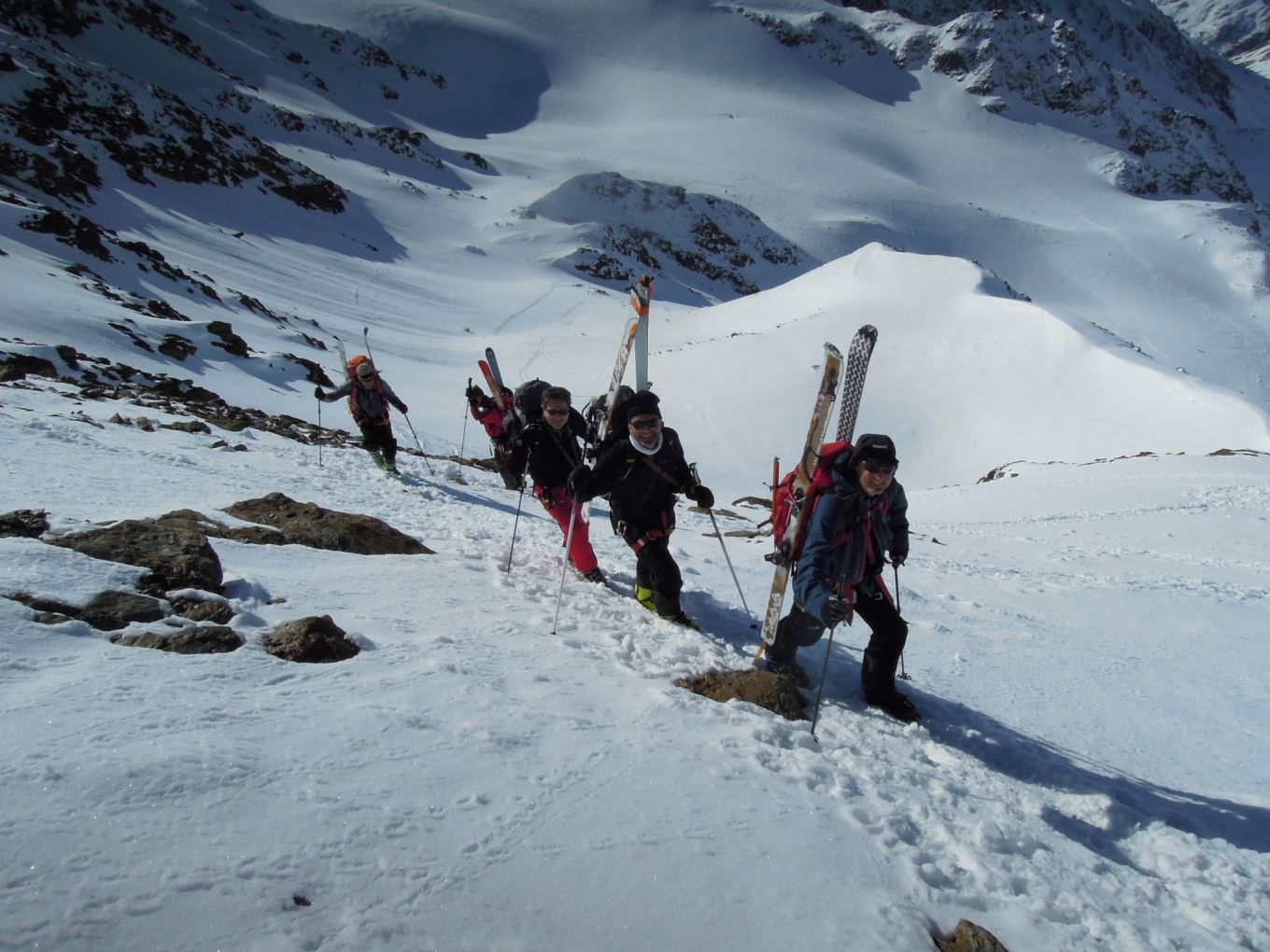 Advanced Ski Touring 2
Course Highlights
Improve your off-piste ski technique
Develop your ski touring skills to become more independent
Better understand snow conditions, safe glacial travel, group management and security on steep ground.
Expert ski guiding and instruction from experienced ISM Guides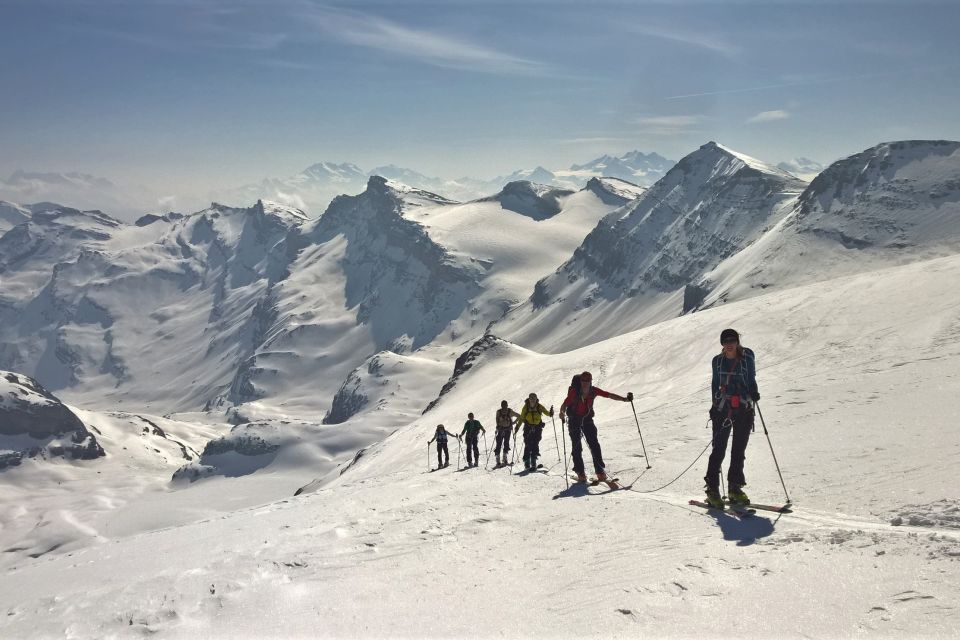 Advanced Ski Touring 3
Is The Course For Me?
This course focuses on advanced ski touring and off-piste ski techniques, decision making in planning a ski tour, assessing and route finding while touring in avalanche terrain, security on steep ground, glacier travel (skiing roped-up, crevasse rescue) navigational skills and managing groups on off-piste terrain.
Ski ability required: good effective turns off-piste in most snow conditions and experience of our Ski Touring Skills or equivalent course. You will also need experience of hut to hut ski touring such as any of our level 3 ski tours and a good general level of fitness to enjoy this course to it's fullest.
Dates & Booking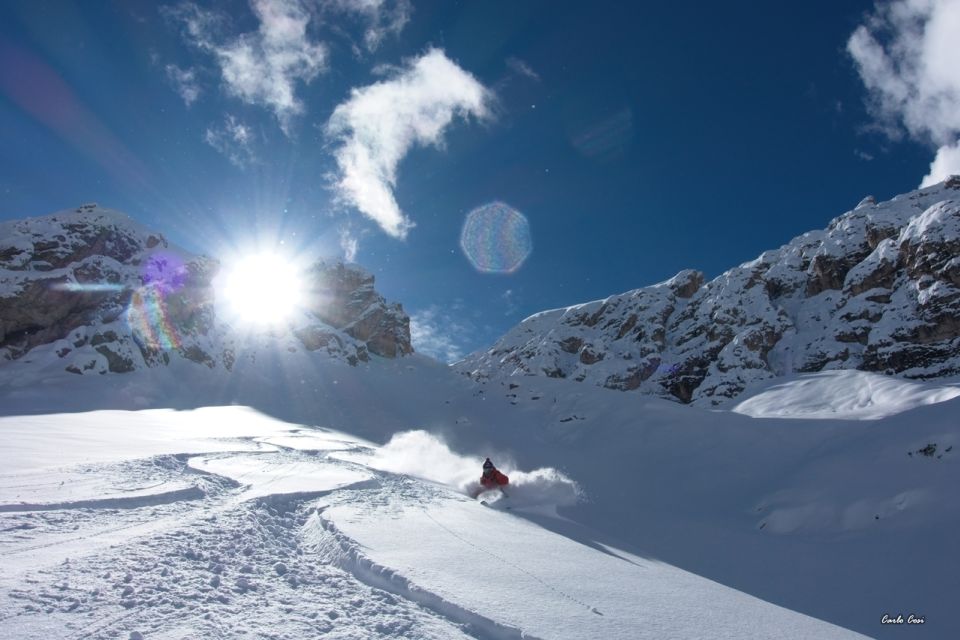 Advanced Ski Touring 4
Advanced Ski Touring Skills
The course will be based around Leysin for the first couple of days and then over at the Val D'Herrens and Arolla for the rest of the week. The Dix hut just above Arolla is a very comfortable mountain hut, perched on a rock outcrop, below the impressive north face of Mt Blanc du Cheilon. The Dix hut gives great access to a number of peaks where you can develop all the advanced skills and gain the experience needed to travel on skis in the winter safely.
View Date
Course Content
Avalanche transcierver, shovel and probe training
Planning a day, understanding the weather and snow conditions
Improve your off-piste ski technique

Security on steep ground
Glacier travel and crevasse rescue
Advanced avalanche education throughout the week

Group managment
Hut to hut ski touring
Route finding and navigational skills
Risk management

Sample Programme
Sunday

The course starts with a briefing at 6.45pm at the Tour D'Ai Hotel in Leysin. This is a chance for you to meet your team mates and Guide and go through the details of the course. There will also be time for you to sort out any equipment you need and for you to ask questions. Dinner will follow the briefing.
Monday

Based in the Leysin resort, we start by covering the fundamentals of planning a day off-piste skiing. We look in detail at the weather, both past and present and make informed decisions on the snow pack, safe slopes to ski on and where the best snow is. We will enjoy some great off piste skiing, developing your off-piste ski technique, looking at the snow we find on various aspects of slopes, refresh the use of avalanche tranceivers, route choice on off-piste terrain, group management, assessing the snow pack and understanding avalanche terrain.
This is very much an instructional based course with the emphasis on learning, coaching and developing your existing skills. It will take your own ski touring ability to the next level and help you apply your skills to become more indendent, with hands-on training, where you start to make your own decisions and gain experience leading from the front. This theme of learning and coaching, with an emphasis on you taking the lead and starting to make decisions for yourself, will be a thread throughout the week. By the end of the course you should feel more competent and confident to plan your own ski tours independently in the future.
Tuesday
We stay in Leysin and build on the skills developed on day one, with more input from yoru Guide on your off-piste ski technique, skiing styles appropriate for the snow conditions and terrain, group management, avalanche awareness and the snow pack, general route finding and route choice when skiing off-piste.
Wednesday
Weather and conditions permitting, we leave Leysin and head to Arolla, at the head of the Val D'Herrens, above Sion. From Arolla we take the lifts and then skin up to the Dix Hut, below Mt Blanc Du Cheilon. During the ascent we'll look at and discuss the new snow pack, snow conditions at this higher altutude, route finding in the ascent and have a practical session on crevasse rescue and building snow belays, using ropes for security on steep terrain. Once at the hut we'll discuss the snow we encountered during our ascent, the weather forecast and talk through a plan for the following day. We will endeavour to give you the knowledge and skills to do most of the planning yourself, so that you gain experience of starting to make these decisions if you are out with a group independently. Even if the main aim of hte coures for you is only about developing your Ski touring skills, we feel that the more knowledge you have the more you get from an alpine experience and the safer that experience will be.
Thursday
We leave the Dix hut early in the morning and head up to our chosen objective, taking in our planned route to the summit of an alpine peak. You'll have the opportunity to lead, making route choice decisions, developing your rope work skills on steep terrain and managing a group. It is by having this practical experience, once all the rights skills and experience have been developed, that will help you gain confidence to safely lead a group ski touring.
Friday
Another ascent or high pass which will build on all the skills you have learned throughout the week. We will look at security on steep terrain using a rope, route planning, navigation and enjoy some great off-piste skiing.
Saturday
Depart after breakfast at the hotel.
Maps: Rochers de Naye 262s 1:50,000, St Maurice 272s 1:50,000, Wildstribel 263s 1:50,000, Arolla 283S 1:50 000
Course Dates & Booking
Please call +44 (0) 1539 721561 for availability
Vital Information
Please check the vital information below to help when booking a course
All Vital Information
Testimonials For ISM
​Hi Eira! It is Maite from Spain again! Just a message to tell you that I spent a wonderful week and that both guides (Paolo and Christian) were superb.
Maite Iriarte
Swiss 4000ers
The course was excellent, lots of variety and provided me with a good range of skills. Loved reaching the summit of the Weissmeis, for such a nervous and unconfident novice like me, I gained a real sense of achievement from the ascent and the whole week. Huge thanks to Pat.
The classic alpinism course last week led by Swedish Daniel was excellent! The itinerary was really well planned taking into account the less than perfect weather and the abilities and aspirations of the group - we all learned loads.
Chris Ward
Classic AlpinISM (Instructional Course)