Ski Lyngen Alps Norway
Level 2 - Guided Skiing
If you could design a perfect ski touring area then the Lyngen Alps would be it! The days start where the snow line begins at sea level, skiing up into a quiet and unspoilt wilderness of snowy peaks.
Lyngen in Norway offers the complete winter package of fantastic off-piste skiing, wild and adventrurous ski touring at very much an intermediate level, with breathtaking coastal views across fjords and snowy mountains in the distance giving you a ski holiday to remember.
Dates & Booking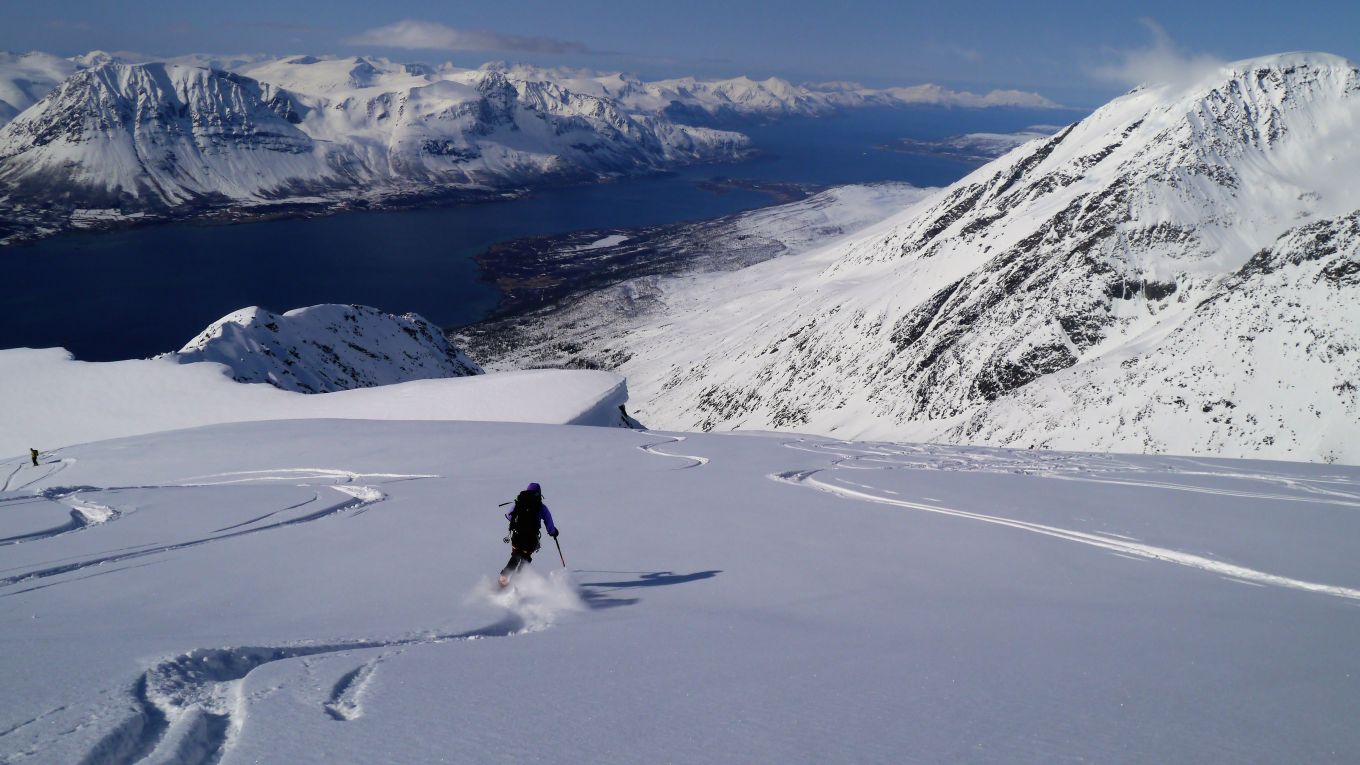 Ski Lyngen 2
Course Highlights
Ski glaciated peaks rising directly from the sea in a remote artic environment
Unspoilt and untamed wilderness
No lifts, helicopters or snow mobiles - very quiet!
Ski from sea level, through arctic forests, across glaciers to beautiful ridges
Breathtaking views across the archipelago of islands, towards Nordkapp
Fresh, locally caught seafood and Norwegian hospitality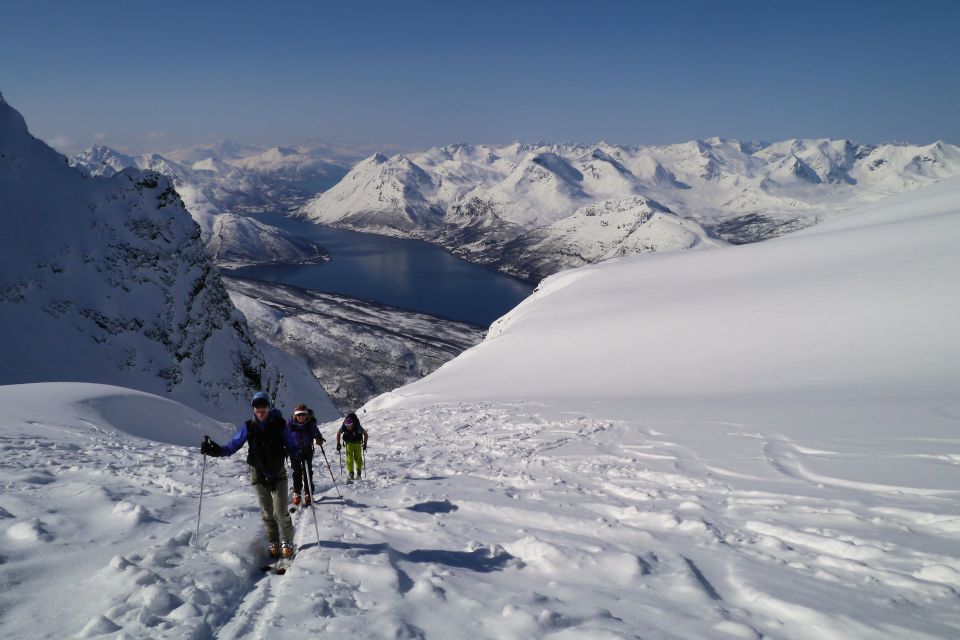 Ski Lyngen 3
Is The Course For Me?
If you have experience off-piste skiing and have the basic knowledge and skills similar to our Ski Touring Skills - Level 1 course, and would like to develop your skiing further but are looking for something a little special then this would be a fantastic week of off-piste skiing and ski touring for you.

Ski ability required: Effective turns off-piste and good general fitness. Ski Touring Skills experience or equivalent course or experience necessary.
Dates & Booking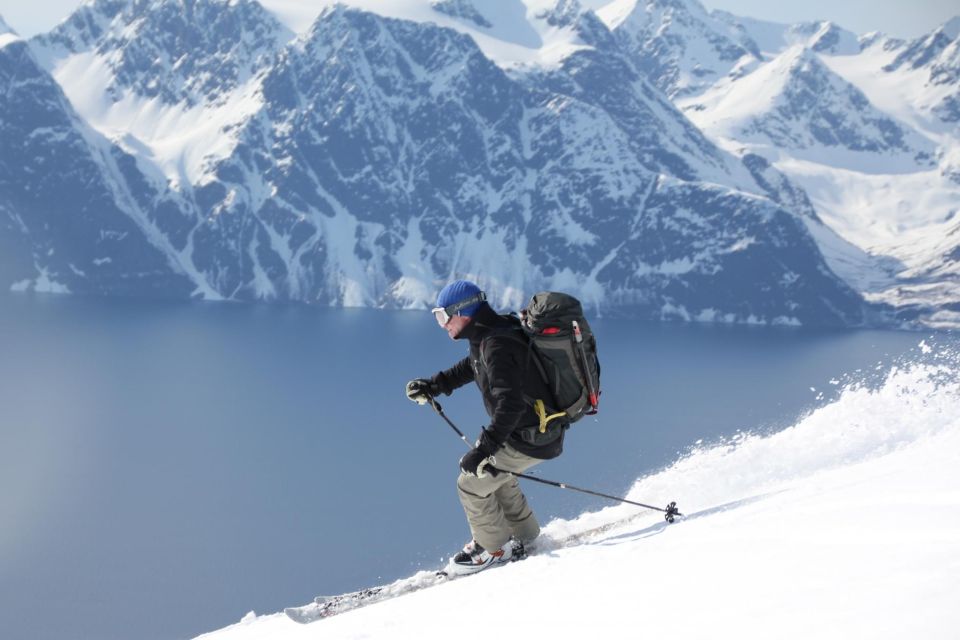 Ski Lyngen 4
Skiing around Lyngen
There are many fantastic objectives and the area offers something for everyone - from short days out to longer more remote and adventurous ski tours. However, it's not just the fantastic skiing that makes the Lyngen Alps such a special place. The fjords and coastline, the unspoilt wilderness and the peace and quiet of the Lyngen Alps all add to the attraction of this very beautiful area.
Some of the peaks are more rounded offering open skiing and great views looking out to the sea towards the North Pole. Others offer fine couloir skiing and traverses along impressive snow ridges.
The fjords and jagged Lyngen Mountains are rich in Norse folklore and most of the peaks have both Norwegian and Sami names. The Sami are local semi nomadic people (Laplanders) who traditionally herd reindeer and have a very special ancient culture.

Course Content
Adventurous daily ski tours from Lyngen
Refresh and develop off-piste ski technique
Plan days ahead and understand better the arctic climate and snow pack
Glaciated peaks in an arctic environment
Develop skills in moving over steeper mountaneering terrain

Rustic Norwegian coastal fishing villages
Fantastic off-piste skiing with breathtaking views across coastal fjords
Sample Programme
The course is based in the rustic Fablab chalets just south of Lyngsiedet, the main town on the peninsula. The main building is a Viking Long house replica where guests meet for meals. It's well positioned and gives easy access (by road and ferry) to the surrounding ski peaks. You will return here each evening.
Saturday
We aim to meet at Tromsø airport, ideally before 6pm so that we can travel in our minibus van to Lyngseidet. Dinner at the hotel.
Sunday - Friday

The course is very flexible and aims to give you a varied taste of the great skiing available in the Lyngen Alps and will allow you the opportunity to explore the more remote peaks and enjoy long descents. There are many options for each day, including:
Russelvjellet (800m ascent/descent, 4 hours). Situated in the far north of the Lyngen Nord Peninsular, this easy peak gives magnificent views across the sea towards the North Pole.
Tafeltinden (1395m ascent/descent, 6 hours). A majestic peak with a long climb ascending the Koppangsbreen glacier. This remote summit is in the middle of the Lyngen Nord Peninsular and is surrounded by glaciers.
Jiehkevarri (1831m 2400m ascent/descent 10 hours). The jewel of Lyngen, this is the highest peak on the peninsular and a world class ski peak. It is a serious peak and big day out. The peak is accessed by climbing Holbukttinden (1666m) then descending 200m which gives access to the rounded glaciated main summit. It is often referred to the Mt Blanc of Norway, but without the crowds! If you're fit enough there are also some very challenging traverses which can be attempted.
Daltinden (1533m ascent/descent 6 hours). A classic peak in the Lyngen Alps which offers fine skiing down a large couloir and excellent views across the southern Lyngen peninsular.
Uloya Blatinden (1116m) and Uloytinden (1139m, 3 hours). Uloya is an island north of the Lyngen Alps and is reached by taking a car ferry from Lyngseidet and foot ferry from Rotsund. It's an amazing island with peaks such as Uloytinden and Blatinden offering excellent skiing and fine views back across to the Lyngen Nord Peninsular.
Saturday
An early start for the airport. Your return flight should be no earlier than 10am (if possible) to allow us time to travel from Lyngseidet.
Vital Information
Please check the vital informatin below to help when booking a course
All Vital Information
Testimonials For ISM
"I loved the course and Terry was great. I learned a lot and had a lot of fun and feel confident and secure in my technique".
I just wanted to thank you as well as Mark, our guide for the amazing week. The course was well organized and was just perfect for a beginner to mountaineering. We couldn't have wished for a better adventure. The memories are irreplaceable.
Terry was a wonderful guide and made everything fun, laid-back and an overall good experience. I would be happy to ski or climb with him again. All the logistics in Leysin and in Italy went smoothly. A really nice time.
KL (2017)
Advanced Ski Touring Skills (Instructional Course)