Classic Dolomites Ski Touring
Our itinerary, we feel, offers one of the most interesting and well regarded, fun hut-to-hut ski tours in the Italian Dolomites, exploring the beautiful mountains of the Alpes di Fans high above the beautiful mountain village of San Vigilio di Marebbe in the Val Bidia.
Dates & Booking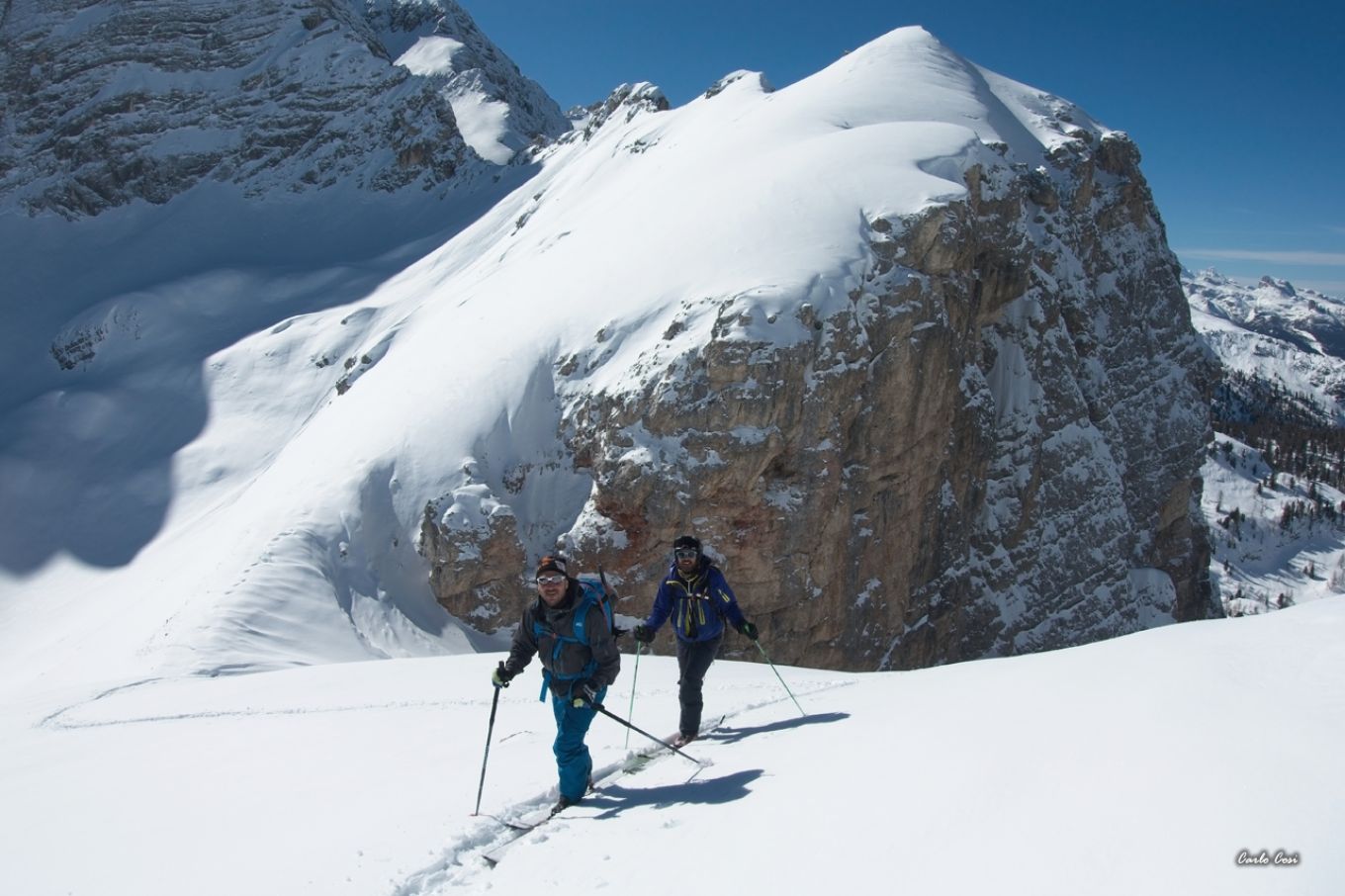 DSC08206
Course Highlights
Classic ski touring in the beautiful Dolomites
Great off-piste skiing with stunning panoramic views
Award winning cuisine and lovely tradional mountain accommodation
Expert ski guiding and instruction from experienced ISM Guides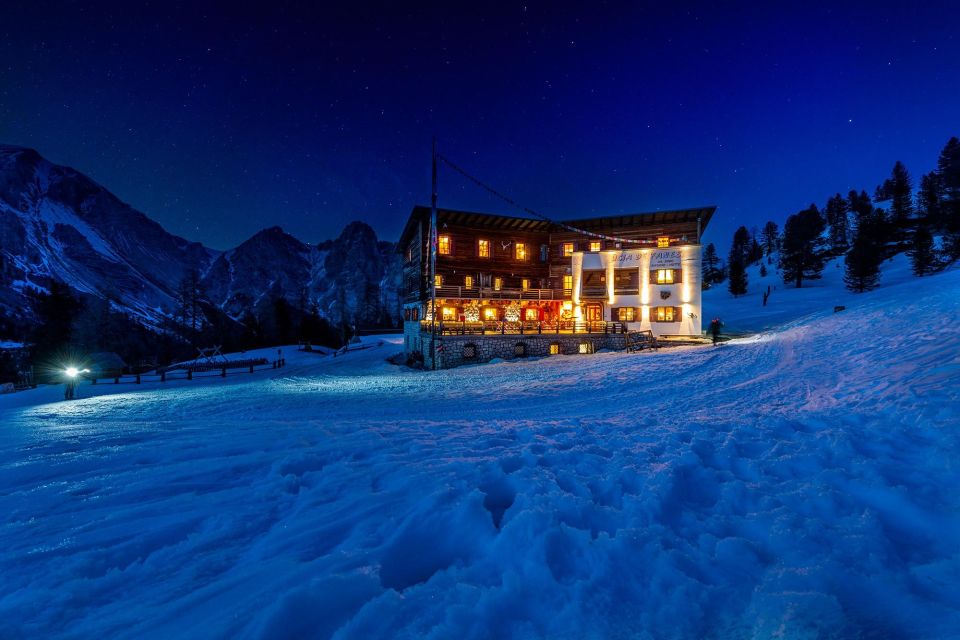 Rifugio fanes bei nacht
Is The Course For Me
The week is ideal for people who maybe just want to enjoy the beautiful mountains of the Dolomites, skiing at a moderate level and at a more relaxed pace or maybe wish to use it as a stepping-stone to help gain more ski touring experience before embarking on more demanding multi-day tours such as the West Oberland Haute Route or the Ski Oberland Traverse. As such it is a perfect follow-up week to our Ski Touring Skills course Ascents of most summits can be made within 4 hours, giving plenty of time to enjoy the descents and to work on off-piste technique.
Ski ability required: Effective turns off-piste. Ski touring experience is desirable, but people without touring experience may join the course provided they are strong off-piste skiers. Good general level of aerobic fitness is important and well as a good level of fitness skiing off-piste.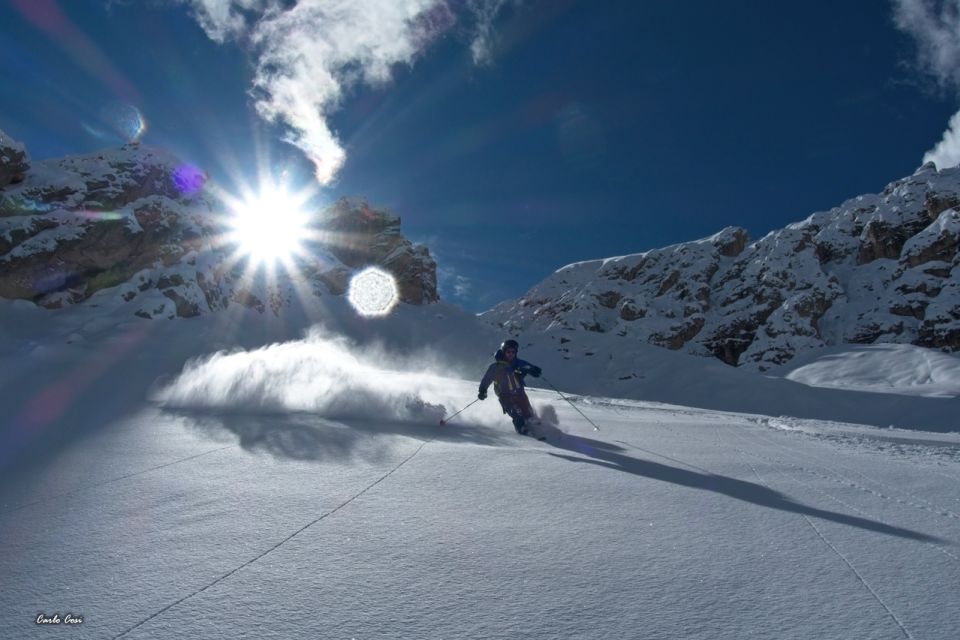 DSC08151
Hut-To-Hut Ski Tour
Enjoy some classic hut-to-hut ski touring, where the terrain is interesting, but never technically difficult, giving some fantastic off-piste skiing with the stunning backdrop that is the huge limestone towers and peaks that make up the Italian Dolomites. This is a perfect 'level 2' course, for those skiers who have a basic knowledge of ski touring and a reasonable competence and level of ability in skiing off-piste to make the most of this brilliant ski tour. During the tour we'll stay in some lovely mountain huts and taste some amazing local cuisine making this a wonderful all-round ski tour.
Course Content

Ski touring equipment
Planning the week, weather and snow conditions
Guiding & coaching off-piste ski technique
Refreshing basic ski touring skills and techniques
Transceiver and avalanche training
Hut to hut ski touring
View A Sample Programme
Sample Programme
Dolomites Ski Tour Sample Programme
Sunday Evening

We meet at the Hotel Pederù 1548m, close to San Vigilio di Marebbe in the Val Badia, situated at the trailhead.
Monday
Equipment check, and then we ski up to the beautiful Rifugio Fanes (2060m) located in the Alpe di Fans, overlooking the lovely mountain village of San Vigilio di Marebbe in the Val Bidia. Once at the rifugio we'll refresh skills with a small tour up to the Col Toronn which will also include some transceiver and avalanche training.
2/2:30h to the Rifugio Fanes and 500m of ascent up to the Col Toronn on easy tracks.
Tuesday
Today, we will do a classic ski tour up Mt. Castello (2817m) which takes an easy ski track up interesting and varied slopes, but without any exposure to steep or technical terrain, making this a great area for powder skiing.
From the hut we go up to Passo di Limo (2174m), slightly downhill to Fanes Grande House (2102m) and then on to Bivacco della Pace (2760m). This is tucked into the rock face of Monte Castello, which is an amazing balcony, with incredible views across to Val Travenanzes and the high peaks of the Tofane Mountain Group of Tofane di Dentro, Tofane di Rozes and Tofane di Mezzo and the Marmolada - the highest peak in the Dolomites. We go back to the hut via the same route.
Ascent 770m and descent 770m
Wednesday

Monte Sasso delle Dieci (3026m) - Sass dales Diesc in ladin, Zehnerspitze in German - dominates the Val Badia and affords an amazing panoramic point from which it's possible to get a 360-degree view of the Dolomites. Sasso delle Dieci is the main summit on the Sasso della Croce long ridge and the only one in this group over 3,000m. This is possibly one of the most interesting ski tours in the Alpe di Fanes, with amazing views and a southern exposure. The first part of the tour is an easy and undulating plateau, leading to a steeper summit slope with the fantastic ski desent all the way back down to the Rifugio Fanes and then continuing on down to the Pederù hut giving a brilliant descent of just over a 1000m
Thursday

Hotel Pederù to Rifugio Sennes (2126m) which is located in the Fanes-Senes-Braies National Park and offers a wide panorama over some of the most beautiful peaks of the Dolomites: Croda Rossa (3146 m) (Hohe Gaisel), Cristallo (3221 m), Sorapis (3205 m) and the Tofana (3243 m). We start by following an easy route to the Fodara hut (1996m), which is closed in the winter season, and continue on up to the Sas dla Para (2460m) giving another classic tour of this area.
Ascent 1040m and descent 500m

Friday

Monte Sella di Sennes (2787m). A great classic winter and spring destination in the Sennes area, starting with easy terrain which becomes more challenging leading to some fantastic skiing. It's then a lovely ski back to the Rifugio Sennes, retracing our up-hill-tracks with many different variants across the wide valley and picking the best lines. Once back at the Rifugio Sennes we collect our gear and continue on down to Pederù, where we will stay the night.
Ascent 671m and descent 671m.
Saturday
Depart after breakfast.

Course Dates & Booking
Please call +44 (0) 1539 721561 for availability
Meet the Team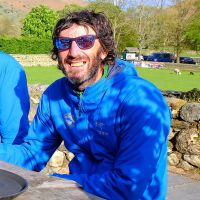 IFMGA Italian Mountain Guide
Born in NW Italy in a region surrounded by mountains, Paolo started to ski and trek as a kid, always wanting to explore 'beyond the next hill'.
Read More
Vital Informatiom
Please check the vital information below to help when booking a course
Read More
Testimonials For ISM
Thanks for organising an excellent week. The course format, accommodation and set up was perfect. The guide was outstanding and gave us a full week of constructive tuition. I was able to put his training into practice the following week when I met up with a friend and did the Cosmiques Arrete.
R W (2017)
Classic AlpinISM (Instructional Course)
"I loved the course and Terry was great. I learned a lot and had a lot of fun and feel confident and secure in my technique".
This was a fantastic trip. Paolo was excellent. The accommodation great. All helped along by wall to wall sunshine, stunning arctic scenery and some superb snow, so no problems as far as I'm concerned.
Steve (2017)
Ski Lyngen Alps Norway