Ski Touring Skills
Level 2 - Instructional Course
This course is designed to give you the best possible introduction to ski touring, equipping you with the skills and knowledge needed to enjoying and explore the high mountains away from the crowded pistes and lift queues.
The course offers comprehensive instruction in all the techniques of ski-touring as well as focussing on off-piste skiing skills. The course includes certification in Avalanche training level 1 from the Swiss Mountain Training Organisation and The Association of Swiss Mountain Guides (SBV/ASGM).
Dates & Booking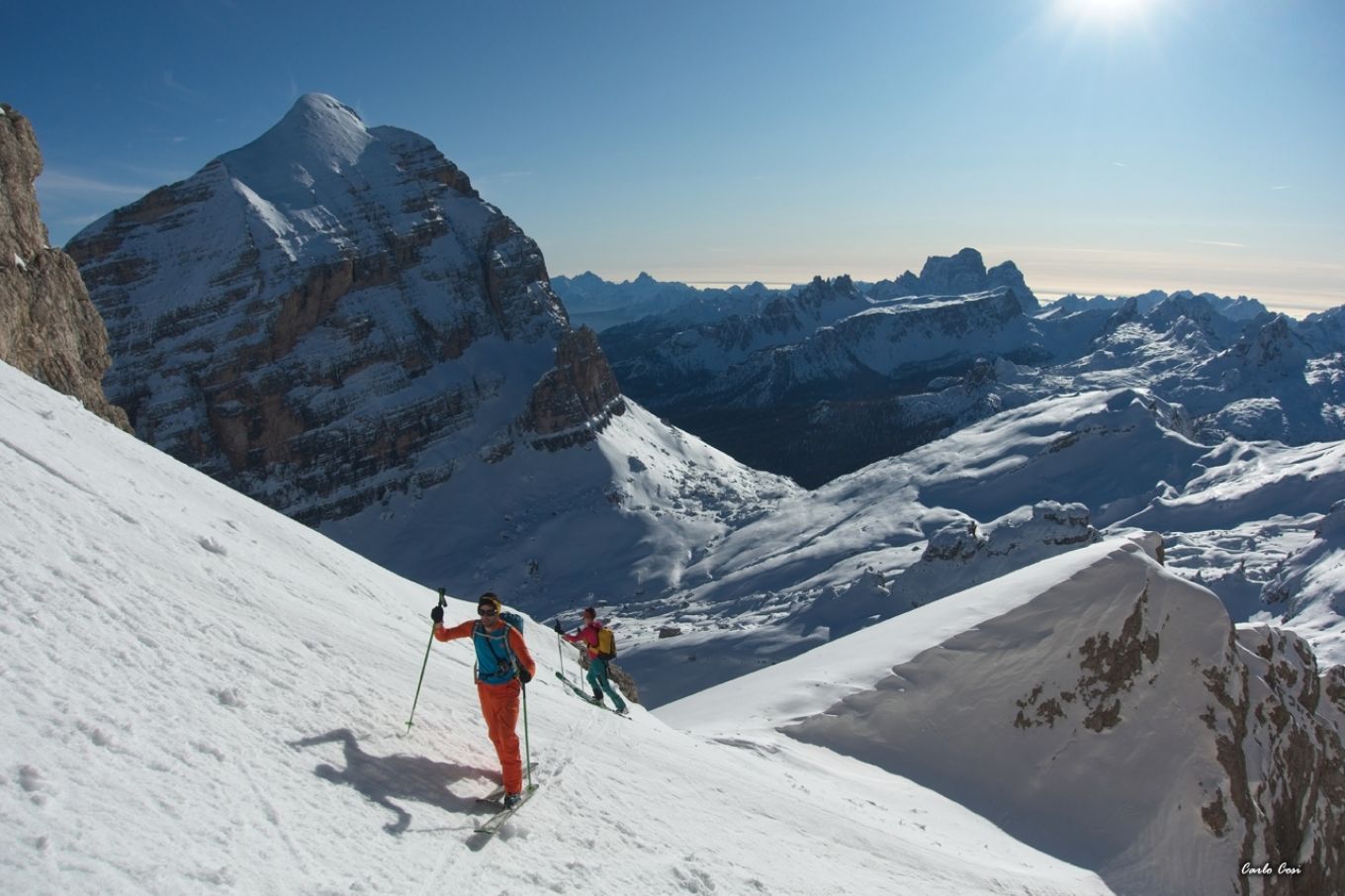 Ski Touring Skills 2
Course Highlights
Our most popular ski course offering comprehensive instruction in all aspects of ski touring
A solid foundation to the ski touring environment whilst enjoying fantastic single and multi-day ski tours
Flexible programme with some days based at the hotel in Leysin and some from the very comfortable Lammeren hut
Expert ski guiding and instruction from experienced ISM Guides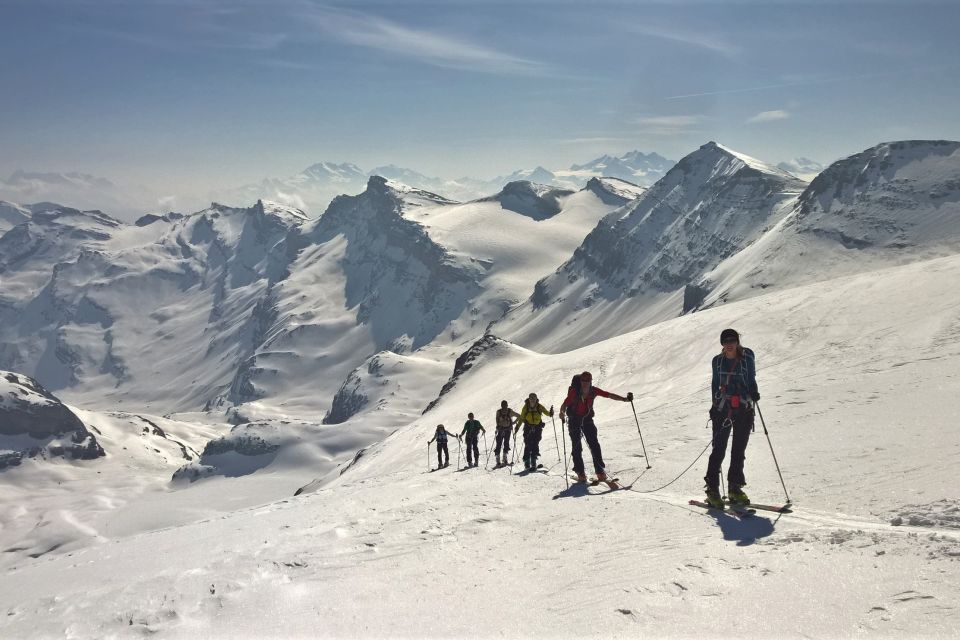 Advanced Ski Touring 3
Is This Course For Me?
This course will suit people who plan to ski-tour on their own in the future, those who want to prepare for more demanding tours (such as ISM Haute Routes), as well as keen downhill skiers who simply wish to try ski-touring for the first time. Specific instruction in off-piste skiing technique is given as part of the course, using video analysis where this is helpful.
Ski ability required: strong parallel turns on-piste and ability to make effective turns off-piste. No ski touring experience necessary. A good level of fitness is desirable as a typical day will involve around 2 or 3 hours of uphill skinning.

Dates & Booking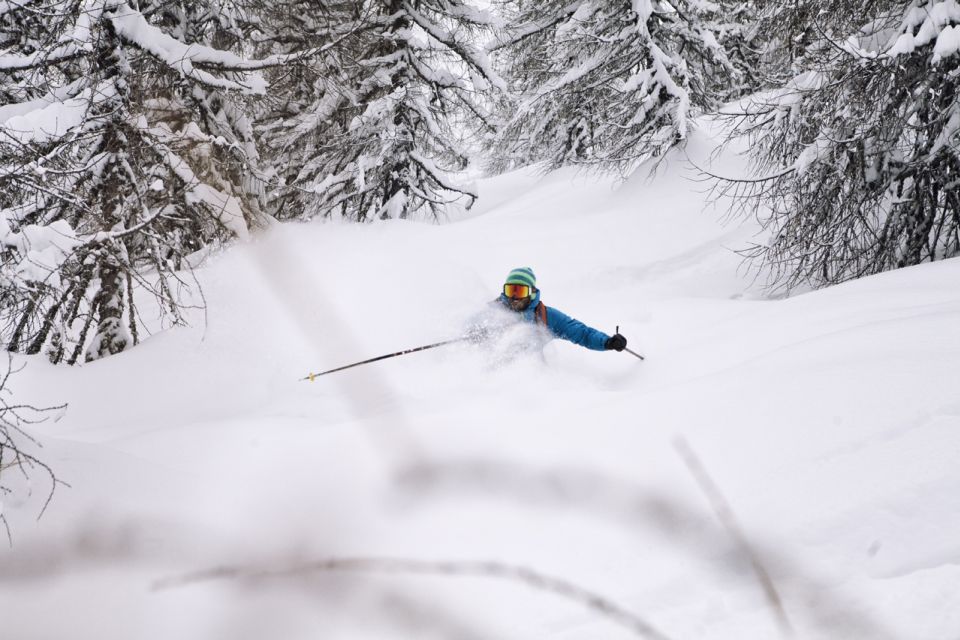 Ski Touring Skills 4
An Introduction to Ski Touring
The course is structured to teach you all the basic skills and techniques around ski touring at an easy pace. It offers you the chance to enjoy and practise the skills delivered ascending some easy summits. These summits will also allow you to develop your experience and understanding of ski touring in a fun and relaxed environment. Some of these summits may require the use of ice axe, crampons and roped skills for the final few metres. Instruction in these skills will be given as required. We stay some nights in comfortable and well-equipped mountain huts return to our hotel in Leysin for the Friday evening.
Course Content
Ski touring equipment, skis and boots
Avalanche transceiver, shovel and probe training
Planning a day, weather and snow conditions
Off-piste ski technique

Ascending steeper terrain on skis using skins and harscheisen
Basic use of crampons, ice axe and ropes
Glacier travel and crevasse rescue
Avalanche education

Group management
Sample Programme
Sunday
The course starts with a briefing at 6.45pm at the hotel in Leysin. This is a chance for you to meet your team mates and Guide and go through the details of the course. There will also be time for you to sort out any equipment you need and for you to ask questions. Dinner will follow the briefing.
Monday
Skills training and a short ski tour around Leysin. We teach the use of touring bindings and all aspects of using skins for ski touring - including general care and carrying of skins, how to fit skins to your skis and of course skiing with skins both for ascent and descent. Other ski touring skills are also covered including assessment of avalanche risk by examining the snow pack, the use of avalanche transceivers, off-piste ski technique for different snow conditions and how to ski most effectively carrying a rucksack. We also use the new 'state of the art' Leysin Avalanche Rescue Training Centre, where you will learn essentials skills on how to rescue an avalanched victim.
Tuesday
Ski traverse of Pic Chaussy. The 900m ascent of this elegant peak begins from the Col des Mosses. We use the skinning skills acquired on day one and cover aspects such as choosing the best line of ascent and avalanche avoidance. During the superb descent of this peak we look at snow conditions on different aspects of slope and how this affects our choice of route. Evening session on Avalanche awareness.
Wednesday - Friday
Multi-day day tour in the high Alps, staying two nights in high mountain huts. To give you the best possible tour in the prevailing conditions we keep the venue flexible - always choosing the best destination for the expected weather, conditions in different mountain areas and of course the needs of the group. Past tours have been in the Western Oberland, Grand Combin area and the Mont Blanc Massif.
Saturday

Breakfast at the hotel before departing.
Maps: Rochers de Naye 262 s 1:50 000, St Maurice 272s 1:50 000, Wildstrubel 263s 1:50 000. Possibly Arolla 283s 1:50 000).
Vital Information
Please check the vital information below to help when booking a course
All Vital Information
Testimonials For ISM
The course content was brilliant. No knocking whatsoever. We had Jacky for the duration, and his experience shines through and his leadership. He taught me a lot of things, not just the black and white of things but actually quick methods to overcome tricky situations!
Andy Challenor
Summits & Skills 4000m (Instructional Course)
Summiting Mont Blanc was an important milestone for me which I am grateful to all at ISM. Particularly Terry, who is the ultimate professional never compromising on safety. Max is a pure gem with wonderful guidance and outstanding people skills in abundance.Altogether a brilliant week!
David (2017)
Mont Blanc Ascent
The classic alpinism course last week led by Swedish Daniel was excellent! The itinerary was really well planned taking into account the less than perfect weather and the abilities and aspirations of the group - we all learned loads.
Chris Ward
Classic AlpinISM (Instructional Course)