Ski Grand St Bernard
Level 2 - Guided Ski Touring
The area around the Grand St Bernard pass is perfect for ski touring, having a wealth of summits suitable for ascents on skis plus excellent ski-touring routes on both the Swiss and Italian sides of the frontier.
We start the famous Grand St Bernard Hospice, a 10th century monastery founded by St Bernard to give shelter to traders passing over the col. Still run by monks, its hospitality is as warm as it ever was and it provides an excellent base from which to ski tour.
Dates & Booking
Grand St Bernard 2
Course Highlights
Fine ski tours in a quiet and remote setting
Magnificent views of the Grand Combin and Mont Blanc Massif
Unique accommodation at historic Hospice Grand St Bernard
Expert ski guiding and instruction from experienced ISM Guides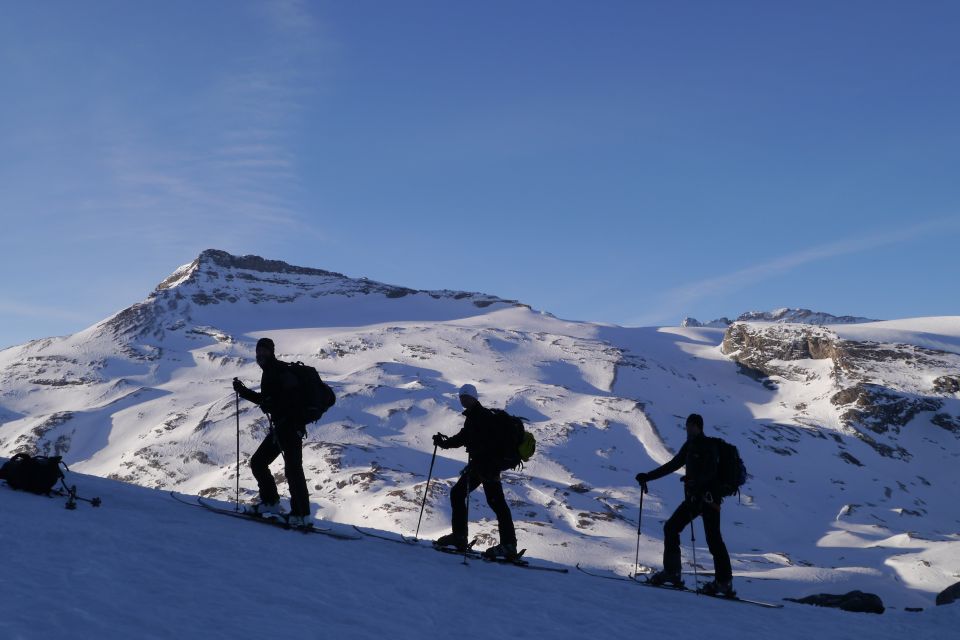 Grand St Bernard 3
Is The Course For Me?
The course is ideal for people who wish to gain more ski touring experience before embarking on more demanding multi-day tours such as the West Oberland Haute Route or the Ski Oberland Traverse. As such it is a perfect follow-up week to our Ski Touring Skills course. Ascents of most summits can be made within 4 hours, giving plenty of time to enjoy the descents and to work on off-piste technique.
Ski ability required: Effective turns off-piste. Ski touring experience is desirable, but people without touring experience may join the course provided they are strong off-piste skiers. Good general level of aerobic fitness is important and well as a good level of fitness skiing off piste. A typical day will involve 4 to 6 hours uphill skinning (up to 1200m height gain).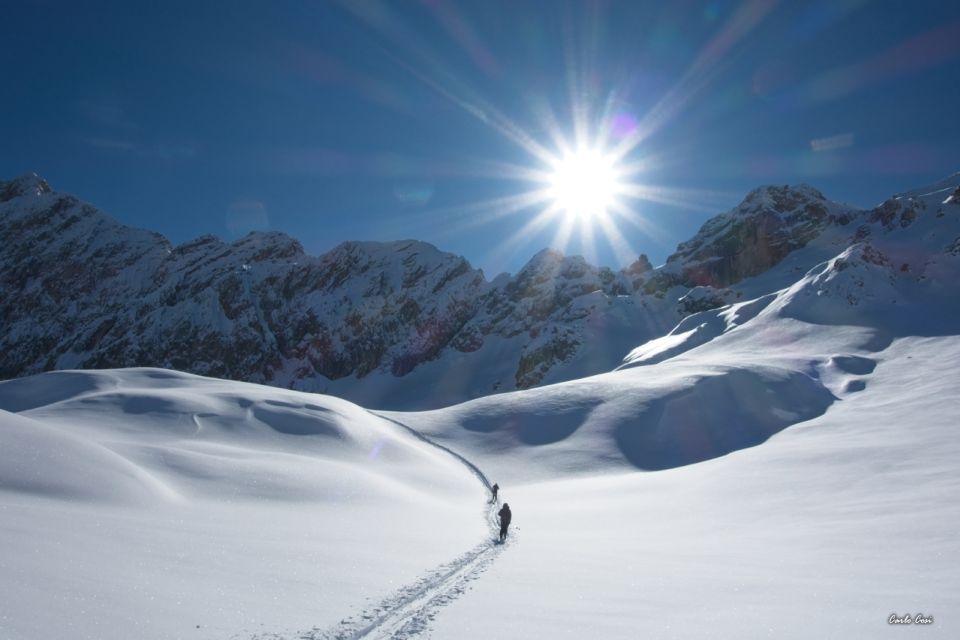 Grand St Bernard 4
Skiing Grand St Bernard
The Hospice has comfortable rooms (beds with sheets and showers) and is a unique place to stay, having a fascinating museum, chapel and treasury. In winter the hospice can only be approached using skis or snow shoes, giving it a remote ambience. The second part of the tour is based at the Cabane Brunet from which we make an ascent of the Mont Rogneux. Mont Rogneux is a classic ski peak in the northern part of the Grand Combin massif and is known for its views and great snow.
Course Content
Ski touring equipment, skis and boots
Avalanche transciever, shovel and probe training
Planning the week, weather and snow conditions
Coaching in off-piste ski technique
Refreshing basic ski touring skills and techniques
Refreshing basic use of crampons, ice axe and ropes
Glacier travel and crevasse rescue
Group managment
Hut to hut ski touring

Sample Programme
Sunday Evening
The course starts with a briefing at 6.45pm at teh Tour D'Ai Hotel in Leysin. This is a chance for you to meet your team mates and Guide and go through the details of the course. There will also be time for you to sort out any equipment you need and for you to ask questions. Dinner will follow the briefing.
Monday
We make a three hour ascent using skins through the 'Combe de Mort' which leads us to the Hospice. In the afternoon there is time for transceiver training and avalanche rescue protocol.
Tuesday
An ascent of Mont Fourchon (2902m), the classic ski-touring peak of the area which gives breath-taking views of Mont Blanc and the Grand Combin. If time and conditions permit we make an ascent of Mont Mort (2866m) in the afternoon for great powder skiing down its northern flank.
Wednesday
The Combe de La, a classic trip over 3 cols culminating in a 12km descent. The route has a wild remote feel and is exceptionally scenic as it traverses a terrace overlooking the east side of the Mont Blanc massif, giving views of the Grand Jorasses, Mont Dolent and Mont Blanc, which are very impressive from this unusual angle. We stay in the Hotel Bivouac de Napoleon in Bourg St Pierre.
Thursday
We make the ascent to the Cabane Brunet from Barmasse Fionnay. This is a modern hut nestled under the north face of the Petit Combin. Sonia, the Guardienne, ensures a warm welcome and comfortable stay.
Friday
Mont Rogneux is a fantastic peak mostly frequented by the local ski tourers. A 4-hour skin uphill takes us to a small col from which a more technical ridge is negotiated to the summit. For those that do not like heights it is possible to stay at the col as the summit is optional. Again we have breath taking views of the Grand Combin massif and the Mont Blanc massif. The descent down the north side of the mountain gives one of the best powder runs in the region and is a fitting climax to the week. Return to the Tour D'Ai for dinner.
Saturday - Breakfast at the hotel before departing.
Maps: Martigny 282S 1:50 000 and Arolla 283S 1:50 000
Course Dates & Booking
Please call +44 (0) 1539 721561 for availability
Vital Information
Please check the vital information below to help when booking a course
All Vital Information
Testimonials For ISM
Neil, our guide for the week, was exceptional; a true professional, a huge inspiration and just great company. He shared so many useful tips with us and had great stories to share too. Looking forward to booking another course with ISM in 2022!"
William Summits and Skills 4000m 2021
"What an incredible week learning the basics of Mountaineering. The course is perfectly balanced between summiting high alpine peaks and learning rope, climbing and glacier skills.
William 2021
​Good mixture of progressive instruction and learning, climbing and guiding. We climbed some very good mountains from good huts and made the best of the mixed weather conditions. The course also used a range of situations and locations to cover a wide range of skills and techniques.
Donald Connolly
Classic AlpinISM (Instructional Course)