Avalanche Awareness for Skiers
Level 2 : Instructional Course
This course will give you a great foundation in understanding the snow pack. It will teach you how to avoid avalanche prone slopes and enable you to become a safer and more independent off-piste skier.
The course includes certification in Avalanche training level 1 from the Swiss Mountain Training Organisation and The Association of Swiss Mountain Guides (SBV/ASGM).
Dates & Booking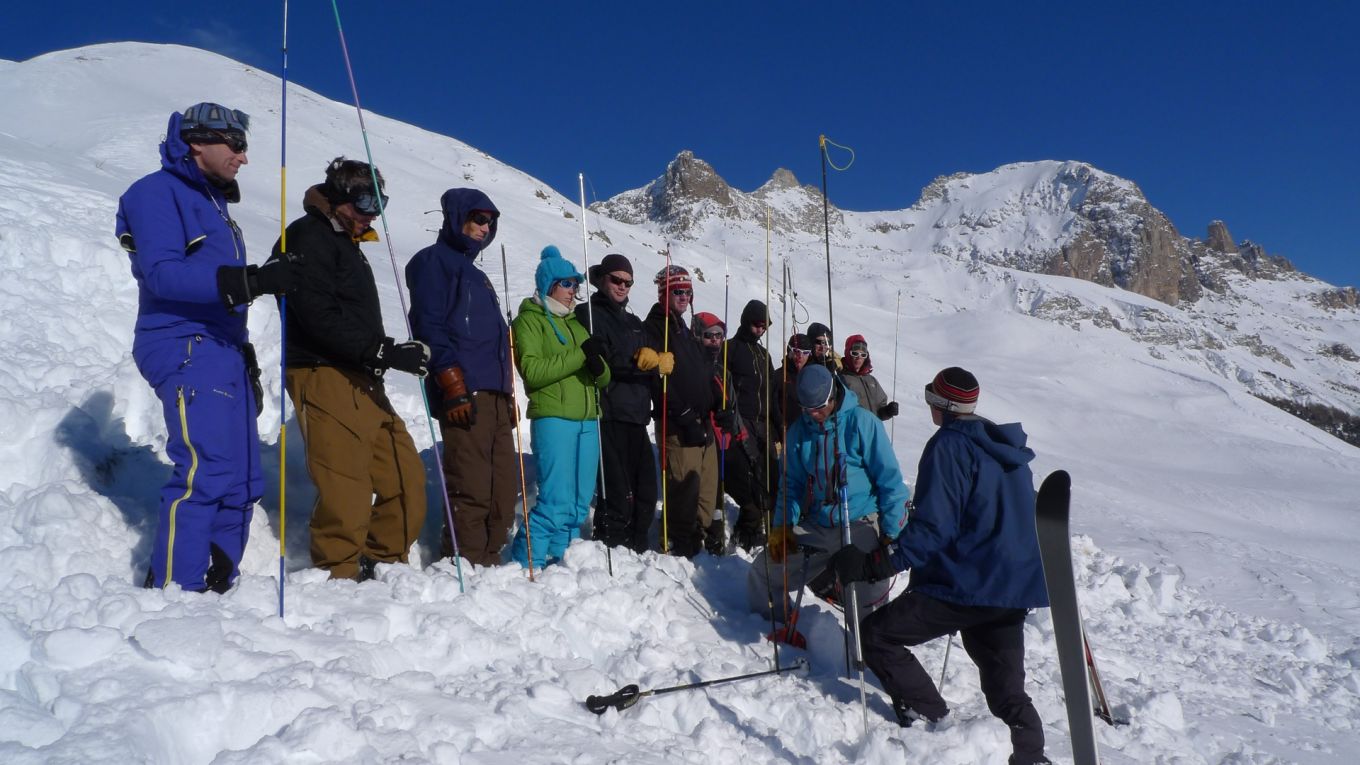 Avalanche Awareness 2
Course Highlights
Gain invaluable knowledge of how to find the best snow
Develop your avalanche awareness to become more independent and safer skiing off-piste
A good balance of classroom based and practical sessions on the mountain
Expert ski guiding and instruction from experienced ISM Guides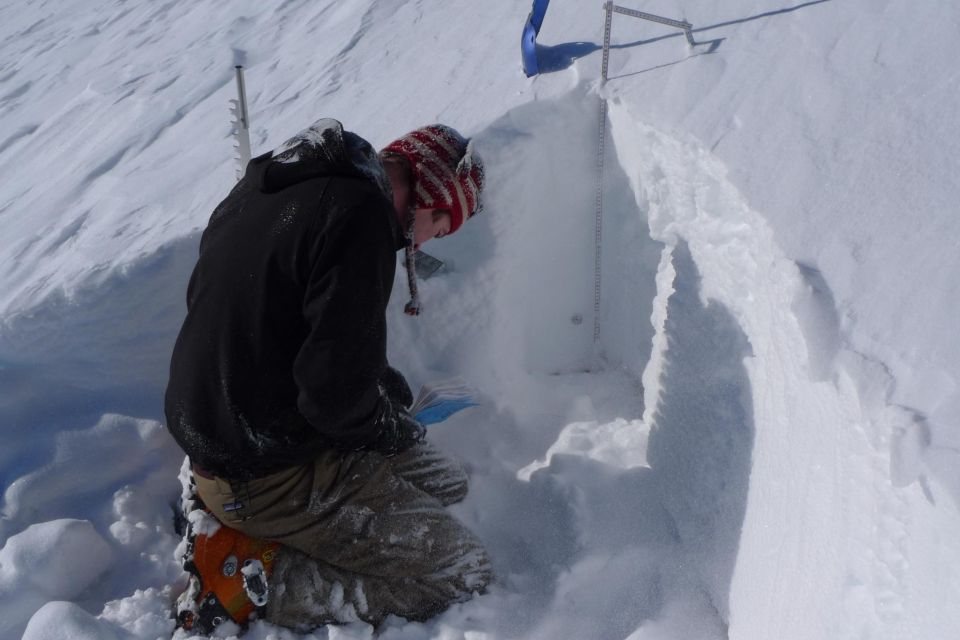 Avalanche Awareness 3
Is This Course For Me?
If you're a skier or snow boarder and starting to ventiure off-piste, but lack that crucial knowledge around understanding the snowpack and becoming avalanche aware, then this course is great for you.
This course is also offered on a 'custom' basis, with dates to suit. Please contact ISM if you wish to arrange custom dates for a group.

Ski ability required: Strong piste skier with good parallel turns on-piste and effective turns off-piste is desirable
Dates & Booking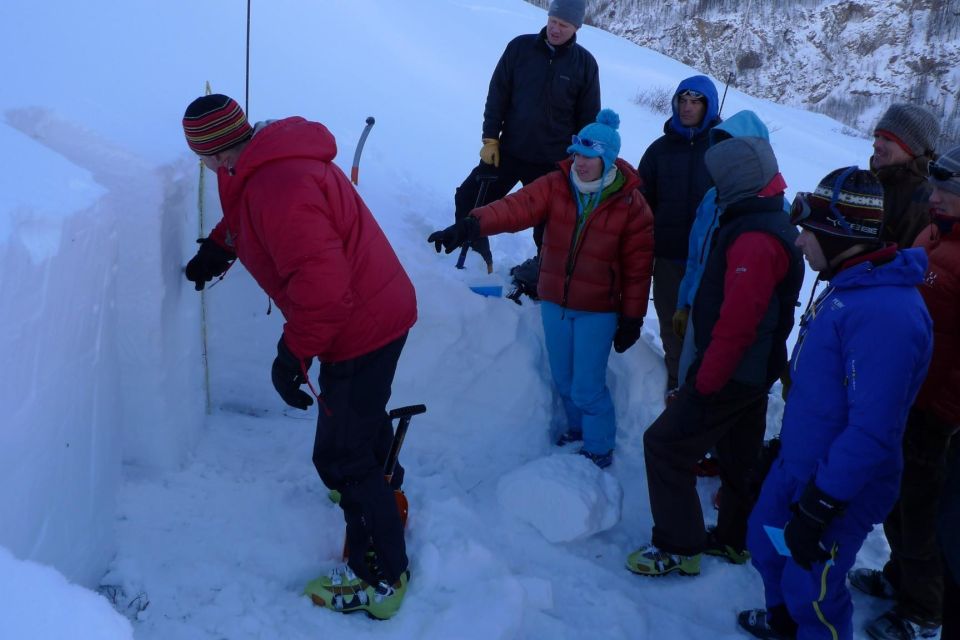 Avalanche Awareness 4
Our Avalanche weekend
During the weekend you will look at snow structure, the process of change within it and, by examining the snow, develop recognition of snow pack stability and therefore confidence in ascertaining potential avalanche risk. This will help you start to make informed decisions on safe travel in potential avalanche risk terrain, route choice and avoidance of threatened areas.
The course is based at the Tour D'Ai hotel in Leysin. Leysin has a lot to offer in terms of off-piste skiing and ski touring. It also offers us the choice of many slope aspects and altitudes. Leysin also has a fantastic transceiver training centre.
Dates & Booking
What The Course Covers
The avalanche phenomenon
How the weather and conditions, both past and present, influence the snowpack
Analysing and documenting the snow pack by digging snow pits
Assessing the snowpack for stability
How to create an overview of the current avalanche risk and be able to make an avalanche forecast
Route finding in avalanche terrain whilst on skis or snowboards. Managing the risk.
Develop a greater situational awareness in the field so that you make better informed decisions on safe snow, travel and route finding.
Use of avalanche transceivers for search and retrieval
Use of avalanche probes and shovels
Self-rescue systems and the survival aspect of being in an avalanche situation
Sample Programme
Friday

The course starts with a briefing at 6.45pm at the Tour D'Ai Hotel in Leysin. Your Guide will define the aims and objectives of the course, review the current weather and avalanche risk and ensure that everyone has the correct equipment. It is important that we understand the structure of the snowpack and so we will also use this time to focus on the history of the winter storm cycles and the affects that this has had on snow stability. Dinner will follow the briefing.
Saturday
The emphasis of the morning is to understand the avalanche phenomena. We start with a classroom session covering snow science and the mechanisms that trigger avalanches. We then venture outdoors to use a snow pit (profile) as a tool to enhance our understanding of snow science. We will use these finding in conjunction with the current weather and avalanche information to ascertain the current avalanche risk.
We will also do a training session on avalanche rescue protocol and the use of transceivers, probes and shovels.
During the evening we will make an avalanche forecast using the data from the snow pit analysis and weather forecast. We will also discuss potential itineraries for the next day and discuss the merits of these in terms of safety and quality of snow for skiing. Being in the right place is incredibly important in avalanche terrain and a defensive approach is encouraged. Dinner at the hotel.
Sunday
The focus of this day will be avalanche avoidance. We will assess the stability of the slopes so that we can use good judgement to ensure that a suitably safe route is taken. We will establish a structure on which to base our risk assessment ensuring that we don't overlook any important factors which could contribute to being caught in an avalanche.
We start the day by making an initial risk assessment of the avalanche danger compared to our avalanche forecast. Route choice is very important, so we will also discuss these options in the field. Managing the group in terms of spacing (distance apart) is an important safety consideration, so you will have the opportunity of "leading" the group under the close direction of the guide.
The course ends after a debrief at around 5pm.
Equipment
We can provide all equipment, but please feel free to bring your own if you have any. We will be using:
Crystal Screen
Loop (magnifying glass - for examining snow crystals)
Thermometer
Folding ruler (2m)
Inclinometer
Avalanche field book (for documenting the snow pack)
Compass
Pencil

Snow saw
Snow shovel
*Please note that ski hire is not included

If you wish to do some pre-course reading, we highly recommend: The Avalanche Handbook by David McClung and Peter Schaerer, Staying Alive in Avalanche Terrain by Bruce Tremper
Course Dates & Booking
Please call +44 (0) 1539 721561 for availability
Vital Information
Please check the vital information below to help when booking a course
All Vital Information
Testimonials For ISM
​Hi Eira! It is Maite from Spain again! Just a message to tell you that I spent a wonderful week and that both guides (Paolo and Christian) were superb.
Maite Iriarte
Swiss 4000ers
Our three guides were all excellent: Thomas, Phil and Paulo. I can't speak highly enough of them. They were all good company and superb climbers, and patient with us all.
Donald Connolly
Matterhorn Ascent