Oberland Ski Mountaineering Traverse
Level 4 : Guided Ski Touring
This traverse weaves through some of the most remote and breathtaking high mountain scenery in the Alps.
This is a classic high level ski touring traverse, climbing impressive peaks; Grunegghorn (3500m), Gross Wannenhorn, (3905m), Abeni Flue (3962m), and Kranzberg (3666m).
Dates & Booking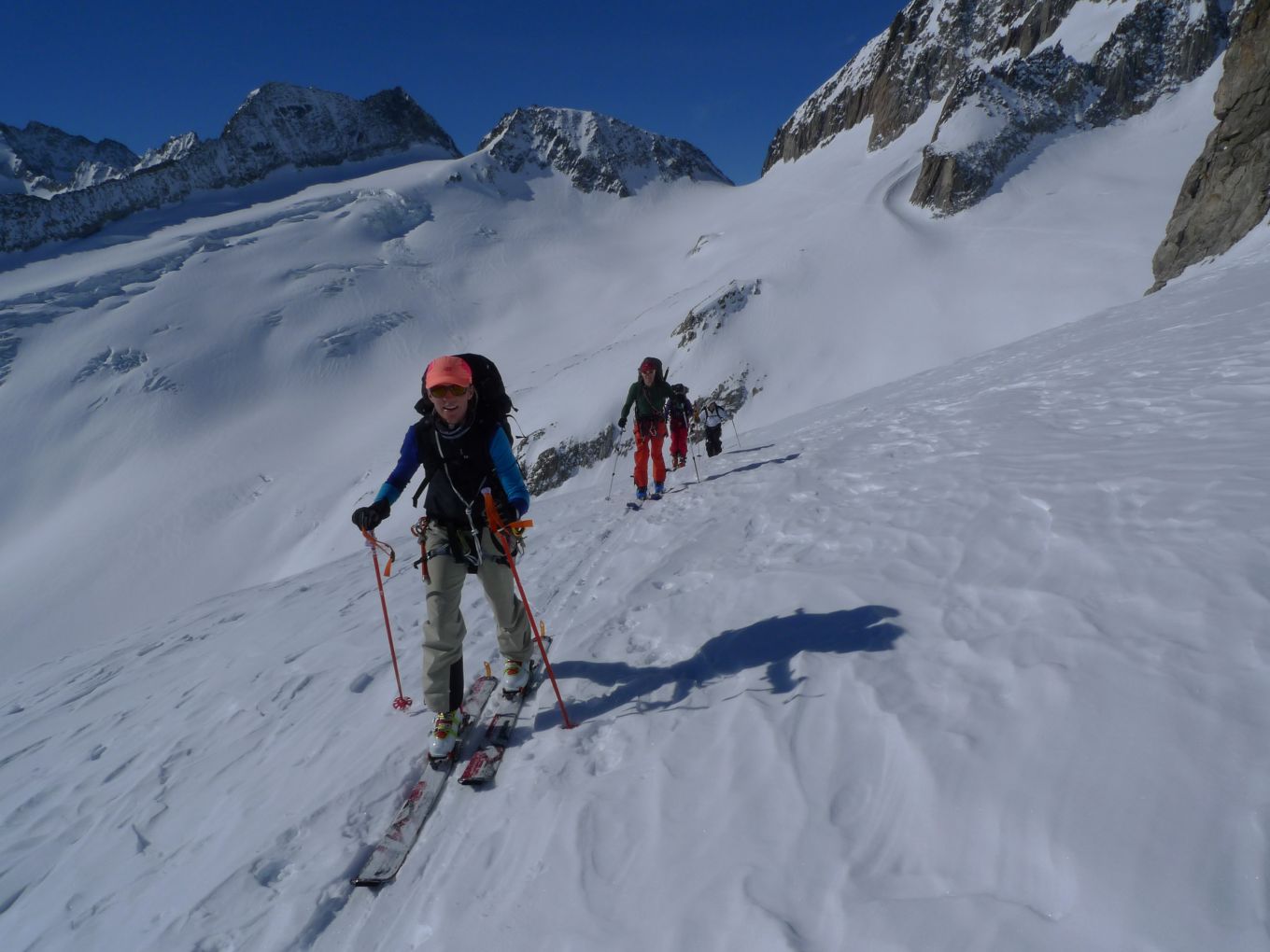 Oberland Ski Mountaineering 2
Course Highlights
An inspiring ski tour over some of the biggest glaciers in Europe
Spectacular views in a remote wilderness surrounded by 4000m peaks
High altitude glacier skiing with a big mountain ambience
Expert ski guiding and instruction from experienced ISM Guides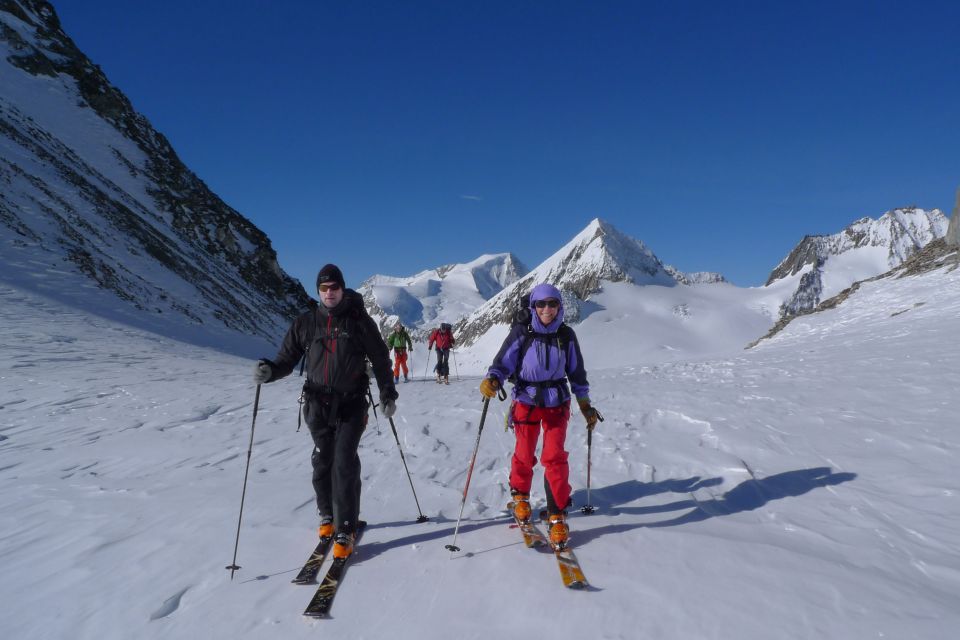 Oberland Ski Mountaineering 3
Is The Course For Me?
Ski ability required: This is a very demanding tour at high altitude. Prior ski-touring experience is essential and you should be able to make effective turns off-piste in a variety of snow conditions. A high level of fitness is very important as a typical day will involve up to 6 hours of uphill skiing (up to 1400m of ascent).
Dates & Booking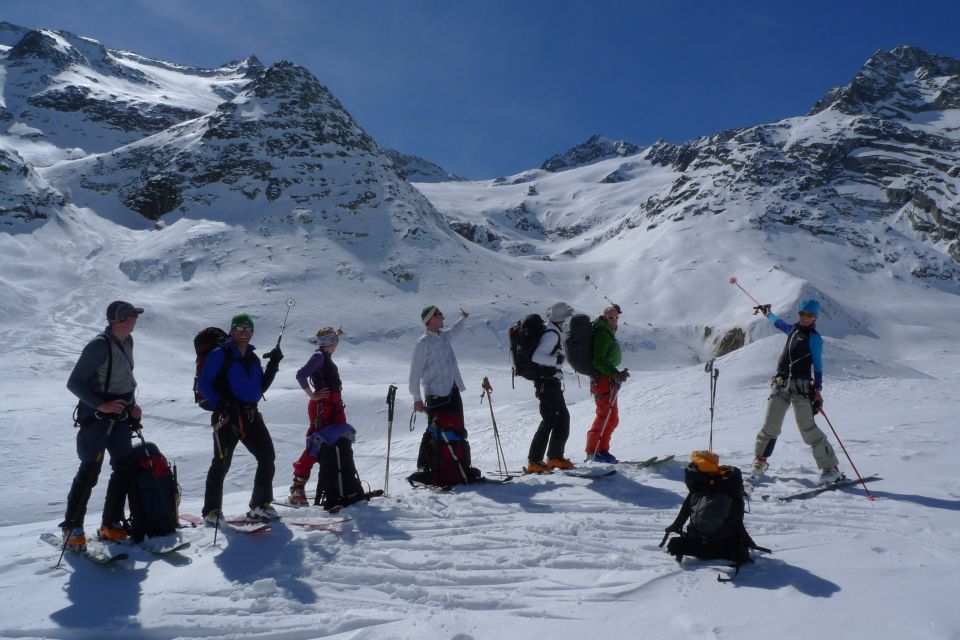 Oberland Ski Mountaineering 4
Big Glacial Ski Mountaineering
This is a ski-mountaineering traverse of the biggest glaciers in Europe, weaving through some of the most remote 4000m peaks in the Alps. Travelling in this area on skis is the most practical way, cutting by half the time it takes to do it by foot in the summer. This expedition takes in some of the most breathtaking high mountain scenery in Europe.
The trip involves ascents of superb remote summits, which are climbed mainly on skis but often involve some general mountaineering using an ice axe and crampons (as well as roped scrambling) to reach their highest points. It is perfect for the fit, all-round mountaineer with ski-touring experience. This trip loosely connects the West Oberland Haute Route and the Haute Route Soleil. Its highlights include big glacial skiing in a remote and wild environment with the bonus of climbing some great peaks.
Course Content
Hut to hut ski touring
High mountain adventure
Huge glacier scenery and climbing a number of alpine summits

Develop general mountaineering skills on steeper terrain
Glacial travel and crevasse rescue
Planning each day, weather and snow conditions
Avalanche awareness and route finding/navigation
Develop your experience in off-piste ski technique
Enjoy a fantastic high mountain ski experience
Sample Programme
Sunday
The course meets at 6.45pm at the Hotel du Glacier in Fiesch which is easily reached from Geneva airport in just over 3 hours. The hotel is a traditional Swiss Hotel situated just below the railway station.
Monday
We take the first lift from Fiesch to the Eggishorn. A long easterly traverse gives us access to some north facing slopes which we ski down to the impressive Grosser Aletschgletscher. From here we skin up to Kondordiaplatz (a massive glacier junction). A 200m (vertical) walk up the steps leads us to the Konkordia hut (2850m - 5hrs). The Konkordia hut is a very comfortable, modern hut and has a bar on the terrace. Any spare time can be spent looking at avalanche rescue protocol and transceiver practise.
Tuesday
We continue our journey eastwards and climb to the fore summit of the Grunegghorn (3500m). This sometimes needs a short ski portage to access the summit slopes. The summit gives great views of the Grunhorn (4044m) and the Ewigscheenfald to the north. We ski down retracing our uphill tracks on the south facing slopes and then climb to the Grunhornlucke (3280m - 2hrs). A short ski to the Fieschergletscher (2900m) and climb takes us to the Finsteraarhorn hut (3048m). The Finsteraarhorn hut has been recently rebuilt and is a state of the art Swiss hut boasting single beds and inside toilets.
Wednesday
A big day (1100m of ascent) which starts with an ascent to the Gross Wannenhorn, (3905m - 4 to 5hrs). This is the most southerly of the peaks that we climb and has great views of the Rhone valley and Wallis. It is a glaciated ski peak and normally gives a good powder descent. We spend another night in the Finsteraarhorn hut.
Thursday
We climb back over Grunhornlucke and descend to the Konkordia Platz. If we have time we shall make a traverse the Kranzberg (3666m - 4hrs). This peak overlooks the Konkordiaplatz and is an excellent peak to take in on the way to the Hollandia hut. The summit is reached on foot up a pleasantly exposed ridge. Our descent to the Grosser Aletsch Firn is very spectacular and this then leads the way to the Hollandia hut (3240m - 5hrs). The hut is situated on the ridge just above the Lotschenlucke (3173m) and has striking views both to the east and west. The impressive north face of the Aletschhorn (4193m) dominates our ascent to the hut.
Friday
Today is a magnificent finale to the trip. We climb the Abeni Flue (3962m - 3hrs). Although not technical or steep, it offers great glacier skiing and brilliant views to the plains in the north and the Valais to the south. Descending back to the Hollandia hut and the Lotschenlucke gives us access to another alpine ski classic into the Lotschental. This was one of the last Swiss alpine valleys to be explored and it certainly gives the feel of stepping back in time, with its museum of traditional Swiss chalets on stilts. We return to the hotel in Fiesch by bus and train in time for dinner.
Saturday - Depart after breakfast.
Maps: Jungfrau 264s 1:50 000
Vital Information
Please check the vital informatin below to help when booking a course
All Vital Information
Testimonials For ISM
Thank for an amazing couple of weeks! Matt and Stu were fantastic. I learned so much but also had a lot of fun. I have come home feeling like a proper mountaineer, having made some great new friends and with some unforgettable memories. I plan to come back next year!
Tim
Thanks for a fantastic week. It was really one of the best things I have ever done. I learned a lot during the week, not only about climbing technique, but also about attitude.
Lachlan MacGregor
Bernese Oberland 4000ers
Our three guides were all excellent: Thomas, Phil and Paulo. I can't speak highly enough of them. They were all good company and superb climbers, and patient with us all.
Donald Connolly
Matterhorn Ascent